Report • 31.08.2016
Conversational Commerce: Messenger Apps are the new sales channels
Addressing the customer in real-time is on the rise
Retailers want to reach their customers where they are – on the social web. In times of social media omnipresence, these are primarily messenger services. They don't just lend themselves for customer service inquiries but also offer the option to purchase products and provide services. That's why Facebook already opened up its Facebook Messenger app to companies some time ago.
Subsequently, real-time online communication is becoming increasingly important since customers also want to be serviced when they are on the go. From a business perspective, this also means the smartphone is becoming more relevant as a communication tool. Messenger apps like WhatsApp, Kik, Line, WeChat or Facebook Messenger are the most important channels in this case. Even though online communication between customers and retailers via Messenger app is still not widely common in Germany, retailers, in particular, will be able to benefit from these apps in the future. "Smartphone use has deeply penetrated the daily lives of consumers and mobile shopping is also on the rise. That's why it is key for companies to ensure that support functions can also be conveniently used on mobile device for example. Messenger services are an exciting option for this since many consumers use them already anyway. Usage barriers are therefore comparatively low, "says Boris Hedde, Managing Director of IFH Köln.
Customer service and transaction-based communication
The short-term study "Conversational Commerce: How Communication between Customers and Companies Affects Sales Success" by the Entrepreneurs Club Cologne (ECC) in collaboration with iAdvize confirms that personal online customer service can be used during every stage of the buying process. Prior to buying a product, customers primarily accessed personal online customer services to answer some questions they had about the item. Throughout the buying process, technical problems are said to frequently be an issue and after purchase completion, it's inquiries about services such as complaints or problems with the product.
After completing the order, transaction-based information and updates can also be sent directly via messenger app. This includes order or reservation confirmations, invoices or package tracking for example.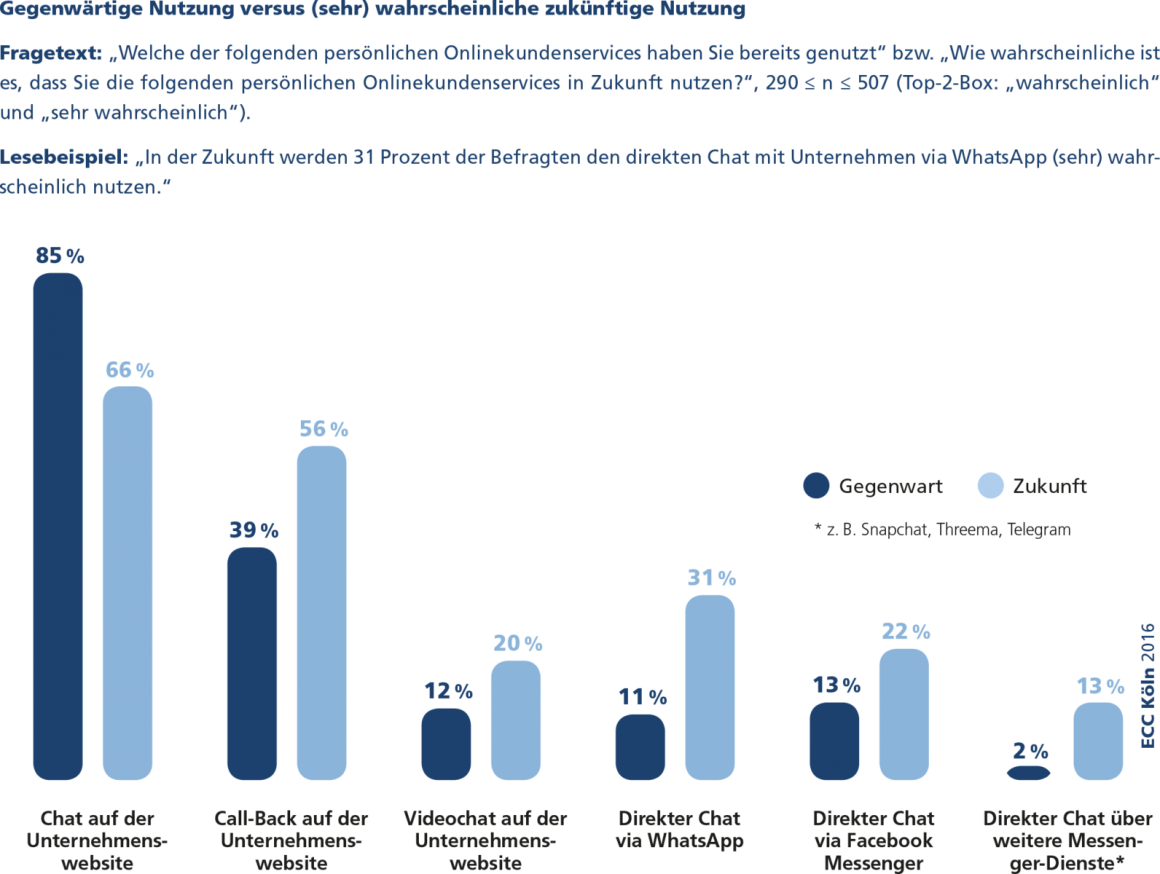 Source: IFH Köln
Chatbots: automated communication with customers
Chatbots create another channel in multichannel marketing retailers can use to communicate with customers without the need to allocate many employees. Bot is an abbreviation of the word "robot" and refers to a program that assists retailers in operating messenger services. For the most part, they work autonomously and simulate human communication. Retailers like Sephora and H&M have recently introduced chatbots in the messaging app Kik to help customers in choosing outfits and accessories and assist them in buying their products.
Currently, the bots still have many drawbacks; they are frequently malfunctioning, require regular updates and are only able to answer easy questions. Yet they are still able to assist customer service in answering simple product inquiries.
That's why stores like Outfittery, notebooksbilliger.de or Zalando communicate via WhatsApp. Personal and individual consultations are relevant in this case. The customer stores the number of the service on his/her smartphone. No prior registration at the store is needed. Not only are customers able to obtain information on specific products through customer service representatives, they also receive individual suggestions and consulting services.
Even though bots are an excellent tool to automate answers and reach more customers, they should still always be combined with personal consultation to give the interaction a human touch.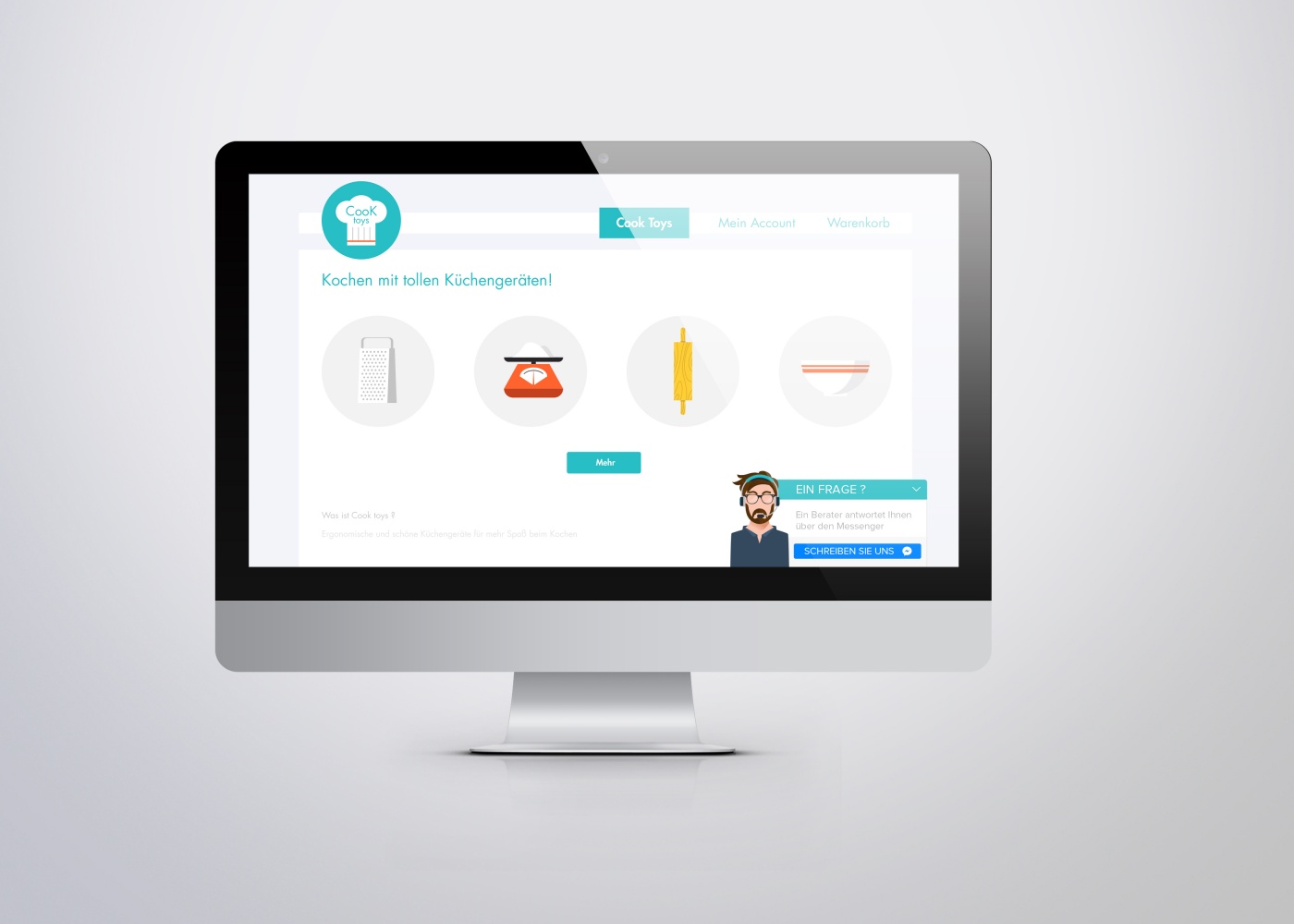 Source: iAdvize
Keeping in touch and analyzing user behavior
In addition, the customer has the option to continue communication with the online store via his/her messenger app at a later point. Relationships between online retailers and customers are being sustained for a longer time and increase the likelihood of customers visiting the online store again. What's more, the messenger services are a communication tool that can be used outside of the normal business hours.
Offering customers the messenger service at the right time only works with good targeting techniques. Based on various data such as customer profile, user behavior or market basket value, this determines in real-time, what type of assistance customers need and what service channel is being used.
Messenger services and bot technologies are treading on legal virgin territory
When it comes to data protection aspects, before implementation or use of any messenger apps, both retailers and customers should be aware that this service is established by a third party. Even though messenger services are not in a legal gray area, they do have their own general terms and conditions as it pertains to confidential data transmission. In the past, Facebook, in particular, fell far short of expectations in this area.
The transmission of sensitive data such as mobile phone numbers is currently also being critically viewed, especially in light of the news that WhatsApp will share data with Facebook in the future. The temptation to utilize this data for advertising purposes seems great. More than ever, a legal tightening of the status of messenger services as so-called "over-the-top" service providers within the scope of the Telecommunications Act is necessary. Messenger services would subsequently need to adhere to stricter regulations by government authorities.
Messenger apps are the new browsers
"Social messaging grows faster than social networking services," predicted Jan Kegelberg, Chief Digital Officer at SportScheck during an Omnichannel conference in June of this year. "Everything will take place in chat sessions in the future." Yet this doesn't mean that we will shop without online stores in the future or that online retailers are going to let third parties handle customer relationship management. If you want to sell things, you need to be where the customers are. If you ignore this, you knowingly pass up on many sales and customer retention opportunities.