Product • 11.01.2010
Bosch introduces LED flat-panel monitor range
Sharp, flicker-free display minimizes eye fatigue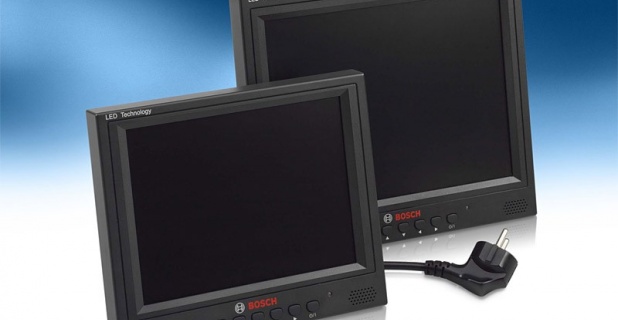 Bosch Security Systems is introducing a range of LED flat-panel high-resolution monitors for use with analog video, digital video recorder (DVR) and PC applications. The new range, which is being introduced alongside a similar range of normal LCD flat-panel monitors, will replace the company's current CRT monitor range in the CCTV market.
Featuring color LED backlight panels, the monitors are available in 8.4-inch and 10.4-inch versions (viewable area). They offer a maximum brightness of between 400 and 450 cd/m2, very high color accuracy and consistency for easy viewing and interpretation of images, and a maximum contrast ratio between 600:1 and 700:1. In addition, the panels refresh every 10 to 20 milliseconds, providing crisp, clear images with minimal smearing and image "ghosting" in fast-motion video. They also feature a wide range of horizontal and vertical viewing angles that provide comfortable, clear viewing – whether the monitors are placed on a desk or mounted on a wall or in a rack.
LED backlight panels help to avoid luminance degradation, enabling the monitors to maintain their brightness level over time. The consistent brightness also contributes to the sharp display image, with longer lamp life than normal LCD monitor backlights, which means they can be used for longer without eyestrain or excessive fatigue. Moreover, LED monitors weigh less, are thinner and use 15 to 50% less power than an LCD monitor of comparable size.
The monitors accommodate a wide range of signal sources with two composite BNC inputs and loop-through outputs, Y/C (S-video) and loop-through video and audio inputs, and an analog VGA input for DVR or PC applications.
Supplier

Robert-Bosch-Ring 5 und 7
85630 Grasbrunn
Germany