Product • 21.02.2008
Bondrucker - SMART 258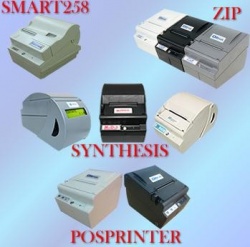 Compact, silent and reliable. Easy Loading, 2 serial ports. Available with Electronic Journal or control paper roll.
POSPRINTER
Graphic, thermal, high speed printer particularly indicated to print orders, proforma bills, vouchers, coupons, receipts on account and reports. RS232 serial ports, Windows driver available.
ZIP
The ideal cash register for all kinds of Retail. Available in 3 colours with 58 mm or 80 mm thermal receipt. ZIP is equipped with Easy Loading and Electronic Journal. It supports customer fidelity chip cards, advanced graphics function, expansion memory for items, customers and offers, 2 RS232 serial ports for connection to PC and to external peripherals.
SYNTHESIS
The evolution of ZIP project. It's equipped with a very fast 80 mm printer, integrated Customer display, 2 RS232 serial ports, Easy Loading, Electronic Journal, cover for cables. Available in white, grey or black.
Supplier
Via Antiniana, 115
80078 Pozzuoli/Napoli
Italy