News • 28.07.2022
AI-powered product recommendations for better sleep
Reshaping the mattress industry with 3D avatar technology and biomechanics-based simulations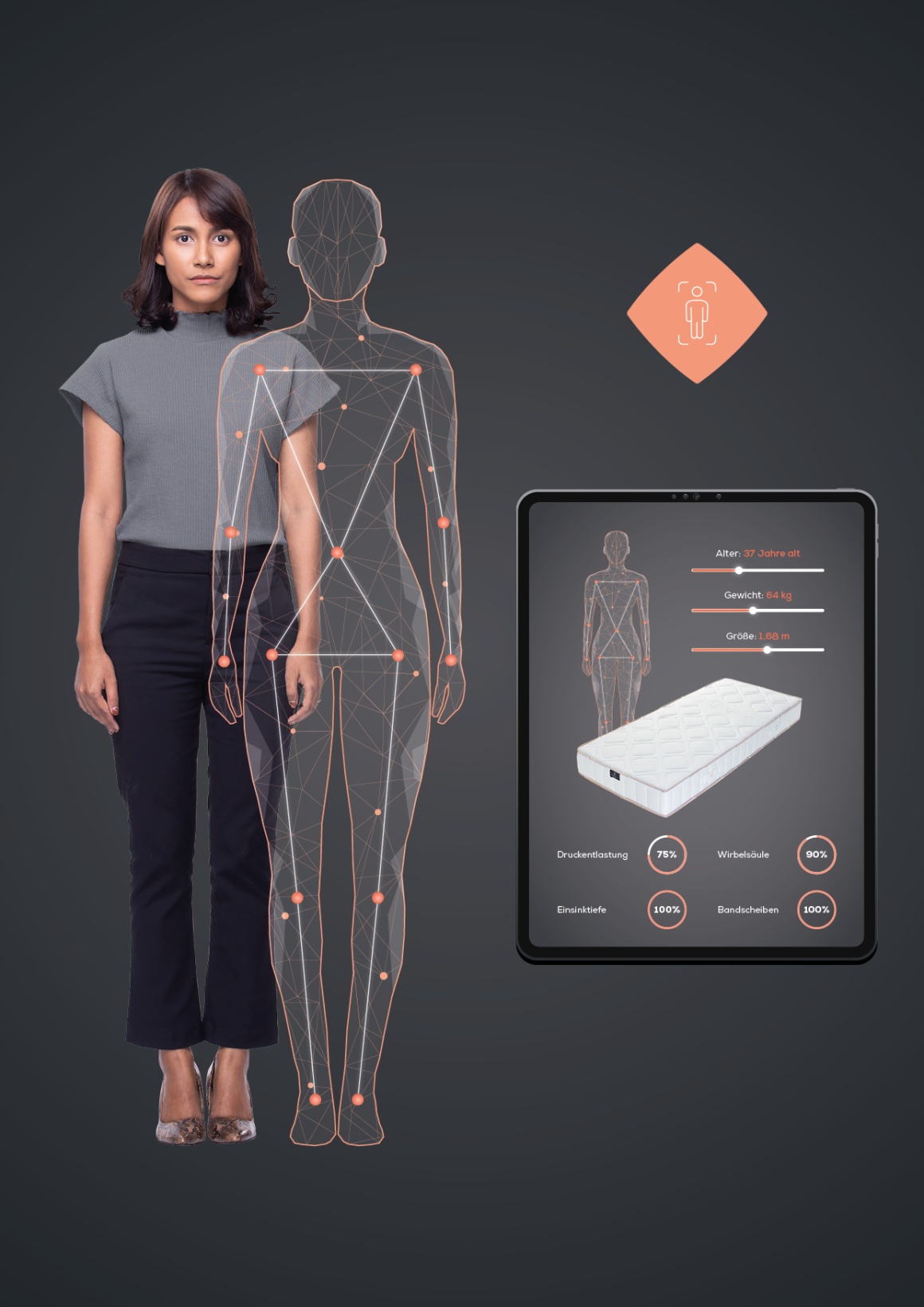 Source: Motesque
With integration online and in physical Swiss Sense stores, the MQ Fit solution enables highly personalized shopping experience on every sales channel and offers precise product recommendations, making it easier for consumers to find their perfect mattress.
Motesque, a start-up specializing in biomechanics, computer vision and AI, has entered into a strategic partnership with Swiss Sense, a European expert in sleeping products. Together they launch the digital mattress recommendation tool SleepLAB Bodycan, which is using the MQ Fit technology by Motesque. This highly scalable tool makes it possible to receive mattress advice suiting your personal sleeping behavior and body shape online as well as in store. With this the MQ Fit Mattress technology is for the first time ever integrated into the stores.
Powered by MQ Fit Mattress, SleepLAB Bodyscan offers customers a high-quality shopping experience and enables virtual testing of the mattresses in online and physical stores, resulting in personalized product recommendations. Using just two photos and basic information like age, height, weight and sleeping preferences the AI engine generates an individual 3D avatar of each individual. This digital representation of the customer then virtually lies on all the mattresses from the store's database and returns results in just a few seconds. The precision of the outcome is crucial – the mattress has to offer a proper support to ensure that the spine is bedded in an ergonomically sound way.
MQ Fit technology from Motesque ensures that the complex analysis is transformed into accurate and user-friendly formats, simplifying the decision-making process and improving consumers' sleep quality. This AI and data-based SaaS platform is designed to keep people healthy for as long as possible and contribute to their quality of life through biomechanical solutions while improving business results for Motesque customers.
Erik Diks, Chief Operational Officer (COO) at Swiss Sense explains: "Finding the perfect mattress is not easy. […] With the new SleepLAB Bodyscan technology, we are able to further enhance our personal in-store advice. Advice that combines data as well as scientific findings with our personal expertise and the individual preferences of consumers. On top of that, we can offer personal consultation 24/7 online, so it is also possible with the SleepLAB Bodyscan to find the best possible mattress for yourself conveniently online. […]"
Prof. Dr. Kai Oberländer, CEO and co-founder of Motesque, adds: "[…] Swiss Sense is making it possible for us to continue our omnichannel approach and to enable a seamless journey for customers across multiple channels. Online or offline, we guarantee that the customer receives the best possible product for their particular needs."