Company News • 12.11.2021
The Most Important Characteristics Of A Shipping Label Printer
There are many aspects of a printing solution that can make them or break them when it comes to being suitable for printing shipment labels.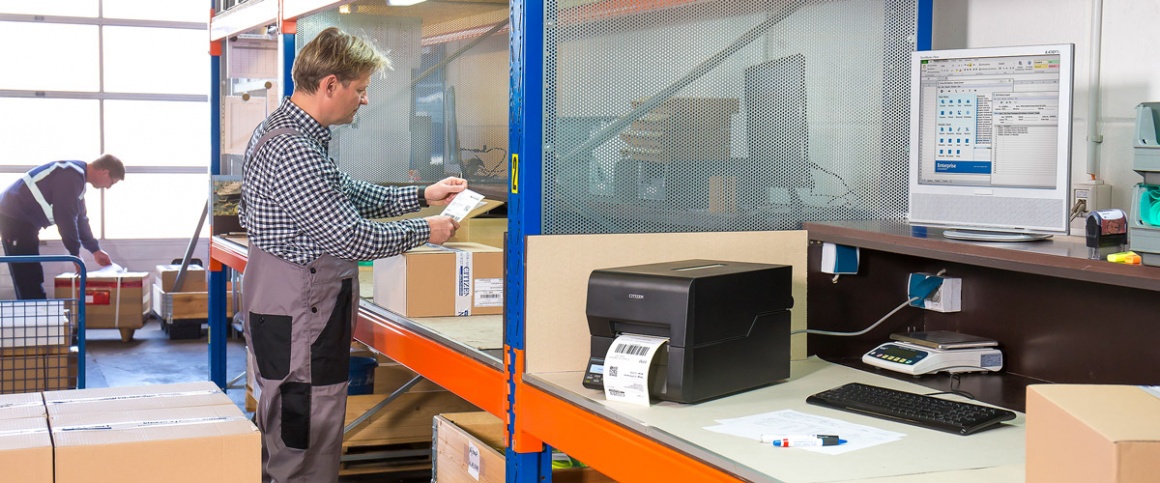 Source: Citizen
All over the world, shipment labels are being printed, applied, scanned, and read. Therefore, it's paramount that the label printer can deliver clear and accurate prints. However, it doesn't stop there – reliability, printer technology, capacity and capability are also important things to consider when choosing a shipping label printer. So what exactly should you be looking for in a shipment label printer and why does it matter?
Thermal transfer technology
When printing shipment labels you want a high-quality print that isn't going to fade. Pallets, packages and parcels take time to get to their destination and can pass through many different handling processes whilst being exposed to varying environments. Thermal transfer printing is perfect for this because it is generally more durable and has a higher image quality due to ink being melted on to the media from a ribbon. Therefore, by using a printer with thermal transfer technology you can ensure your labels can easily be scanned and read throughout the entire logistics process without the fear of fading or smudging.
Robust and reliable mechanisms
Printing solutions that have a robust and reliable print mechanism are ideal for demanding applications like shipment labels. Our label printers with all-metal mechanisms ensure prints are consistently accurate, clear and easily scannable. By engineering our label printers to be as robust as possible their failure rates are almost non-existent and one of the lowest on the market.
Large media capacity
In order to get shipments to their destinations quickly, label printers need to have as little down time as possible. That's why it's important to choose a printer with a large media capacity. By having a large media capacity users will not have to replace the label roll as often and can leave the machine to run, saving users time and ensuring an optimal amount of labels are printed.
High print volume capability
Similarly, to having a large media capacity, choosing a printer with a high print volume will result in less down time and more prints. Label printers that are designed for high print volume work are ideal for medium to large sized operations who are printing a significant amount of shipment labels a day. Opting for a lower print volume capability might be perfect for a satellite depot or an office where shipping volumes are lower. So, if you want a better return on investment, it's always recommended to choose a label printer that correlates with your print volume.
We have a large range of label printers that are ideal for printing shipment labels and meeting various requirements. For high volume and high print quality we have the CL-E720 and CL-S700II. Whereas if you require a printer for smaller shipment operations we have our CL-E321 and CL-S621II. If you wish to discuss any specific shipment label needs, please do not hesitate to contact us.
Supplier

Otto-Hirsch-Brücken 17
70329 Stuttgart
Germany