News • 12.08.2019
Return on experience: The new kind of customer loyalty
US retailers benefit if they keep pace with rapid rise in customer expectations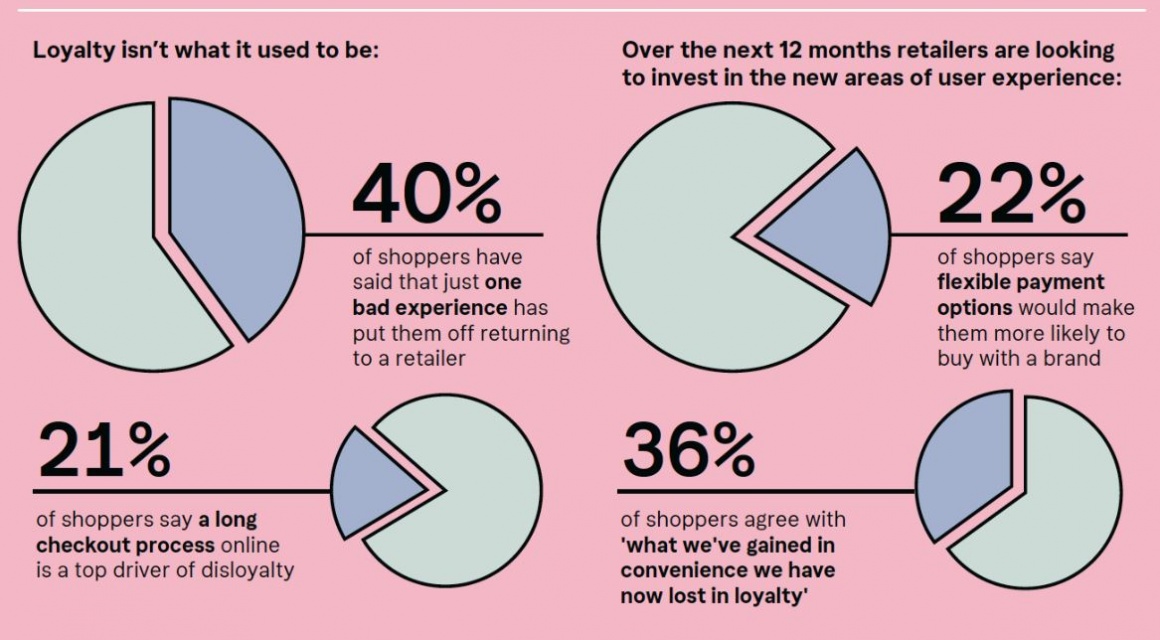 Source: Klarna
New research conducted by alternative payments provider Klarna across 2,000 US consumers and 250 retail decision makers, reveals that retailers are struggling to retain their customers as consumers today increasingly have zero tolerance for a poor retail experience.
55 percent of shoppers say just one bad experience would stop them returning to a brand. A third (29 percent) say shopping isn't as fun as it used to be, with 36 percent feeling that what shoppers today have gained in convenience, they've lost in experience.
Where brands used to think of loyalty in terms of reward schemes or points, the findings show that for today's shopper, the drivers of loyalty run much deeper than a transaction or offer. And when it comes to what drives disloyalty, a bad returns process (46 percent), and a drawn out online checkout without payment options (28 percent) rank much higher for shoppers than retailers perceive them to be.
Retailers are recognizing this shift and starting to evolve the way they think about loyalty. 39 percent of retailers agree that loyalty is no longer solely driven by rewards and 69 percent say they have to work harder than ever to retain customers. But, many (36 percent) are struggling to keep pace with changing consumer expectations around experience and are being held back by outdated tech (33 percent) and a short-term focus on sales (29 percent).
Shoppers demand more
This new research gives retailers some of the insights they need to help win the loyalty stakes and deliver the standout shopping experience demanded by consumers. It reveals that whilst the traditional drivers of loyalty remain important, it is no longer enough to only deliver value for money, quality products and a good online UX.
Shoppers today want more – craving things like brand values they can align with (49 percent), human engagement (28 percent) and flexible payment options (36 percent). This is especially true of millennial and Gen Z shoppers who care less about value for money, and more about brand image (22 percent, compared to 13 percent of over 45 year olds) and flexible payments (32 percent, compared to 21 percent of over 35 year olds).
Can retailers keep pace?
These insights demonstrate how important it is for retailers to focus on these broader concepts of experience to win back loyalty. It's encouraging to see forward-thinking retailers are already starting to invest in these 'newer' elements of experience. The top areas for investment over the next 12 months are a smooth online UX (33 percent), additional payment options (34 percent), a curated experience (39 percent) and brand content (34 percent).