Product • 29.03.2016
Holo-Gauze creates augmented reality installation for Team Speedo launch
Near-invisible gauze provides canvas for AR-style showcase of world-champion swimmers during promotion of new swimsuit.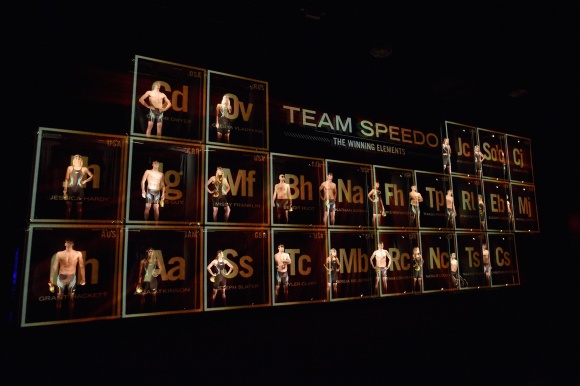 Holo-Gauze, the renowned 3D display solution for hologram effects, has created a 20x9metre installation for an augmented reality style launch of Team Speedo, the swimwear and swim accessory manufacturer's line-up of 200 super star swimmers from the UK, US, France and Spain. The New York launch brought together 24 Team Speedo athletes to promote Speedo's Fastskin LZR Racer X suit, incorporating the swimwear manufacturer's most advanced swimwear technology to date.

To introduce Team Speedo, a film charting the success of each individual athlete was projected onto the huge Holo-Gauze display installation, while the 24 champion swimmers were positioned at various heights, unseen, behind the display. Then an augmented reality style grid and info graphics (name, initials, Olympic team) were projected onto the screen, as each athlete was revealed, one by one, through the near-invisible gauze.


Designed by Speedo's world-renowned Aqualab innovation and research unit, and already being used by leading swimmers, the Fastskin LZR Racer X suit development was based on data from extensive 3D scanning and simulations, and in-depth feedback from swimmers, coaches and swim experts from around the world. The finished product has exclusive new gold detailing and is engineered on look, feel and speed to maximise performance and create the optimum hydrodynamic conditions for speed in the water.
"I was thrilled that Speedo asked us to contribute to this exciting launch," says Holo-Gauze founder Stuart Warren-Hill. "Holo-Gauze is the ideal solution for live events such as this, as it allows people to be situated behind our near-invisible gauze while informative and entertaining holographic effects are 'overlaid' over the top of the human subjects. Augmented reality on a huge scale!"
A video of the launch can be viewed here.