Company News • 26.08.2015
Commercial, shop and object design
The sky's the limit at viscom 2015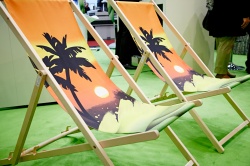 Source: Reed Exhibitions Deutschland GmbH
Innovations and trends in shop and object design and in light technology as well as best practices for shop fitting and the POS: viscom düsseldorf 2015 offers everything that the market currently has to offer.
At the international trade fair for visual communication, visitors can compare notes, network and be inspired from Wednesday, 4 November to Friday, 6 November. In addition, our framework programme offers exclusive talks and up-to-date information on the latest industry developments.

Object designers, interior designers, shop fitters, trade fair stand builders, agencies and marketing people will all find at viscom a wide variety of key players, product highlights and new ideas. Taking part for the first time, for example, is IDL Crack Europe. "We design worlds that create emotional added value. Sometimes on a few centimetres of packaging and sometimes on square metre after square metre of shop floor – but always with passion. At viscom 2015, we would like to share this passion with others from the industry, compare notes and unveil our most recent creations. Today, it is important that visual communication is tailored precisely to the target group in order to create trust and achieve an emotional engagement with the customer. That's why we make individual prototypes and coordinate our concepts on all communication channels", explains Ramona Tappe, from the Marketing & PR Department at IDL Crack Europe GmbH. "The visitors to the trade fair can look forward to various project highlights. For example, we will be displaying exciting digital signage solutions, likewise LED backlight frames and options for innovative merchandise presentation."

For around 25 years, viscom exhibitor Sachsen Fahnen has manufactured innovative system solutions for large-screen communication and for sales promotion. The Saxony-based company has specialised in manufacturing customer-made products for outdoor advertising, the POS, events and leisure time activities, as well as for trade fair stand construction, shop fitting and for architectural requirements.

For outside and inside advertising, as well as in the fields of light advertising, desktop publishing and custom-made non-standard solutions, the Bulgarian company Mouse PSoffers visitors to viscom various approaches. The company has been active in the market since as far back as 1991 and has established itself as a supplier.

The two image provision companies Shutterstock and Depositphotos will be present at viscom to provide advice to shop and object designers and to the industry on the subject of the correct choice of image, and will also be presenting visual options and innovations. They offer high-quality stock photos and HD material for creative interior and object design.
LED and light technology for displays and the POS
Top companies such as SloanLED, Chiplite-Majert and FARD lighting will be providing information on the subject of LED and light applications for displays and the POS. They will be displaying solutions and innovations for the design of interior and outside areas. MALUX, a viscom exhibitor that already supplies LED solutions to customers including Frankfurt Airport, will focus on the topic of LED and its applications. The same is true of ACT Thielmann, a manufacturer of LED displays for a quarter of a century and now a specialist when it comes to LED advertising in all its forms. The range here includes wafer-thin LED video displays, LED tiles with LED display technology, LED video walls and blinds and glass video walls.

Some of the experts on the topic of light technology that will be present at viscom are Tridonic, Rosen Lichtwerbung and Menden Buchstaben. The products supplied by Menden Buchstaben include relief letters, light transparencies, revolving advertising vehicles, canopy constructions, interior signs, light boxes, pylons, edge lighting and displays. At GE Lighting, also represented with a stand at viscom, visitors will find ideas for lighting options in food and fashion shops, petrol stations, hotels and also urban and industrial sites.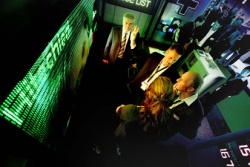 Source: Reed Exhibitions Deutschland GmbH
Inspiration in the viscom world of inspiration
Anyone looking for focused inspiration on the topics of in-store & object design is in the right place at the viscom world of inspiration. This is where you will find exhibitions of everything current, special, new and sometimes a little whimsical – the sky's the limit. Users and providers will also have the opportunity here to compare notes and network. On offer here are, amongst other things, state-of-the-art digital print technology, inks, carrier materials and product highlights. It also promises inspiration for shop and object design, light technology and digital signage.
Digital signage and point of sales
How visual communication can be connected with the most recent digital options is explained in the area of digital signage in Hall 8a. Here, LG, Stino, dimedis, Basys and Update Display will be exhibiting interactive and flexible solutions. Designers and shop fitters will also find plenty at viscom to assist then with POS design. In terms of the POS display, exhibitors such as Plexotec, Aluvisio, Holbox, Schoepe, Brohl Wellpappe and Luxglas will be displaying their product ranges. The area of POS packaging is located directly next door. The exhibitors here include IDL Crack and Pack Bag. They will be displaying everything from folding boxes to package printing and modern security technology.
Future trends in the framework programme
viscom is known for its extensive framework programme. Designers, architects etc. can also glean valuable information here in individual sessions. For example on viscom Wednesday, when the major topic of digitalisation will be showcased. The session "From large screens, small screens and no screens at all. How digital will the future be?" is all about new industry developments in the fields of augmented reality and smart objects. A talk on this will be given by Arzu Uyan from 42dp Laps. Nor should designers and shop fitters miss the session "Storytelling for rooms. How digital printing is changing interior design." The session will take place on Friday, 6 November, from 10.30 am in speakers' corner. Marc Schnierer, Marketing Manager at Canon, and Stefanie Schumann, Business Developer at Canon, will talk about new communication options made possible by digital printing in interior design and about trends, market developments and the significance of digital printing in retail and interior work. Holger Naumburg, responsible for Marketing and Business Development at Hewlett Packard, will also talk on Friday about the potential and technical possibilities of print for object design.

This link takes you to the Framework programme.
Source: Reed Exhibitions Deutschland GmbH