Interview • 15.09.2020
Come together: local retailers connect with local customers
The online platform Ladenfreun.de connects local retailers with potential customers. The common denominator: A product.
How can you bridge the gap and connect online retail to pedestrian zones? A Nuremberg startup wondered how this could be accomplished and came up with a solution: Ladenfreun.de.
In this interview, founder Matthias Hueber talks about the idea behind the web portal, describes the challenges that urban centers and local retailers are facing today, and explains what this means for city marketing.
Mr. Hueber, how do you prefer to shop?
Nuremberg is fortunate to still have a great selection of owner-operated stores in the centrally located areas of the city. I can still find most items in these commercial zones or in the city center. However, there are always some products I can't find at my local store. That's when I choose an e-commerce site that also has a brick-and-mortar store. If that's not an option, my purchase decision is influenced by whether the store is based or operated in Germany and offers respective support services. So far, this approach has worked pretty well for me.
Many people go straight to online sites to shop. Why is that?
Online retail has changed and created brand-new retail shopping patterns that we the customers are reluctant or unwilling to give up since we are now used to these perks and the many benefits in terms of product variety, price comparisons, and availability. Meanwhile, local brick-and-mortar retailers can excel and wow customers with their expertise, idealism, and proximity.
But there are also drawbacks and disadvantages to this setting. What challenges are urban centers and local retailers facing today?
These days, shopping malls and city centers often seem interchangeable and look the same since higher rents have pushed out many owner-operated stores from city centers. A possible solution might be a quota or some form of voluntary commitment of landlords to help create special event venues and pop-up stores for various purposes. Examples include live entertainment, meeting places, and regional arts and crafts venues to make city centers more distinctive, unique, and family-friendly again.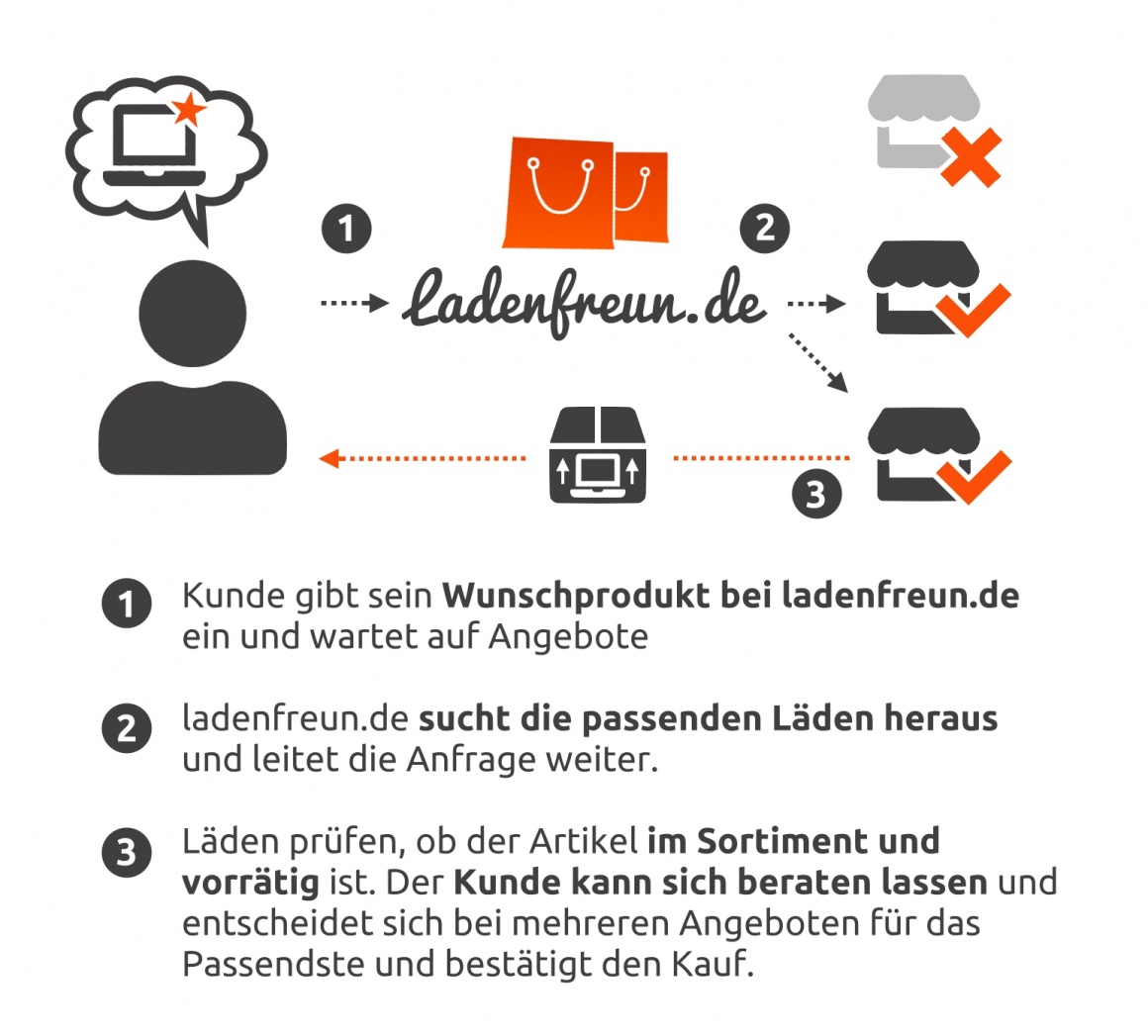 Source: Ladenfreun.de
How can city marketing help attract customers and increase city center store foot traffic?
E-commerce businesses are successful because many online retailers have recognized the benefits of inbound marketing and help customers choose products via blogs, stores, etc. Subsequently, it only makes sense to buy from the source that gave me great tips when I was a prospective customer and researched the products. Innovative city marketing should pay tribute to this development and embrace digital transformation processes.
Speaking of "innovation", what is the idea behind Ladenfreun.de?
Stores play an important role in urban areas but they increasingly lose ground and waste their positive impact on the social environment thanks to suburban sprawl and online retail. The idea behind Ladenfreun.de is to maintain real social spaces by integrating them into digital realities. This idea has been around for quite some time, but the coronavirus crisis and subsequent lockdown ultimately were the catalyst to implement the idea, present it to the public, and support our local retailers.
How does Ladenfreun.de work?
It's a very simple process: Users enter their location and select a search radius, and request a product they can assign to a category. If matching retailers have signed up and registered, they receive an email notification, allowing them to make the customer an offer. The customer can then purchase the item and turn to the retailer for more advice if needed.
How can local retailers sign up with your service and what are the benefits?
Retailers can register their business on Ladenfreun.de or tell advertising councils or trade associations about our service. The benefit for retailers is that they can easily and conveniently have an online presence as a complement to an existing online store or as solution if they don't have their own online website. It's also a way to attract new customers in their extended local area or to win back customers they may have lost to the Internet.
Advertising groups, syndicated procurement groups, etc. can subscribe and support their members by offering extended features of Ladenfreun.de, thereby giving them a powerful online tool that augments the typical marketing mix of coupons, delivery service, and online window shopping. In doing so, local purchasing power can be effortlessly redirected to local retailers.
A look into the future: What will city centers looks like twenty years from now?
I might have an optimistic outlook but city districts might spring back to life again with stores and retail spaces changing from vacant to vibrant. Pedestrian zones may become adventure areas that feature more sustainable and innovative forms of consumption and encourage social encounters and street life. Apart from repair cafés, pop-up stores, and upcycling workshops, live entertainment, and shared spaces make room for spontaneous adventure and relaxation beyond a consumer culture that is organized around consumption.