News • 02.05.2022
American and European retail brands bounce back better as values increase post-COVID
Big retailers like Amazon and Walmart apply their logistics expertise to adapt in innovative ways to the 'new normal'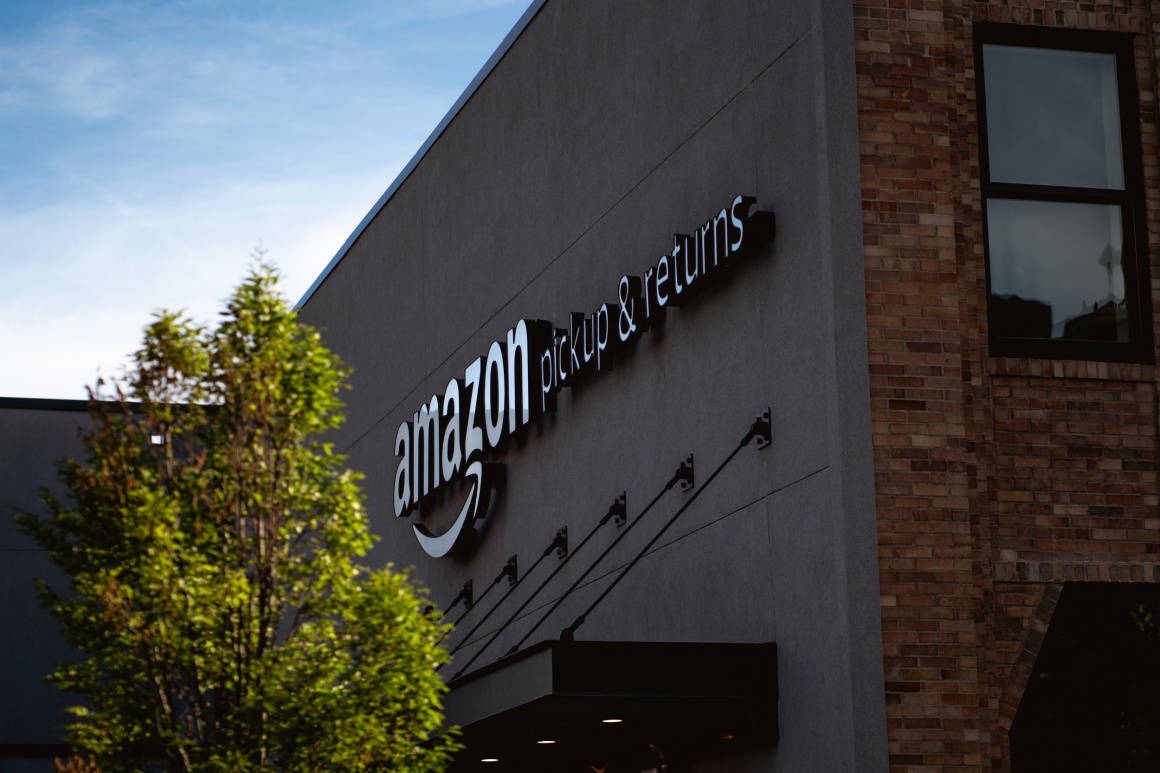 Source: bryanangelo / Unsplash
American and European retail brands are leading the global retail sector in bouncing back better from the pandemic, with Amazon and Walmart leading the way. In a world of changing customer demand and disrupted supply chains, these big retailers are applying their logistics expertise to adapt in innovative ways to the 'new normal'.
Every year, leading brand valuation consultancy Brand Finance puts 5,000 of the biggest brands to the test, and publishes around 100 reports, ranking brands across all sectors and countries. The retail industry's top 100 most valuable and strongest brands in the world are included in the annual Brand Finance Retail 100 ranking.
Amazon retains title of the most valuable retail brand
Amazon sits in 1st position as the most valuable retail brand in the world, up 38% year-on-year and valued at US$350.3 billion. Amazon provides outstanding value to its shoppers in big markets such as Brazil, USA, UK, and is a dominant market retailer in many more. Value has always been a big driver of consumer behaviour, but Amazon also delivers a slick shopping experience ("excellent website/apps"), and this powerful combination is irresistible for many consumers, even those who question Amazon's values and broader corporate reputation.
Amazon sees logistics as key, developing its own end-to-end supply chain through a growing fleet of trucks, vans, and aeroplanes in many jurisdictions. Across 2020 and 2021, the brand has invested an estimated US$80 billion in its logistics division, compared to US$58 billion in the previous five years combined. This allows Amazon to deliver on its core brand promise to customers: delivering goods to consumers efficiently and effectively.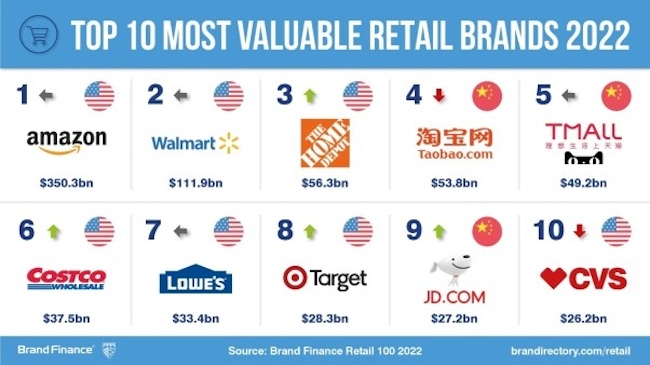 Source: Brandirectory
Burlington is the fastest growing retail brand in the world
American department store retailer Burlington (brand value up 80% to US$2.6 billion) is the world's fastest growing retail brand with an impressive performance over 2021. Burlington achieved a brand value growth of 80% year-on-year after being negatively impacted by the pandemic the previous year. The brand was in a phase of recovery and sales this year have exceeded well beyond pre-pandemic levels in 2021.
The brand is investing in its long-term growth to maintain its streak post COVID-19. The retailer hired experts from discount store brand Ross Stores to lead this transformation. The brand is heading in the direction of low-price retail giants by boosting sales productivity and inventory turnover by increasing its store count in target markets.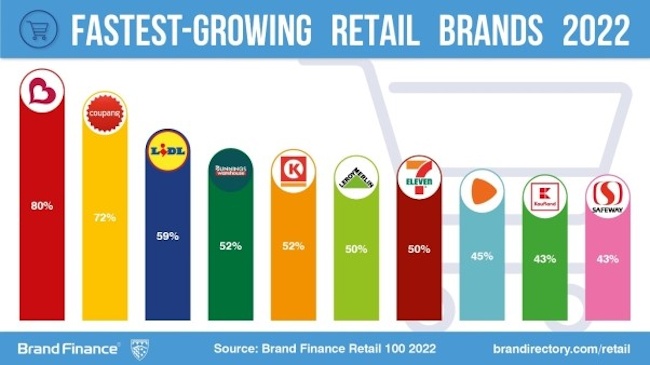 Source: Brandirectory
Target breaks into the top 10 retail brands
American retailer Target (brand value up 37% to US$28.3 billion) enters the top 10 retail brands to become the eighth most valuable brand, up three ranking places from eleventh. Target achieved strong growth during the pandemic as shoppers preferred to minimize multiple shopping trips and Target served as a one-stop shop for customers for large volumes of grocery shopping.
Like global leaders Amazon and Walmart, the brand has invested heavily in developing its private labels and supply chain partners and is increasing its scale of operations and product offerings significantly. Target has also communicated its goal of being "America's easiest place to shop" by introducing its multi-channel shopping options and cementing its identity as a one-stop shop.
7-Eleven completes acquisition of convenience store brand Speedway
Japanese retail chain 7-Eleven (brand value up 50% to US$13.7 billion) as a result of significant acquisitions and brand growth. The convenience retailer introduced a contactless shopping experience with '7NOW Delivery', its mobile application to ensure safety precautions and delivery for medicines and essential items.
The retailer completed the acquisition of American convenience store Speedway worth US$21 billion. Speedway has over 3800 stores across United States, bringing the combined 7-Eleven total to approximately 14,000 convenience stores across North America.
Leroy Merlin benefitting from new flexible work culture
French home improvement and gardening retailer Leroy Merlin (brand value up 50% to US$5.8 billion) achieved significant brand growth this year. The brand achieved significant scale improvements during the pandemic, and was able to deliver to customer demands for home improvement goods during the pandemic. It was able to respond to customer demand as consumers spent more on such items, and less on travel, during global pandemic lockdowns
Circle K's rebranding efforts paying off
Canadian convenience store Circle K (brand value up 52% to US$9.0 billion) was able to flourish under pandemic conditions. Three years ago, Alimentation Couche-Tard began the project of rebranding their large global portfolio of brands under the Circle K global master brand. The master brand strategy was a bold, expensive, and highly effective decision. Since 2020, the Circle K brand has grown in value by $3.5 billion and is now the world's 25th most valuable retail brand, a rise of 8 ranking places this year.
The rebrand involved revising licensing agreements, new banners and brand awareness activities in physical stores and gas stations as well as redesigning the brand's logo colours among other visual identity changes. This brand strategy was a bold, expensive, but highly effective decision for the brand's performance globally.