Advertorial • 24.01.2022
Efficient and networked operations in e-commerce warehouses
Proactively preparing for seasonal peaks using big data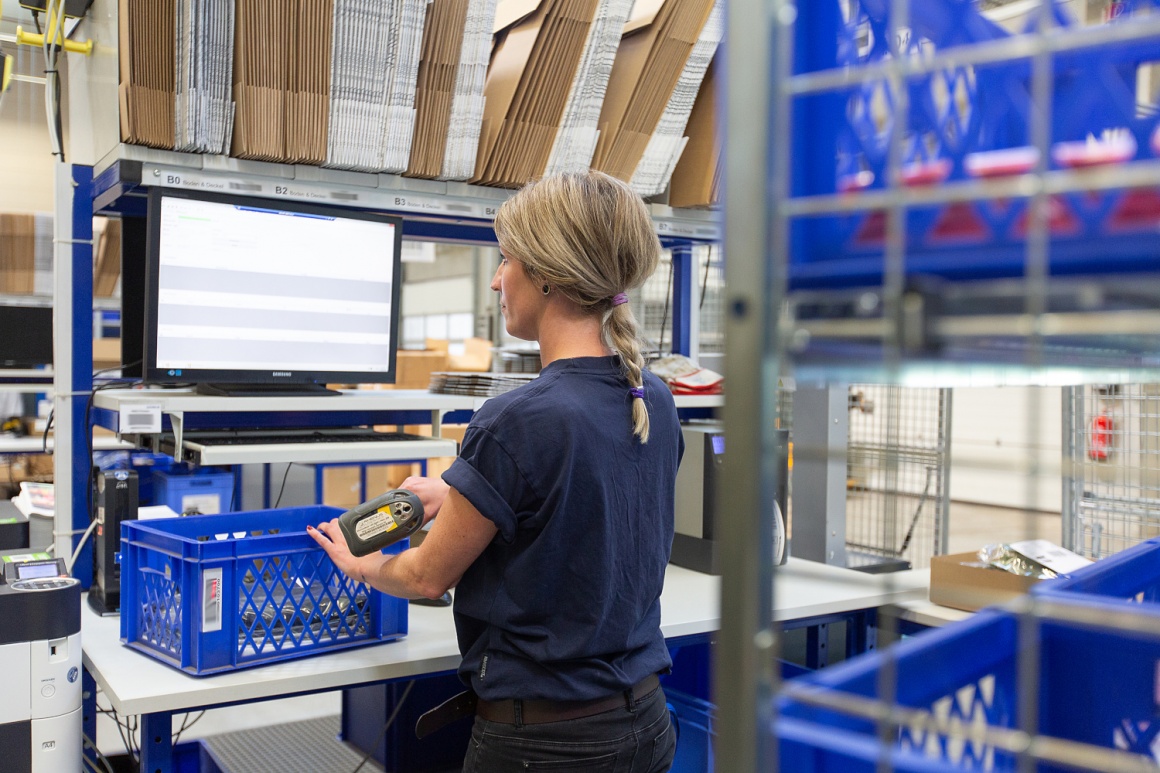 Source: Rhenus Logistics
Digital shopping round the clock means particular service requirements for e-commerce retailers, e.g. providing maximum availability and meeting very short delivery deadlines. Due to the increasing complexity of processes related to warehousing and dispatch, these retailers tend to outsource their logistics to special fulfilment service companies. The latter guarantee that orders are processed in a flexible way – because they use existing data intelligently to proactively cope with order peaks and fluctuations in demand.
Seasonal peaks are some of the busiest selling times for e-commerce retailers, whether they involve a summer sale or Black Friday. These peaks also increase the pressure on warehouse logistics enormously. Especially as their guiding principle already involves reducing the time between the order and the delivery to an absolute minimum in normal operations. Order processing must not suffer from the large volume of requests during these high-pressure work periods either. Otherwise, returns caused by incorrect consignments create dissatisfied customers, which is expensive and damaging to the brand's reputation in the long term.
Using data to save time and costs
Fulfilment warehouses use various strategies and technologies in order to proactively adapt to peak periods. Data processing has become an increasingly important issue during the last few years. Machines and computer systems generate huge amounts of data every day, known as 'big data', and this offers enormous potential for saving time and costs. To fully exploit this potential, data has to be processed, prepared and analysed. Warehouse operators can then diagnose and understand specific problems such as the loss of resources. As a result, the warehouse management system becomes more responsive, among other things. Fulfilment benefits from continuous optimisation.
Supplier

Rhenus-Platz 1
59439 Holzwickede
Germany
Central IT structures promote big data analysis
Big data can only be used successfully if appropriate solutions are available. This means tools that compare processes, bring to light any changes and enable forecasts to be made about the long-term course of business. The first stage involves creating a standard IT landscape and interfaces. Any data disruption between numerous isolated solutions makes it hard to compare different data sources. It is essential to seamlessly connect all the existing data to create the basis for intelligent insights into processes and informative KPIs.
Informative KPIs create the basis for optimisation measures
How are warehouse stocks developing? Do picking rates fluctuate from one day to the next? How much time passes between an order being accepted and the time when it is dispatched? These kinds of questions can be answered if managers collect figures based on experience over a fairly long period of time by analysing big data. They then obtain access to important performance indicators like the purchasing volume, the value of orders or prices in real time. It is possible to directly identify any abnormal situations and bottlenecks. The findings help eliminate minor and time-intensive processes or structure things more efficiently. If picking is accelerated, for example, the throughput volume increases enormously. This is worthwhile all year round, but particularly at peak times, and it also reduces labour costs. Resources such as (additional) employees and available warehouse space can be used more effectively. This is how to proactively cope with the challenges of e-commerce logistics – and strengthen customer relationships with the supplier's brand in the long term.
For further information visit: www.rhenus.group/warehousing