Product • 20.07.2009
VIVOTEK Selects Nethra Image Processor for Latest Network Cameras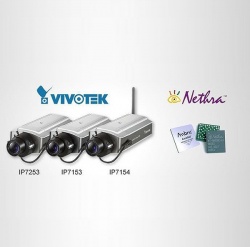 VIVOTEK has adopted Nethra's image processor in its latest generation progressive scan CCD cameras, the IP7153/7154 and the IP7253, to achieve premium video quality in surveillance applications.

"We chose Nethra's processing chip for its ease of integration and its range of video feature set that fits our latest camera technology," said William Ku, Director of Product Marketing Division of VIVOTEK. "Additionally, its low light processing capability enables our cameras to deliver video with low noise and clear details, which is essential in a surveillance camera."

The IP7153/7154 and the IP7253 are known for producing crisp and sharp images of moving objects because of the progressive scan CCD sensors and the integration of NI-9065 pushes these cameras' image quality to a higher level. VIVOTEK customers can benefit from high frame rate video capability along with high-quality smooth scaling performance.

"We are pleased that the NI-9065's rich video processing features fit VIVOTEK's requirements to deliver superior video quality to the surveillance market," said Ramesh Singh, Nethra's president and CEO. "We look forward to continuing the partnership and believe that our product roadmap is well aligned to support future joint product development efforts."

Supplier

6F, No 192, Lien-Chen Road
Chung-Ho Taipei County
Taiwan