Company News • 05.11.2009
Thanks for Visiting VIVOTEK at Anixterfest 2009 & IFSEC India 2009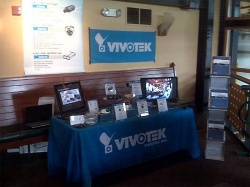 VIVOTEK would like to thank our customers for visiting our booths at Anixterfest and IFSEC India. Our strong displays at both events made sure every visitor who entered the events exited knowing the VIVOTEK brand.
IFSEC India is the world's premier global security exhibition catering the South Asia region. VIVOTEK is pleased to have the opportunity to interact directly with customers and high profile visitors from all over the region as well as to improve our knowledge about the Indian security market. VIVOTEK also appreciated the experience of meeting California Bay Area customers at Anixterfest 2009, which attracted hundreds of installers and Anixter employees from Northern California as well as a significant number of end users involved in the transportation, school, and government sectors. Among a select group of suppliers invited to the event, VIVOTEK came out in force with displays, banners, advertising, and giveaways, pronouncing its presence as a key player in the IP surveillance market and showcasing the latest and greatest in IP Camera technology.

VIVOTEK received much valuable and positive feedback from our loyal customers, especially about our innovative megapixel network cameras, H.264 compression technology, and central management software. You can access VIVOTEK's full range of products at www.vivotek.com. For more information, please feel free to contact us at sales@vivotek.com.
Supplier

6F, No 192, Lien-Chen Road
Chung-Ho Taipei County
Taiwan