Product • 11.11.2008
Star Micronics launches new high speed version of highly successful TSP100 futurePRNT series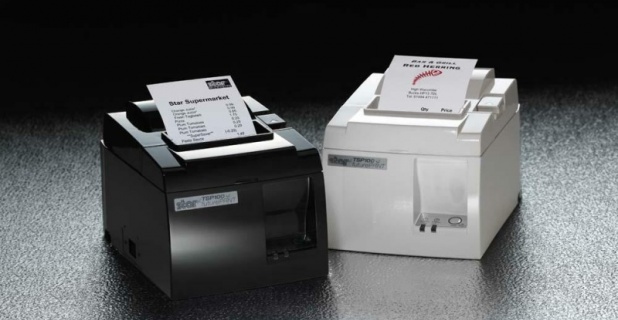 International POS printer manufacturer Star Micronics has once again demonstrated its expertise in technology and printer design by further enhancing its unique TSP100 futurePRNTTM series.
Following the phenomenal success to date of the TSP100 futurePRNT series, renowned for its revolutionary software, quality hardware and entry-level price, Star has truly enhanced the versatility of the printer by developing a range of new versions that combine exceptional performance with advanced technology and design.
To complement the existing USB, Powered USB and low cost Ethernet versions of the printer, Star has developed a new high speed version - TSP100GT futurePRNT, capable of printing at an impressive 250mm/second which makes this printer and the TSP700II the two fastest single station printers available today. Furthermore, with its value-added software features and compatibility with the majority of operating platforms, the TSP100GT futurePRNT is without doubt unrivalled in the marketplace. To accompany these benefits and reflecting Star's focus on design, the TSP100GT futurePRNT has been created with a new full gloss casing offering a choice of piano black or ice white.
Furthermore, this printer incorporates a range of futurePRNT features including value-added software tools that will work alongside existing POS software. These tools allow users to literally re-design receipts by modifying fonts, inserting logos or watermarks and to automatically add coupons based on the retailer's pre-decided products or purchase values relevant to a specific transaction. Furthermore, a number of accessories are provided at purchase while additional options including a splash proof cover and display stand for vertical operation are also available. As in-store or in-restaurant graphics can be attached to the back of the stand (facing the customer) this provides a low cost vehicle to promote the store's latest attraction such as extra discount on the store credit card, etc.
As Simon Martin, Director and General Manager, Star Micronics EMEA, states, "With the launch of the TSP100GT Star is truly setting new standards within the POS printer marketplace. Offering the end user an exceptionally high speed printer accompanied by a range of valuable software tools and outstanding design features, the TSP100GT is clearly unique in its class."
Supplier

Star House, Peregrine Business Park, Gomm Road, High Wycombe
Bucks HP13 7DL
UK