News • 23.02.2022
Smart-store systems for Latin American convenience store chain
IoT networks can reduce energy consumption and CO2 emissions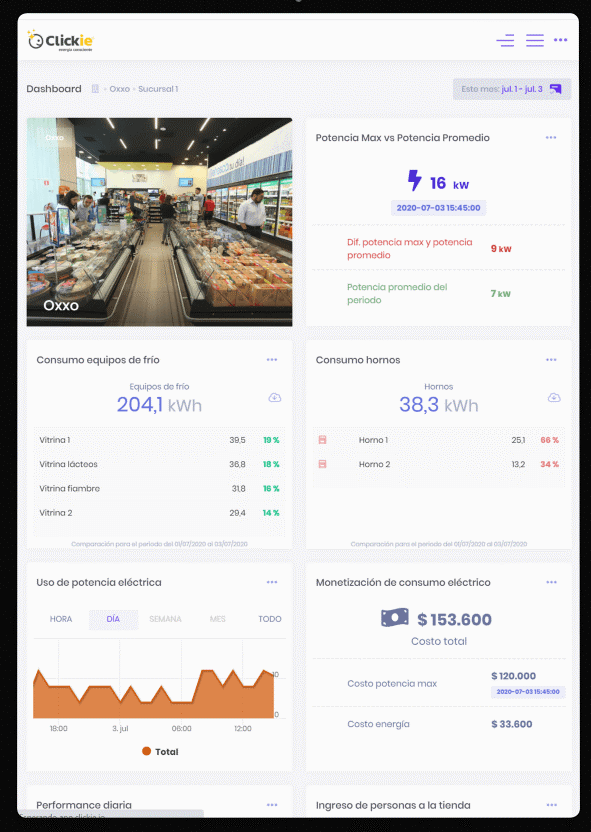 Source: Clickie
Kerlink and Clickie, a Chilean company that offers real-time monitoring and management of electricity consumption, announced their smart-store solution is being deployed in more than two-dozen stores in Chile owned by Latin America's largest convenience store chain, OXXO.
Clickie's system can reduce store energy consumption by up to 20 percent, reduce the annual CO2 production by more than 240,000kg and increase useful lifetime of in-store equipment by 25 percent. The system combines LoRaWAN® technology, management tools and economic-behavior theory to monitor businesses' critical operational variables in real time and deliver timely information capable of optimizing the way resources, such as electricity, are used.
Kerlink, a provider of solutions for designing, launching, and operating public and private LoRaWAN® IoT networks, offers a comprehensive product portfolio of industrial-grade network equipment, network-core, operations and management software and value-added applications. In these Chilean smart-store deployments, it delivers its indoor carrier-grade gateways, along with its complete, modular solution that runs, monitors and manages entire IoT networks.
Electrical equipment management
Continuous monitoring of energy usage allows detection of critical points of consumption and key management opportunities:
Scheduled operating hours: Equipment or appliances that record energy consumption during the store's closing hours can be programmed to shut down automatically, thus reducing unnecessary usage and extending their useful lives.
Out-of-range alarms: Alarms that trigger when excessive consumption is detected identify when and where consumption peaks occur. This facilitates management of energy demand.
Automation: The automation service gives store managers control of their devices from the platform, such as the possibility of managing room temperature remotely.
Room temperature management
OXXO manages to effectively maintain an optimal room temperature in all its stores with the temperature management tools connected to the platform.
Smart thermostat: Advanced control of air conditioning units automatically and remotely adjust modes and temperature level based on customer comfort parameters.
Automatic On/Off: Using the platform, the air conditioning is programmed to turn on half an hour before and turn off half an hour after the store's business hours.
Custom schedule: The system allows the creation of custom schedules to turn on air conditioning on certain days and automate operating hours. Powered On Monday through Friday, powered Off on Saturdays and Sundays. Any timetable is allowed.