Product • 16.01.2012
Smart and reliable protection
The intrusion control panel AMAX from Bosch keeps unwanted guests out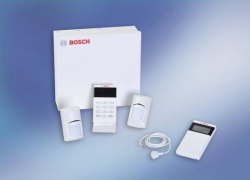 Easy programming and usage through intuitive icons
EN50131-3 certified
Bosch Security Systems introduces the AMAX panel 2000 and concurrently enriches its product line for requirements of low to medium risks. The new intrusion control panel is designed to meet the special requirements of small commercial businesses.
With its straightforward LED or LCD icon keypad and well structured menu, the system is particularly effortlessly to operate and assures trouble-free usage. The small, unobtrusive interface in portrait format even fits in environments with very little space. The architecture and keypad are similar to the popular Solution Series of Bosch, which simplifies a transition if required.
With the default program already covering 90 percent of all applications, the AMAX panel 2000 enables a simple and cost-effective installation. A programming stick also allows a straightforward programming for multiple similar installations.
Absolute reliability is not only guaranteed by the Bosch brand, but also by independent labs and local approval offices, which tested the panel and certified it against the EN50131-3 grade 2 standard.
In addition to the classic integrated PSTN communicator, the AMAX panel 2000 supports future proof alarm communication with IP and GPRS modules.
Video alarm verification can be realized in combination with the IP camera 200 series of Bosch. This allows the monitoring center or owner via e. g. smartphone to detect where exactly the alarm got triggered and if there is a real intruder present.
"With the AMAX panel 2000 we provide an intrusion control panel, which gives small businesses all the security they require", says Gerhard Kugler, Product Marketing Manager at Bosch Security Systems.
Additional information can be accessed at www.boschsecurity.com
Supplier

Robert-Bosch-Ring 5 und 7
85630 Grasbrunn
Germany