Company News • 21.09.2017
Retail chains Elkjøp and Elgiganten to install connected digital price tags by SES-imagotag
100 percent cloud roll-out in Dixon Carphone Nordic stores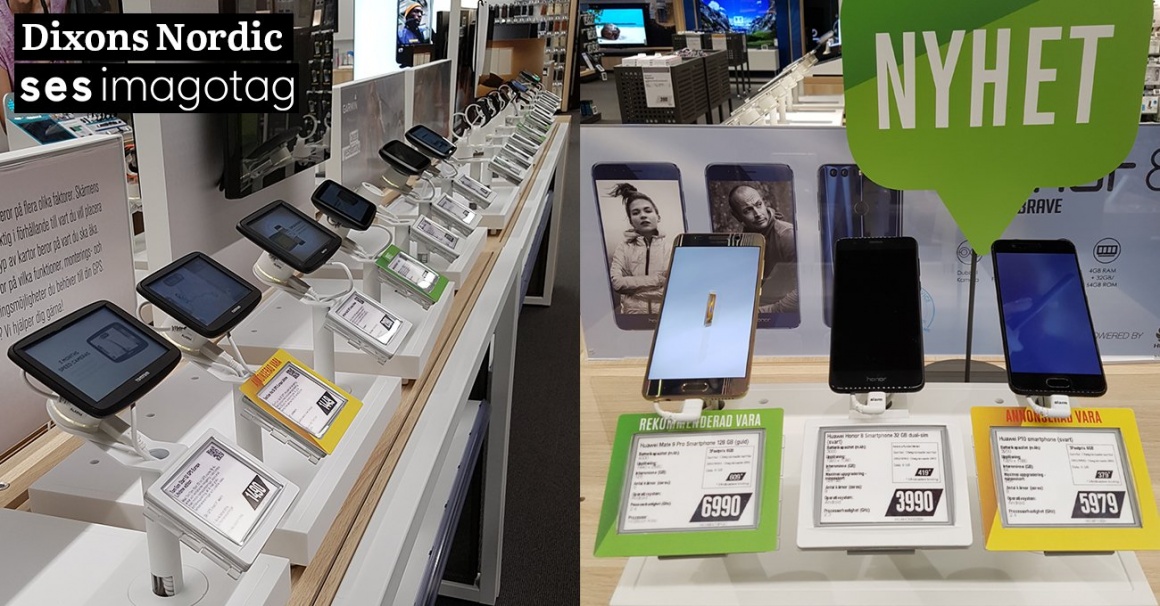 Source: SES-imagotag
SES-imagotag, a specialist in digital solutions for physical commerce and the global leader in connected digital price tags, today announces that it has signed a contract with Dixon Carphone Nordic's retail chains Elkjøp and Elgiganten to install its connected digital price tags.
The SES-imagotag electronic shelf labelling (ESL) solution will enable Elkjop to improve pricing agility and omnichannel synchronization, as well as enabling improved shopper information and shopper connectivity at the shelf due to the embedded contactless technology (NFC) that allows smart ESLs to communicate with now most Android smartphones and, as Apple announced recently, with all iPhones 7 and beyond (using iOS11). The solution also includes an automated planogram feature using ESL-based product geolocation, allowing for compliance improvement, in addition to click & collect agility and productivity.
The first roll-out will take place in Norway in H2 2017, in almost 110 stores.
Hans-Petter Døvre, Format Director of Elkjop comments: "We are delighted with this collaboration with SES-imagotag, the worldwide leader in connected digital price tags and pricing automation solutions. Thanks to the SES-imagotag offer's added value, our stores will be able to enhance customers' in-store experience by providing them with the most advanced connected services and technologies available on the market. There is a strong demand from the consumers to improve their in-store experience and the SES-imagotag's solution is a unique asset to achieve this goal."
Thierry Gadou, Chairman and CEO of SES-imagotag, concludes: "We are very proud to sign a new contract in Scandinavia, a region where our solution has been implemented in many stores, with another leading operator and the largest consumer electronics retailer in the Nordic countries. It is also a world premiere as the entire system will be operated through cloud-based solutions. This new important success allows SES-imagotag to further demonstrate how relevant its overall product range is and allows us to strengthen our leading position as digital solutions provider in the consumer electronics sector."
Get to know more about the Seamless Store Concept by SES-imagotag in the following video:
Supplier
Bundesstraße 16
77955 Ettenheim
Germany