Product • 12.05.2017
prudsys Realtime Decisioning Engine (RDE)
Implement innovative real-time scenarios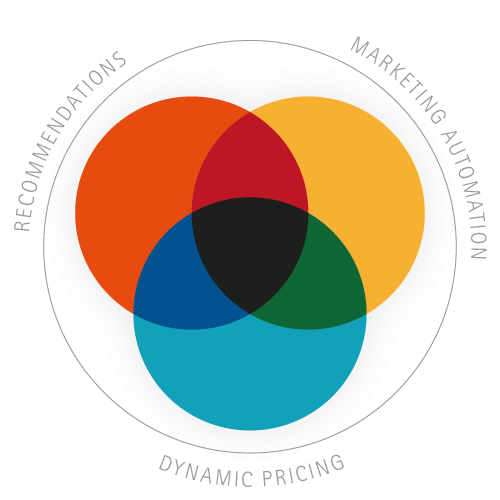 Source: prudsys
We use the prudsys RDE to implement innovative real-time scenarios tailored 1:1 to the needs of our customers. The modular setup of the software allows to join together the components recommendations, marketing automation and dynamic pricing to create a customized, overall solution for omni-channel business.
Whether you are generating personalized product recommendations in the online shop, sending individual discount coupons via the newsletter or are interested in automatically generating target groups for your marketing campaign – the prudsys RDE is the right tool at every time. The modules of the prudsys RDE:
Recommendations
Use our recommendation engine to offer your customers product and content recommendations at every touch point as well as highly relevant personalized search results. Score points with a unique customer experience and maximize customer loyalty and your earnings.
Marketing Automation
Generate reliable forecasts in real time about the behavior of your users and generate the right incentive at the right time to optimize your conversion rate. Increase the probability of response to your marketing measures by automatically selecting the perfect target group.
Dynamic Pricing
Calculate the optimal price for millions of items at any time while taking into account all relevant influencing factors. On top of that, take advantage of the up-selling potential of individualized discounts by automatically combining product and price using intelligent couponing solutions.
Supplier

Zwickauer Straße 16
09112 Chemnitz
Germany