Company News • 18.12.2019
A strong team for the POS
Founding of neoalto GmbH

POS TUNING, the specialist for the optimized presentation of products at the point of sale, announces the spin-off of the digital services division. The GmbH (LLC), founded in September as neoalto, has already made a name for itself on the market since 2018. Since then, digital data services for more success at the POS have revolutionized the shelves in retail.
Supplier
Am Zubringer 8
32107 Bad Salzuflen
Germany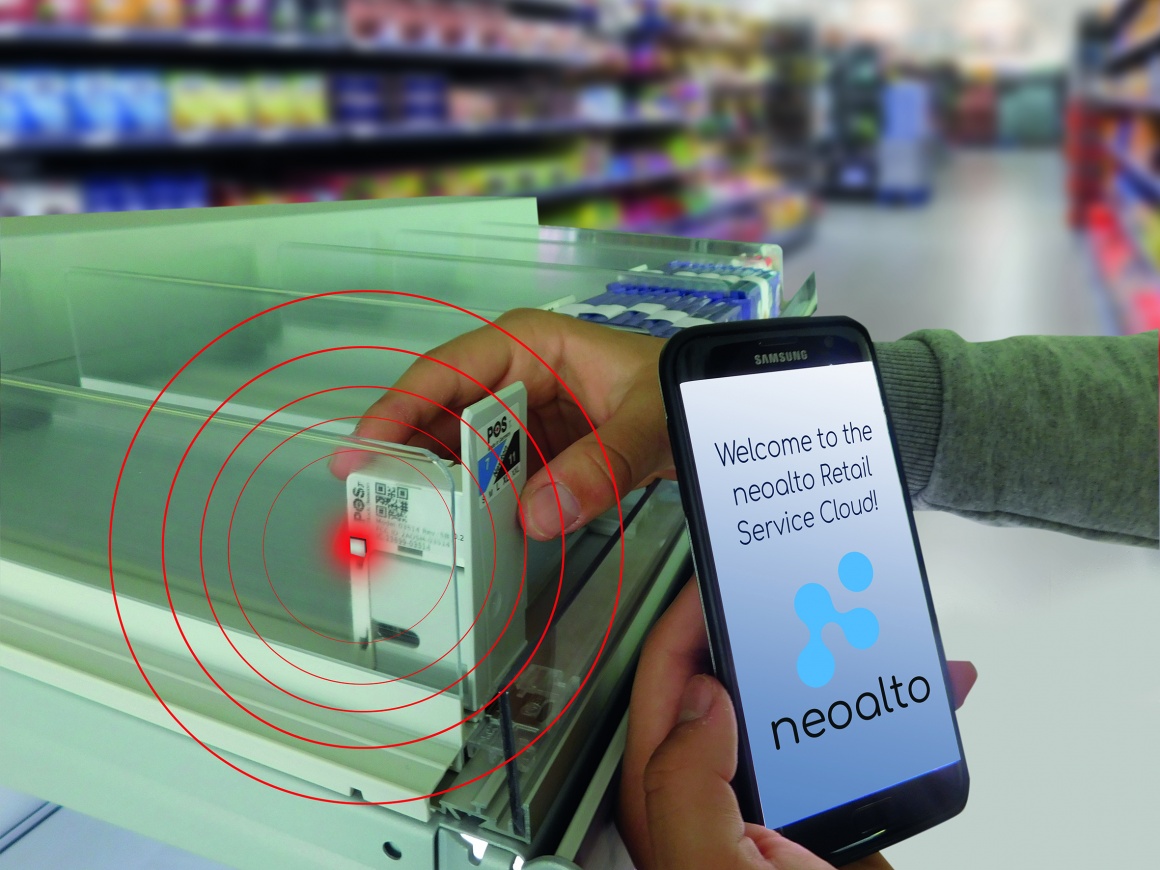 Source: POS TUNING
The stationary retail goes online
The intelligent neoalto Stock Beacon, a small device that is placed on the back of the pushfeed system, uses the latest laser technology to measure stocks on the shelf, reports them in real time to the cloud and even enables orders to be placed automatically. "We turn stock movement into knowledge" says Oliver Voßhenrich, managing partner of POS TUNING and neoalto. Each product that is taken off the shelf or returned is counted and the information is immediately transferred to the retailer's digital device. Empty shelves are a thing of the past. An alert is sent when a product is in low stock and it can be refilled immediately. If the stock level in the main stock area is also low, the neoalto Retail Service Cloud can be used to directly place an order. The shopper benefits from a better shopping experience and the retailer from more efficient processes in store and logistics. In addition, neoalto offers solutions for areas such as theft prevention, market research and shopper activation. The data obtained can be used in a variety of ways - quite smart!
neoalto and POS TUNING as a strong team for the point of sale
POS TUNING and neoalto will continue to work closely together in the future. POS TUNING will produce the shelf management systems and sensor elements (stock beacons), while neoalto will provide the required sensors and software. On September 25, 2019, the independent company neoalto GmbH, based in Cologne, was founded. The shareholders and managing directors are Rene Bredlau and Oliver Voßhenrich. "We are very pleased that neoalto is now standing on its own two feet," commented René Bredlau on the successful transition of neoalto to its own company. "And with POS TUNING as a strong partner at our side, we are ideally prepared to evolve the digitalization of retail."