Product • 07.09.2009
NEC Launches Sale of MPLS-TP Next Generation Packet Transport Device
MN5000 Series to be featured at the Broadband World Forum 2009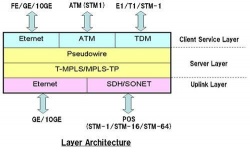 Tokyo- NEC Corporation announced today the launch of sales for the MN5000 Series, a next generation packet transport device that uses MPLS-TP (*1) transmission to enable carrier networks to migrate to packet based networks, such as IP and Ethernet, with existing ATM (Asynchronous Transfer Mode) and TDM (Time Division Multiplexing) transmission technologies, and bolsters NEC's portfolio of packet transport products.

The MN5000 series has adopted MPLS-TP to enable the creation of packet based transport networks that offer monitoring of high precision/quality communications, conversion of high speed redundancy systems and advanced operations and maintenance (OAM) (*2), which enables existing networks to provide carrier grade reliability, maintenance and operation. Moreover, ATM and TDM transmission technologies are able to accommodate wide area Ethernet and dedicated Ethernet services using Pseudowire functions that emulate existing dedicated line services and enable a range of carrier network services, including ATM, circuit switching and Ethernet, through a single device that facilitates integration with packet transport networks.

These functions assist with the migration of existing backhaul networks and metro/core networks to packet based next generation transport networks, in addition to further unifying network operation and maintenance in order to optimize and reduce OPEX/CAPEX for telecommunications carriers.

MN5000 Series shipments are scheduled to begin in December, 2009. Promotions are expected to expand internationally, with sales targeting 4,000 systems within the first three years.

NEC will showcase the MN5000 Series at the Broadband World Forum 2009 in Paris, France from September 7 to 9.

* Refer to the following for an overview of the MN5000 Series
(*1) MPLS-TP: Multi-Protocol Label Switching-Transport Profile
The MPLS is a packet switching method standardized under the IETF (Internet Engineering Task Force). The MPLS-TP formed through cooperation between the IETF and ITU-T (International Telecommunication Union-Telecommunication Standardization Sector) in order to advance standards applicable to transport networks.

(*2) OAM: Operation and Maintenance:
Maintenance and operation functions for muti-services such as MPLS-TP, Pseudowire, ATM, etc.


Supplier
Postfach 190 665
80606 München
Germany