Product • 05.10.2015
Infinite Peripherals introduces Infinea Tab M for iPhone 6 Plus
Larger handheld option for industries including retail, hospitality and transportation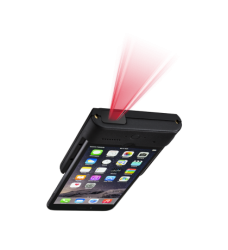 Source: Infinite Peripherals
Infinite Peripherals continues to keep pace with the evolution of Apple products with the introduction of the Infinea Tab M for the iPhone 6 Plus. The first mobile point-of-sale (mPOS) device for the iPhone 6 Plus, the new MFi-certified Infinea Tab M offers a convenient, portable and versatile solution in a variety of industries, including retail, transportation, hospitality and more.
"The Infinea Tab M is a great option for those who want a handheld device that is sized between the iPod touch and the traditional iPad," said Andrew Graham, president of IPC. "As more industries adopt mPOS and mobile solutions, we are committed to offering a wide variety of products that maximize efficiency for associates and customers."
Currently used on major airlines, the Infinea Tab M for iPhone 6 Plus adds a magnetic stripe reader (MSR) to the phone to facilitate mobile checkout from anywhere in a store, restaurant, hotel, airplane, train and more, reducing wait times and optimizing convenience. The device accepts NFC payments, including Apple Pay™.
Optional features include an encryption-capable MSR, a 2D high-speed imager that supports all major 1D or 2D barcodes, and Bluetooth® and RFID readers to expedite transactions even more quickly.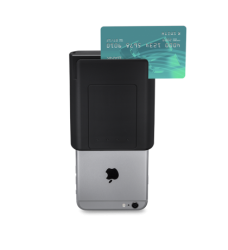 Source: Infinite Peripherals
When equipped with the high-speed imager, the Infinea Tab M for iPhone 6 Plus adds significant versatility in additional tasks such as inventory management, asset tracking, ID verification, lead tracking, inspection/work-flow, dispatch, time/labor and lab and healthcare. Software development resources and tools are available for the product so customers can program scanner and reader functions into their own software application.
IPC's flexible case for the Infinea Tab M for iPhone 6 Plus can be customized with company colors and logos and creates a convenient, one-piece handheld device. This case also makes it simple to remove and re-insert the iPhone 6 Plus for those who may need to take the phone away from the worksite.
Using the Bluetooth option, the Infinea Tab M can connect to a portable receipt printer, such as the IPC mobile printers DPP-250, DPP-350 and DPP-450, for 2, 3 and 4-inch receipts.
Source: Infinite Peripherals