Product • 01.02.2010
Hoeft & Wessel with new Pick-by-Voice solution - skeye.dart PBV
Simple operation using skeye.dart PBV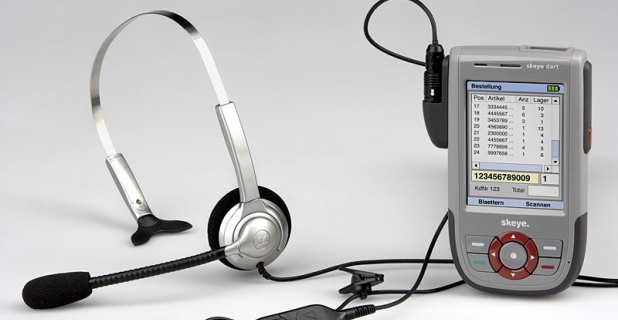 Skeye, the business division for mobile solutions of the Hoeft & Wessel Group, has developed a pick-by-voice version of its industrial PDA skeye.dart. A headset is connected via a robust audio interface. This makes the skeye.dart ideal for use with voice-controlled warehouse and order-picking applications. In addition to voice control, the application can be run using the extra-large keys and the touch screen. The 3.5" VGA screen can display even complex information clearly and in easy-to-read fashion.

With this new version, Skeye provides a solution for the rapidly growing market in voice-controlled warehousing applications, a solution that is both versatile and cost-effective.

Weighing in at only 270 grams, this very robust and ergonomically designed device comes with a comprehensive feature set and represents a very good price-performance ratio. Using the Windows Embedded CE 6.0 operating systems, the unit handles all the common forms of communications, such as GSM / GPRS / EDGE, GPS, WLAN and Bluetooth, and it is also equipped with a ScanCam capable of reading barcodes and taking photographs. The industry-category skeye.dart PDA is therefore the perfect device for the collection and immediate processing of data prior to transmission to a central system.

A special feature of the skeye.dart is the selective keypad illumination. Targeted, context-specific illumination of individual keys provides the user with easy navigation even in complex software applications and greatly facilitates data entry, as well as reducing the error rate. Built to industrial standards, the unit is very robust and will survive a drop from a height of up to 1.2 m without damage. Its protection class IP54 rating means that it can be deployed in humid and dusty environments.

A business division of the leading IT hardware and software group Hoeft & Wessel, Skeye has been specialising in developing in mobile data recording and processing solutions for over 30 years. In Germany, Skeye has become the market leader for mobile terminals for merchandise management in the retail sector. The company also provides stationary payment terminals and POS solutions. The mobile terminals are also deployed in the logistics sector and in field services. International transport companies and customers operating in warehouse logistics also rely on Skeye solutions from Hoeft & Wessel.