Product • 10.10.2011
FlexiDome IP camera from Bosch now available with six to 50 millimeter lens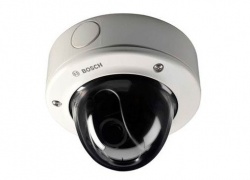 Bosch has launched another version of its popular high performance dome camera, the FlexiDome 2X Day/Night IP camera. The new model comes with a six to 50 millimeter lens – one of few dome cameras to feature such a long telephoto lens. The lens ensures outstanding depth-of-field, keeping more of the scene in focus and making it the ideal solution for covering large outdoor public areas such as bus or train stations.
The new FlexiDome 2X camera model also has Bosch IVA (Intelligent Video Analysis) pre-installed and activated. So it takes less time to configure and install, reducing installation costs. Bosch IVA flags any events on-screen so that operators never miss suspicious activities, and also captures comprehensive scene details which can be reviewed later using Bosch Forensic Search.
Along with many other advanced features, the FlexiDome 2X Day/Night IP camera comes complete with convenient local video storage in the form of a microSD card slot. Accepting up to 32 GB SD cards, it acts as an extra safeguard against loss of video in the event of a connection failure to the main recording site.
Using award-winning Dinion 2X digital imaging technology, the new Flexi-Dome 2X camera model delivers superior image performance in a compact, high-impact rated, vandal resistant housing. Bringing benefits to installers and operators alike, it provides a proven, dependable solution for many discreet security and surveillance requirements, day or night.
Supplier

Robert-Bosch-Ring 5 und 7
85630 Grasbrunn
Germany