Company News • 04.08.2011
DIN rail PC without fan with six serial, four GB LAN and eight digital IO interfaces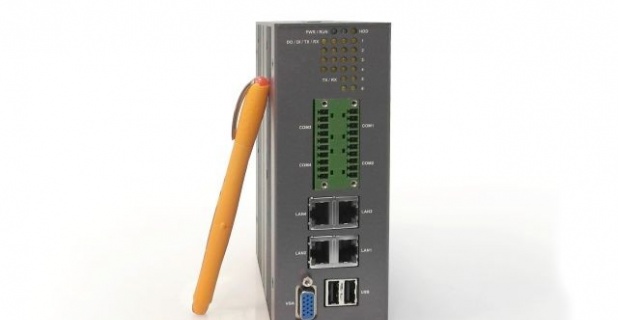 Munich-based company ConceptT International GmbH, a specialist for mobile IT solutions without fans, extends its popular Mini PC series by a DIN rail model designed for the use in SCADA systems, hence monitoring and control tasks. It comes with six serial, four Gigabit LAN and eight DI/DO interfaces. The rotating DIN rail bracket as well as easily accessible CompactFlash card slots make maintenance and loading of new solutions even easier. Driven by Intel's highly efficient ATOM (N450) 1.6 GHz processor, the miniPC 816 does not require a fan. Numerous well visible indicator lights continuously indicate the current status.
Besides its small form factor, the miniPC 816 features 6 COM as well as four Gigabit LAN and eight digital input and output interfaces. In addition, importance was attached to fast and tool-free device maintenance. For example, the DIN rail bracket can be rotated and removed and the CompactFlash card slot is easily accessible from the outside.
The mini PC is powered by Intel's energy-efficient N450 ATOM processor with 1.6 GHz, which due to its low power consumption (5.5 W) only requires passive cooling. Its internal design without fan and almost no cables excludes two main error sources and thus, ensures long and maintenance-free runtimes.
Therefore, when SF cards or SSD memories are used, no moving parts can be found in the miniPC 816. If industrial components are used, it even runs reliably at operating temperatures from -20 °C to +55 °C.
Four Gigabit LAN interfaces are available for network communication, six serial interfaces and four digital inputs and outputs each for field bus systems. Furthermore, the miniPC is equipped with two USB slots as well as an external microphone and headset connector for the use of audio data.
The miniPC 816 is accommodated in a robust aluminum housing. The focus here is on practical installation in switching cabinets. It only measures 60 x 170 x 126 mm and is 1.4 kg light. It's DIN rail bracket provides additional benefits.
Typical application areas of the miniPC 816 can, for example, be found in machine controlling, building automation, information and kiosk terminals, public facilities as well as decentralized control computer.
Concept International GmbH offers very attractive pricing conditions for system integrators and resellers.
Supplier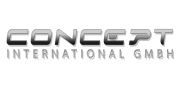 Zweibrückenstr. 5-7
80331 München
Germany