Company News • 10.02.2016
Differentiate with delivery: Why Click & Collect should be part of your delivery strategy
How retailers can better blend their operations to embrace click and collect
Delivery is a hot area in retail right now for a variety of reasons. One of the most important is the cost: the bill for failed first-time deliveries in the UK alone has reached £600 million a year. Shoppers' demands are changing too: they want their goods faster and to mix online, in-store and mobile channels to buy, try and return items in ways convenient to them.
In this analysis, Mark Thomson, Retail Industry Director EMEA, Zebra Technologies, looks in more detail at the key trends influencing delivery strategies and why services such as click and collect are rising to prominence. He moves on to explain how retailers can better blend their operations to embrace click and collect as part of their offering and turn delivery from business cost to business benefit.
A virtuous circle
While online has transformed retail, proportional sales volumes remain comparatively low: online transactions are predicted to account for an average 15% of sales across Europe in 2015. Research suggests the reason for this is that shoppers prefer the instant gratification and interaction offered by physical stores. What's more, many retailers I speak to have an underlying concern that shoppers find waiting for home delivery inconvenient: a problem exacerbated if any items need to be returned.
Supplier
Mollsfeld 1
40670 Meerbusch
Germany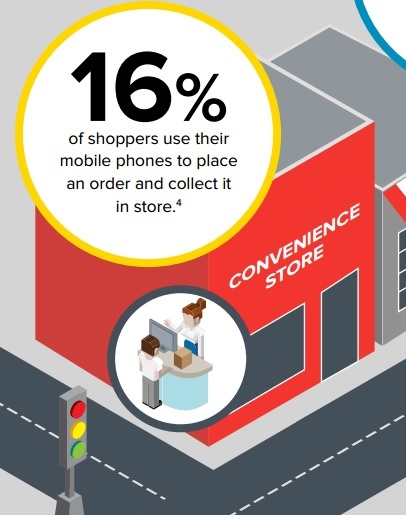 Source: Zebra Technologies Germany GmbH
Delivery is a frustration for the industry too – it hasn't really worked as a profitable channel in the way we may have anticipated. Indeed, many retailers privately concede that they lose money and view delivery as a necessary cost of doing business.
With these issues in mind, it's no surprise that click and collect has become very popular. It's a neat compromise for shoppers and retailers: shoppers get near instant gratification while retailers benefit from reduced delivery charges. John Lewis, the premium UK retailer, recently provided evidence to support the popularity of click and collect. It says that 49% of online customers opted to pick up their goods in 2014. This rose to 56% over the holiday period. More widely, the number of click and collect locations in Europe is predicted by Deloitte to rise by 20% in 2015 to 500,000.
With shoppers willing to collect their goods, we believe that there are five simple steps that retailers can take to optimise the shopper's click and collect experience while reducing costs.
See what's been ordered at the store level: For the nearest store to the customer to fulfil a sale, order systems must have visibility across the entire inventory – whether it's held in the warehouse, distribution centre, stock room or shop floor. This may mean using middleware to integrate ordering systems or investing in a new inventory management solution. It's also important to ensure that confirmed orders are picked immediately, especially where stock is held on the shop floor, to ensure it's not bought up by other customers. One way of doing this is to send a pick order directly to mobile devices used by staff. If a pick hasn't been confirmed within an hour, the order can then revert back to the distribution centre so that the items can be sent to the store for collection.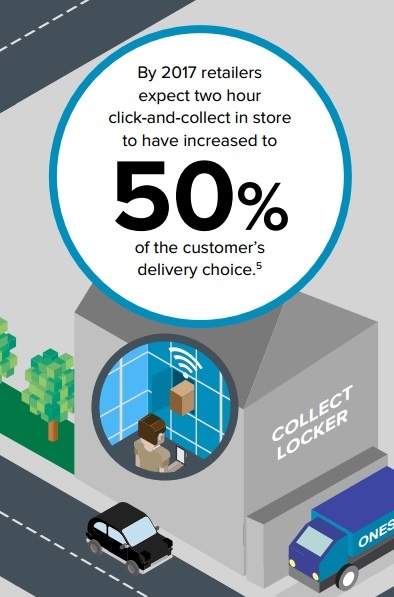 Source: Zebra Technologies Germany GmbH
Plan resources: Some retailers are introducing charges for click and collect. While it remains to be seen if this is a sensible strategy, it underlines the transformation under way in some retailers' businesses. Certainly, staffing levels will need to be reviewed, as will storage requirements. The cost of retail space has seen many retailers move to lean logistics operations, holding just the right amount of stock and decreasing the size of storerooms. But if demand for click and collect grows as predicted, more storage space will be needed as will dedicated click and collect areas with sortation systems to help staff easily locate items.
Offer a warm welcome: Customers are frustrated by queues. To help overcome this issue, kiosks can be offered in-store for customers to register their order number and be pointed to the relevant pick-up area. The kiosk immediately engages the shopper while providing time for staff to find goods and have them ready when the customer arrives at the collect desk. Taking this a step further, shoppers who've downloaded a retailer's app can be automatically registered by the shop's wireless network or Bluetooth beacons. They can then be sent a welcome message to their smartphone as soon as they arrive in-store with a note on where and when their items will be ready for pick-up. The message could also include discounts and offers aligned to their preferences for a more personal, engaging and rewarding click and collect experience.
Be more accessible: Click and collect can be extended beyond the store – using convenience stores, lockers in transport hubs and dedicated 'try pods', which include not only lockers with shoppers' items stored in them, but the space to try their goods on. The beauty of this approach is that it's more convenient for customers – it takes their orders closer to them – while retailers' delivery fleets have to make fewer journeys – reducing driver, fuel and vehicle wear and tear costs.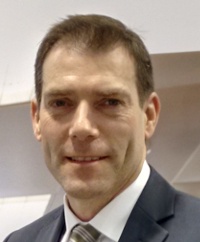 Source: Zebra Technologies Europe Limited
See everything, everywhere, with RFID: There's a strong case to consider moving to RFID for relevant product lines. The technology provides the best way to trace stock from the moment it leaves the factory through the moment it arrives in the warehouse to the moment it's sold (and back again into the business if it's returned). As costs fall for RFID readers, and labels become smaller and more flexible (they can be hidden on items or sewn into garments), the case for moving to RFID is growing stronger too. With customers who've deployed RFID reporting inventory accuracy of 99.9%, it's the best way to see the stock position in real time and allow shoppers to more easily buy, try and return goods through the blend of in-store, online and mobile channels that best works for them – for example, click and collecting goods in-store and returning them to a drop box or locker near to their work or home – with the items tracked out of the business and back in again through a simple scan at point-of-sale and in the returns depot.
History repeats itself
There's a lot going on in retail right now and, of all the innovative stuff I see, the one thing that I find especially interesting is how brands are using technology to bring the personal back to retailing. Whether it's using apps to offer shoppers rewards that really appeal to them, or being able to recognise a customer's smartphone and welcoming them to store by name, or introducing mobile payment, personal shopping experiences and in-store kiosks to help shoppers research, find and pay for items in efficient ways, the relationship between retailers and shoppers is becoming more intimate. Click and collect is part of this picture. It delivers on the promise of online shopping to create more convenient ways for shoppers to buy and receive their goods. What's more, by reducing the reliance on deliveries, it can help retailers cut operating costs too.