Report • 20.02.2009
Catch Shoplifters - Document Incidents - Reduce Losses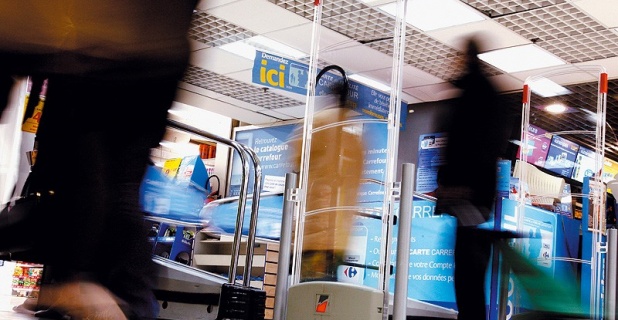 Modern technology plus attentive personnel – only this combination can guarantee a reduction in losses caused by shoplifting. Item security is a complex task, for which a number of solutions exist. Nevertheless, a single 'wonder weapon' is yet to be discovered. A good harvest undoubtedly lies in the sowing. False alarms are security enemy number 1, as staff members soon stop reacting to them. As a result of this, when investing in more security, traders must consider subsequent maintenance too.
Last summer, the EHI Retail Institute established that in the whole retail trade, annual inventory differences totalled four billion Euros. Just under 1.9 billion Euros of this is caused by dishonest customers, whilst a company's own employees are responsible for approx. one billion. The remaining figure is attributed to suppliers or inventory errors.
There is no such thing as a typical shoplifter. Although some customers steal out of financial desperation, a considerable number of 'well-to-do citizens' are also involved and tend to target valuable brand goods. Organised shoplifting in teams of two or three people is on the increase, as is the theft of goods from displays outside shops. In statistical terms, every German household steals retail goods to a value of over 50 Euros. Statistically, every 200th shopping trolley sneaks past the checkout unpaid. In light of this, the State loses some 400 million Euros' worth of VAT every year.
In order to reduce so-called inventory losses, the trade sector invests an annual average of almost 0.3% of profits, which amounts to around one billion Euros. Therefore, the overall expense incurred for inventory discrepancies and their prevention totals approximately five billion Euros, which, like all costs, must be included in sales prices.
 
In a white paper, Checkpoint Systems describes various shoplifting trends:
In most of the major global markets, retail theft is on the increase.
Internal defalcation as part of organised crime is also increasing.
The occurrence rate of internal defalcation is almost identical in various shop and warehouse areas.
Expenses incurred for source tagging measures are set to increase in all retail divisions.
Anticipatory retailers now want to link data from their goods security systems with other back-office applications.
No retail segment is untouched by the growing shoplifting trends.

Staff and Customers as Culprits
Staff members play a crucial role in prevention. Police officials recommend offering special personnel training. Theft committed by staff members is a delicate subject. People are reluctant to sow the seeds of mistrust, but surveys show that employees who have been with the company for over five years are involved in a disproportionately high number of offences. After all, this group knows the company well and is familiar with all the holes in control procedures.
Many retailers also admit to being overtrustful with customers. This makes it easy for customers to disappear into the changing rooms with armfuls of garments. In contrast, those who address their customers regularly emit the signal: "You are not alone". There are often simply not enough staff members present in the store to be able to monitor everything. For this reason, even more importance is attached to technology and external detectives.
EHI surveys show that even in companies which only employ detectives in selected branches or for certain time periods, 71% of all exposed customer offences were discovered and reported by detectives. Despite the fact that most companies do not employ camera surveillance equipment with blanket coverage of their stores, nearly 40 percent of all offences are recorded by cameras.
 
Security for a range of items
A goods security system is not an off-the-peg product. In addition to companies which provide careful and committed advice, planning and development, a number of providers also exist who aim to push their supposedly cheap purchase prices into the limelight. Goods security is made up of a range of components.
One item security measure is offered by display cabinets, although this prevents customers from handling the item. Products packed in security boxes with shelf holders allow customers free access, although they require a considerable amount of space on the hooks. Cord systems with security fasteners offer another solution.
Electronic leash security systems are ideal for expensive items which customers want to handle and try out for themselves. An alarm is activated as soon as someone attempts to cut through the leash. Some leash security systems also respond to the electronic sensor gates at store exits. The leash holds the item in its place whilst also supplying electronic devices with electricity. Security leashes can also be used to protect larger objects, such as bicycles, lawnmowers and product carriers which are displayed outside the store.
Concerning textiles, security features should not obstruct the garment. The commonly-used hard tags often complicate matters for the customer when trying items on. Bendable security tags are becoming increasingly popular. Hard tags are also available with ink inside. If a thief attempts to remove the tag, the item is soaked with permanent, non-washable ink. The ink does not dry out inside the tag, even when stored for long periods of time.
 
Security gates and RFID
Source tagging is becoming increasingly important: even at the source - the place of manufacture – products or their packaging are fitted with security measures. The basic technology used in source tagging continues to be AcoustoMagnetic (AM) and radio frequency (RF). These solutions are generally considered to be well-engineered, with clearly defined technical requirements. More information on radio-frequency identification (RFID) can be read here at iXtenso.
Security gates at store exits recognise all security tags which have not been removed at the cash desk. Nevertheless, organised groups are able to use interference signals, and as a result, stores are forced to keep up with the latest technological developments. A large number of security gates have an integrated customer counter, and corresponding software enables the business to analyse and react to the trends recorded. Security gates can be combined with cameras which, upon alarm activation, automatically film the exit area and save the resulting footage.
 
Cameras – digital or analogue
Deterrence is an excellent method of prevention. This requires easily visible cameras, security tags and warning signs with information on the legal consequences of shoplifting. Cameras should be arranged to survey critical areas, and should be able to produce detailed recordings of events, not only within the store but also at incoming goods points and in the warehouse. This ensures that people can be identified with certainty and theft or robberies can be proven with conclusive evidence. It is also possible to link cash desk data and video images. In spring 2007, however, Lidl and other foodstuff chains landed in the headlines for using cameras to spy on checkout staff. Camera observation is only permitted when staff members receive prior notification of such procedures. Filming in toilets in obviously not allowed.
Video surveillance involves at least one camera and a screen. A recorder is used to film images, which can then be transmitted through an analogue, cabled or cable-free system. Standard CCTV systems use analogue cameras, and each individual unit requires a cable for electricity and the video signals. In light of this, such systems are less flexible that digital solutions. CCTV systems also require the use of security staff to monitor several screens to look out for any suspicious occurrences. The risk of something being missed is high. CCTV stands for Closed Circuit Television, meaning that in contrast to public television, the images recorded are shown to a closed group of users.
New systems are often equipped with digital cameras which are linked to a computer via a TCP/IP network. The network can provide a power supply, thus removing the need for extra cables. The Internet Protocol (IP) enables the execution of web-based observation tasks. Cameras with panning, tilting and zoom functions, the so-called PTZ cameras, can also be operated via the Internet. Some IP cameras analyse movement independently and activate an alarm if pre-defined rules are violated. On its website, Sony provides an excellent description of the advantages offered by digital video surveillance.
Axis – a Swedish manufacturer of network cameras, video surveillance software and video servers – calculated the Total Costs of Ownership (TCO) in a white paper. According to this, the break-even point of IP systems compared to analogue systems used in video surveillance is 32 cameras. Of course, technology will become increasingly cheaper as long as no investments are made in high-performance sectors. Those who already use analogue cameras need not replace them completely when embarking on modernisation processes. A range of video encoders, or video servers, exist which can convert analogue signals into digital information.