Report • 23.10.2017
Blockchain has great potential for global retail
Transparency and security are the crucial advantages of blockchain technology
Blockchain technology has been around for eight years. What's new is that more and more industry sectors discover the advantages of this technology, as is now the case with food retailing. It is designed to optimize economic processes and grant all stakeholders real-time insights.
Simply put, a blockchain is a decentralized database. It facilitates secure, verifiable and tamper-proof transaction processing on the Internet. "In essence, a blockchain can be envisioned as a ledger where transactions are being recorded. These can be reviewed by all parties since every participant has a digital copy of the ledger. Once a page of the ledger is full, a block has been generated," explains Stephan Zimprich, Leader of the Competence Group Blockchain at the eco – Association of the Internet Industry.
To ensure that a block has not been tampered with, network participants have to validate it. Validation of the public Bitcoin blockchain is performed via the proof-of-work algorithm. To do this, a very complex mathematical problem needs to be solved. The one who solves the problem first, confirms the validity of the block.
During the course of this validation, a so-called hash value, a type of identifier is subsequently generated. If you want to change a block later on, this hash value no longer matches the content. These validation mechanisms make the blockchain tamper-proof. The hash value of a block is adopted by the next block and a link is created. This is also why it is called a blockchain (originally block chain).
Unlike public blockchains such as the Bitcoin blockchain, only selected participants are allowed in the network of private or permission-based blockchains, and they are in parts centrally controlled by some of these participants. This eliminates several advantages of a public blockchain, especially as it pertains to security aspects – though these types of implementations can be faster and more scalable.
At this time, blockchain technology is a top priority in many industry sectors, most notably triggered by the development of "Ethereum", a blockchain solution that comes with its own programming language and enables self-executing applications, so-called smart contracts. Zimprich says, "We are noting a drastically increased development speed over the past 18 months, both on the part of international consortiums and startup companies but this pertains to basic technology. Meanwhile, many ideas and applications are at best at the prototype stage."
Potential for the retail market lies in supply chain optimization
Zimprich currently sees the greatest application potential for the retail sector in logistics. He adds that an automatic recording of incoming and outgoing goods as transactions in the blockchain creates a built-in audit trail, thus an automated auditing and monitoring of the supply chain. In doing so, processes could be significantly simplified and accelerated since the inventory is always updated. That being said, the prerequisite is always that all stakeholders participate in this process and accept the system.
That's also why pioneering stakeholders in the food retail sector and retail industry have already entered into a collaboration to increase food safety efforts. Walmart came up with the idea of using a blockchain for this and IBM handled the technical implementation. More companies are now joining the consortium.
Angel Gonzalez, Executive IT Blockchain Specialist at IBM Deutschland explains the reason behind the project: "Unfortunately, the origins of certain foods and their transit routes are still very non-transparent aspects. This potentially creates multiple versions of data at various points of the supply chain. This method no longer works if companies intend to collaborate at a global level and utilize a mutual network."
In addition to Walmart, the blockchain collaboration includes Dole, Driscoll's, Golden State Food, Kroger, McCormick and Company, McLane, Nestlé, Tyson Foods and Unilever.
Blockchain technology aims to rebuild trust in food safety
Blockchain technology now not only provides the technical prerequisites for disclosing logistical processes in a global network but also delivers all necessary safety characteristics. It is intended for farmers, producers, suppliers, distributors, the manufacturing industry, public authorities, retailers, and consumers.
They all can obtain secure and reliable information about the country of origin and state of the food products via the blockchain. However, access to detailed information is specifically regulated. Purchase and sales prices are not listed. Each partner obtains the type of information that's relevant to him/her. As is also the case with a public blockchain, each transaction is reviewed and validated by all participants. This creates a so-called "single version of truth", one consistent version of what is deemed to be accurate.
Gonzalez emphasizes that "from a technical point of view, anyone with access to the internet and a computer can utilize blockchain technology. Generally, the application is based on an open source platform. To do this, we provide any imaginable solution ranging from Cloud solutions via clients for smartphones."
All transactions can be tracked in real time. In the case of a discrepancy, for example, if the cold chain of a product has been broken, each participant who is affected by the transaction is being notified. Within seconds, the respective product can be identified because product information such as factory of origin, batch number, processing data, expiration dates and delivery details are stored on the blockchain. This allows grocers and other network members to speedily trace the contaminated products back to their origin, promptly remove the respective products from circulation and thus contain the spread of diseases.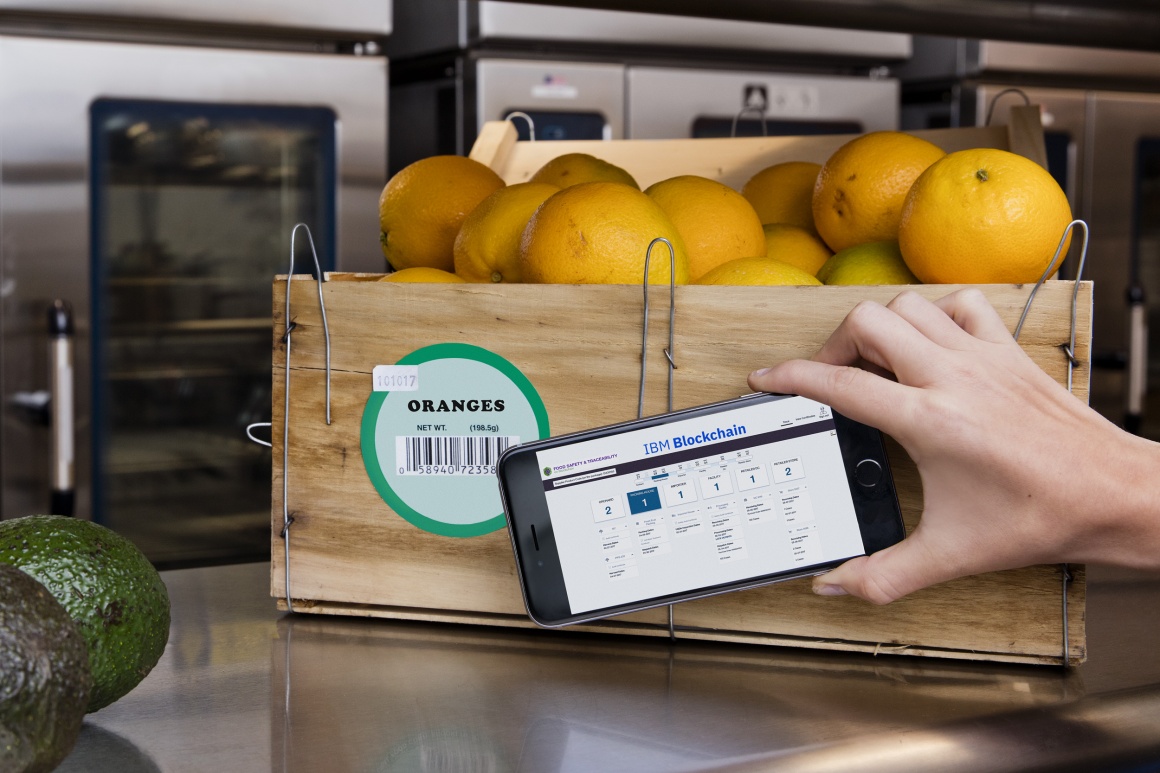 Source: IBM
Creating transparency for the end consumer
Having said that, food safety is not the only key driver of the blockchain. In times of veganism and other sustainable lifestyles, the origins and processing of foods also play a vital role. That's why in the future, information should not just be available on the blockchain. Walmart has created its own shopping app for this purpose, which is presently still in the design phase. The intention is for customers to be able to call up all relevant information about the respective product via the barcode in the future.
"The technology has great potential, especially for smaller retailers because they frequently don't have the corresponding infrastructures. The retailer pays a small basic fee to use the system. If he scans his own groceries, this fee might increase after a certain number of transactions. However, the investment is essentially quite small."
The fashion industry has also recognized the potential of the blockchain. Next to information about specific materials and their origin, the main goal is to quickly detect and report counterfeit products. "We are presently in negotiations with a fashion designer," says Gonzalez.