News • 16.10.2018
Absen LED free-standing centrepiece
Korean shopping mall sets new retail standard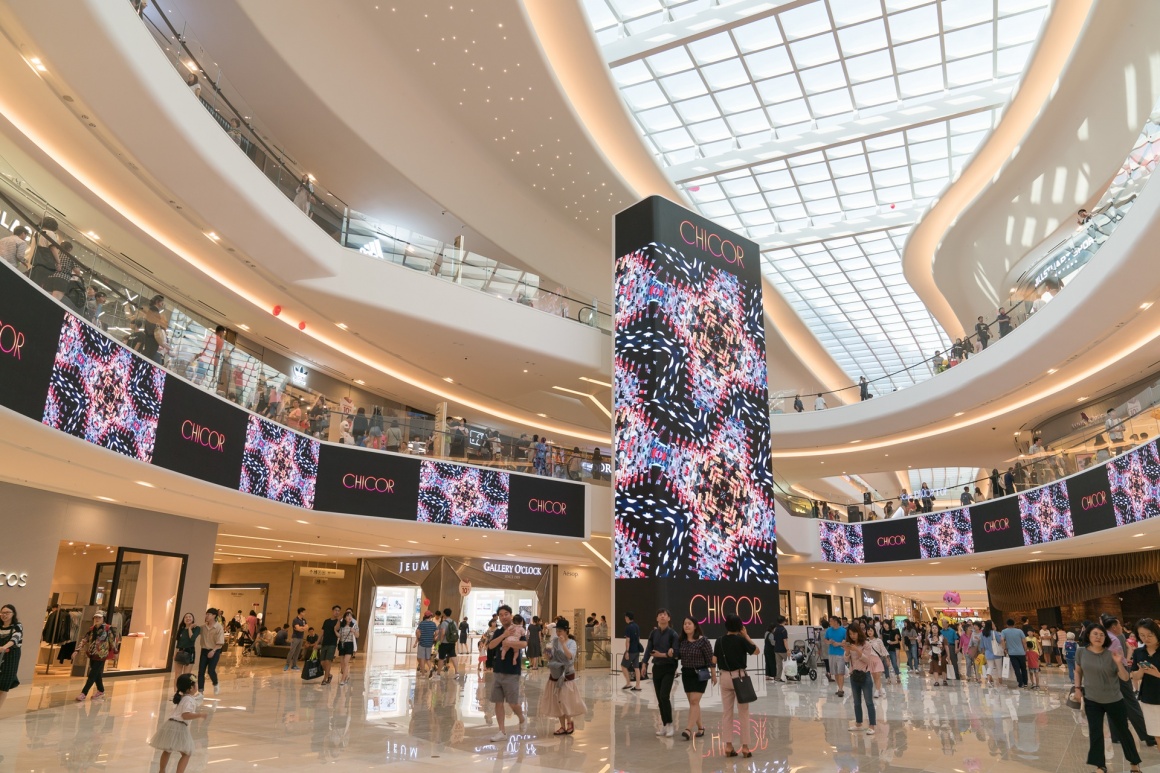 Source: Absen
Situated in Northwest Seoul, Starfield Goyang is the third and latest Starfield mall to open on the outskirts of the South Korean capital, and Starfield's new shining star. As the largest indoor shopping theme park in Korea's north-western region, Starfield Goyang includes the Shinsegae department store, a wholesale discount store, an Aquafield spa and water park facility, as well as sports facility, a cinema and other entertainment venues.
Covering over 135,000 square metres, with 560 global and domestic brands and a hundred restaurants and eateries, the mall boasts a 280-metre long skylight providing natural lighting. In order to provide shoppers with an unforgettable shopping experience, Starfield imagined a breath-taking, 15-metre-tall, curved-edged LED display tower acting as the centrepiece of the new shopping centre, which features Absen LED technology. Boasting mesmerizing content courtesy of content creation experts Moment Factory, this impressive focal point was installed by Absen's Korean retail marketing Value Added Partner (VAP) Asone, who won the tender with a well-priced and unique visual solution.
Capturing the shoppers' eyes on the vast curved LED tower is a stunning visual feast created by Montreal-headquartered multimedia studio Moment Factory, with the aim to showcase high calibre advertising as well as fantastic video effects.
Moment Factory was commissioned by the client to create a clip reminiscent of the flamboyant Hollywood musicals of the Fifties, adding a characteristic twist to the story. Moment Factory's producer on the project, Christian L'Heureux, explains, "We worked closely with Absen's innovation to showcase every peculiar aspect of the pixel space and built shape in order to create a jaw-dropping customer experience".
The Goyang Mall is Moment Factory's second Shinsegae Starfield project: The previous year, Shinsegae had already commissioned for a new-build shopping mall, a free-standing, three-sided LED feature. Sourced through other hardware suppliers, the tower featured 90-degree squared corners, so Moment Factory was keen to provide an even more striking visual experience, making best use of the curved edges and Absen's LED product performance.
For the retail arena, this project is a great opportunity and an important step forward in ever-important aesthetic design in shopping malls. Shinsegae has said to be delighted with the look of and the success of the new Goyang Starfield tower, and that success was met on every level. L'Heureux, states, "It is always tricky to deliver something impactful, but we are very pleased with the final result!"
In order to meet Shinsegae's complex brief, Absen and Asone had to come up with a purpose-built solution that challenged their engineering skills: Asone's winning proposition was to create maximum fluidity for the content to move across and around the LED display, which features uniquely designed 60-degree angled edges. While most of the design was configured using standard panels from Absen's H3 range of LED displays, the curved sides were expertly customised by Absen's engineers who tailor made specific LED edges to create this unique centre-piece that is undoubtedly setting new standard for retail in South Korea and beyond.
The smooth curves of the Absen display tower boast a sleek 60-degree angle, rather than the standard 90-degree curves hitherto attempted with any success. By achieving this technical first, Absen has further moved expectations for curved video walls in public spaces. Through the application of great technical skill, the Absen H3 500mm x 500mm LED panels were deconstructed into four pieces, each measuring 62.5mm x 500mm, in order for them to be then reconfigured into the perfect angled curve.
Furthermore, the curved element didn't require any special support structure inside, as Absen created bespoke curved LED elements which Asone then installed directly with the straight screen panels: As a result, the LED tower acts as a whole, connected and self-supporting entity. This is a first for Absen and LED manufacturers in general, as no other curved LED display product has demonstrated the ability to be manipulated in this way. Running the same video as used in the previous project, Shinsegae was surprised and extremely pleased with the greatly enhanced visual effect.
Boasting a 3.9 mm pixel pitch and 140 degrees of horizontal viewing angle, a total of 360 Absen H3 LED panels were seamlessly integrated to form the showpiece display tower, with a total resolution of 2560 x 3840 pixels. Content to the display is managed and driven by NOVASTAR video servers and MCTR660 controllers.
Absen H3 has proved to be the perfect choice for high pressure retail and DOOH environments. All maintenance can be executed from the rear of the panel cabinet, cutting downtime in the event of servicing. Lightweight and thin, the H3 takes up to 80 percent less space than comparable products on the market, whilst offering the vivid colours and excellent contrast ratio expected from Absen. Virtually noise-free in its design (23.2dB), the Absen H3 also helps to optimize energy consumption: Producing little heat, it requires no fan, which further improves quietness of operation.
As a highly trusted and experienced integrator and Absen's VAP partner, Asone worked very closely with Absen on this project right from the planning stages. Designing the steel structure based on Absen's input, Asone provided a fully signed off design for Shinsegae within a month. Following rigorous safety procedures, the free-standing tower installation was completed in just 15 days, while all ongoing maintenance will be managed by Asone.
Shinsegae was extremely pleased with the end result and in particular with the greatly enhanced visual effect of the Goyang shopping mall tower. On completion of the of the new ultra-smooth video display installation, directors from Shinsegae enthused: "It is quite simply amazing!"