Interview • 15.09.2015
"88 percent of customers prefer to use self-service systems at the table as opposed to at a kiosk"
Interview with Justin Guinn, Market Researcher, Software Advice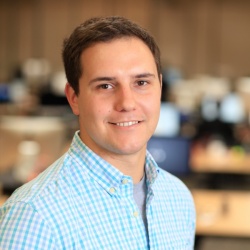 Source: Software Advice
Self-Service is not only a trend in retail, but also in restaurants. We spoke with Justin Guinn, market researcher at Software Advice, a company that offers insights on restaurant POS systems about his recent report on the topic.
Mr. Guinn, self-service POS technology is growing in restaurants who want to offer a different way for customers to order and pay for their food, but do the customers actually want to use the technology?
Customers do indeed want to use self-service POS technologies when dining out at restaurants. Our report shows that a majority (54%) of consumers would use self-service POS systems if given the option. From an age standpoint, the data actually indicates that nearly three-quarters (71%) of millennials (age 18 - 34 yrs old) would prefer to use self-service technology over a traditional dining format.
What do consumers most want from these systems?
In terms of ordering features, our report indicates that the ability to 'customize orders' is what nearly half of customers (47%) want to do most with these self-service systems. For the next most preferred feature, over a quarter (26%) of customers want to see pictures of the menu items. Both of these options offer great opportunities for restaurants to upsell products and can really stretch the average amount of a table's check. Not only could the additional add-ons and customizable options bump sales, but featuring certain sides, sauces, toppings, etc. in the menu item images could entice customers to upgrade.
When looking at payment functionalities of these systems, 'splitting the bill' is the most preferred payment feature with 39% and 'using multiple forms of payment' is second with 31%. These are common pain points that are often fumbled during the payment process, so enabling customers to tackle these tasks themselves removes the risk from the server and enables customers to get the bill exactly how they want it.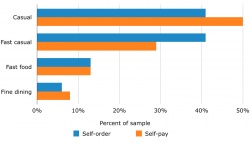 Source: Software Advice
Did you see any trends in terms of the type of restaurant where people would like to utilize self-service technology?
The report shows that casual and fast casual restaurants are most preferred for self-ordering and self-paying features. For casual restaurants, 50% of customers prefer to self-pay. This could indicate that casual restaurant patrons are interested in getting in, eating, and getting out of there as quickly as possible. Self-payment systems definitely lend themselves well to this approach. In the United States, this has been growing with popularity amongst some of the largest casual dining chains throughout the country. These systems eliminate the need for servers to drop a bill, wait for a payment, process the payment, then return a receipt. Really, a table could order and then self-pay in a much quicker amount of time.
Was there any other finding from the report that surprised you?
We were surprised to find that 88% of customers prefer to use these self-service systems at the table as opposed to at a kiosk upon arrival. The implication here is that customers want to come in, sit down, and start their dining experience. Also, there's a learning experience that's tied to these self-service systems. So having a queue at the front of the restaurant with people waiting for others to finish ordering, may not be the best approach. Not to mention, it's logistically impractical to have the system at the front as opposed to the table. Table-top systems should lead to much higher tickets with additional, perhaps impulse, ordering that the front of restaurant kiosk just can't offer.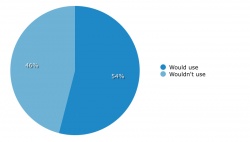 Source: Software Advice
Do you think this technology is something every restaurant should be considering? Even smaller businesses?
These self-service systems can prove to be tremendously valuable for restaurants big or small; the caveat being that it must make sense for the restaurant. If a restaurant's menu consists of twenty items that aren't highly customizable, then these systems aren't the best fit. On the other hand, a restaurant specializing in highly-customizable items like pizzas or sandwiches could really benefit from a table-top self-ordering system.
Additionally, just as the menu needs to make sense for self-service adoption, so to does the target demographic of a restaurant need to make sense. As I mentioned before, our data shows that 71% of millennials (ages 18 to 34), and 57% of 35 to 54 year-olds would prefer to self-order. So these systems make sense for businesses that cater to those demographics. But only 34% of customers 55 and older prefer to use the systems, so it wouldn't make sense if they're a restaurant's primary customer.
The point is, it may be easy to see these systems as a passing novelty in the ever evolving restaurant technology landscape. That's not the case though. These systems can have very lasting ramifications (both positive and negative) that can make or break restaurants.
Interview: Danuel Stöter, iXtenso