News • 29.08.2022
SMYTHE's first fashion boutique opens
Creating a sensory atmosphere to change the pace of customers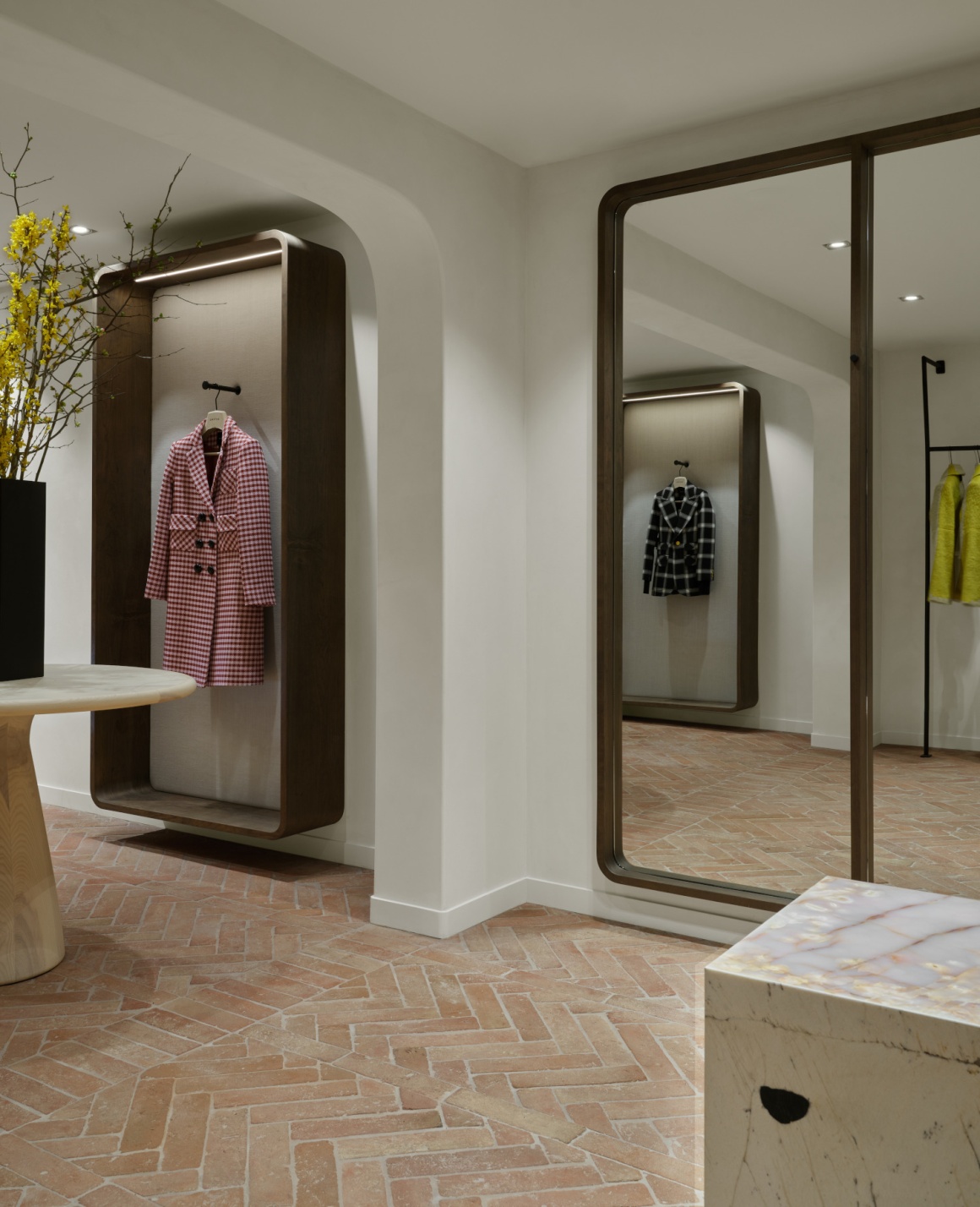 Source: Patrick Biller
For its first brick-and-mortar location, the women's fashion brand SMYTHE has taken over a heritage storefront in north Toronto's trendy Summerhill district and infused it with a palette rich in raw textures and natural finishes.
Its elegant reserve provides an ideal backdrop for highlighting the label's preference for bold patterns, saturated colours and meticulous tailoring. (Kate Middleton's love for SMYTHE's original ultra-feminine double-breasted jacket, now called the duchess blazer, remains a bestseller).
The 1,250-square-foot space is reimagined by designers Ashley Botten and Tommy Smythe with a lens on creating a sensory atmosphere that changes the pace of customers the moment they leave the busy shopping street and step inside. Interior distractions are kept to a minimum, allowing the clothes hanging from four blackened steel racks to remain the primary focus. In place of mannequins, two wall-mounted feature boxes near the foyer provide solitary hooks for a garment to be displayed as though a piece of art and for sales staff to style outfits throughout the day.
At the shop's centre, four boxes covered in marble and onyx offcut slabs add spatial dimension and a surface sheen to complement the dusty rose terracotta flooring.
It takes a moment to notice there is no visible cash desk. Instead, it is contained within a narrow all-white interspace that is noticeable only when clients make their way to the change rooms and lounge area in the back. Special attention is paid to the dressing room experience. Full-height doors reach to the ground for complete privacy, and an inviting quadrant-shaped sofa encourages shoppers to spend time just hanging out. With walls clad in the warm embrace of darkened wood, the mood is set not to rush but to get lost in the myriad sensations when trying new clothing for the first time.
A life-long friendship is behind the new store. SMYTHE's co-founders, Andrea Lenczner and Christie Smythe, turned to Botten and Tommy Smythe to translate their high-end brand into a complete shopping experience. All four designers have known each other since childhood. However, while pursuing similar career paths and staying in touch through the occasional dinner party, the chance to work together had never come up until now. "The chance to work together was a bit of a dream," says Botten. "It was a reminder that good design comes from great collaborations."