Report • 15.04.2019
Expert tips: the best flooring options for your retail store
Ways to make a great first impression with customers
You need a new look for the flooring in your store – you have many options and they must be considered carefully. Industry experts told us what the different types of flooring from vinyl to carpet all the way to renovation lacquer systems have to offer.
An ever-increasing range of design options: vinyl flooring
Our expert: Jobst von Heintze, Debolon Dessauer Bodenbeläge GmbH & Co. KG
Mr. von Heintze, which vinyl flooring designs are especially trendy in retail stores at the moment?
Right now, our retail clients favor essential and natural oak in gray-brown tone, as well as vintage floor designs. Stone-look designs and accent colors for zoning features are also very popular.
What are the benefits of vinyl flooring in retail environments?
Jobst von Heintze: Clients have a lot of options when it comes to vinyl flooring: Depending on the project needs that need to be addressed, they can choose between modular and sheet flooring. This also offers full freedom of choice when it comes to the design plus quick and simple installation. Vinyl flooring is also very comfortable to walk on, which promotes employee well-being on the sales floor. What's more, customers tend to linger longer in areas where it is comfortable to walk and stand on.
How long does it take to install this type of flooring?
Our vinyl flooring is an adhesive-free installation, making it ready to use within a few short hours.
Where can you install this flooring?
Vinyl flooring can be installed over most types of conventional subfloors including stone, concrete slabs, and existing old flooring. And with some preparation, it is not a problem to install them even over old existing tiles. Thanks to our wide variety of design-oriented modular flooring products and heavy-duty durable options, we can accommodate virtually any retail store project.
Sustainability: What about the disposal of the product?
Our products are recyclable. Our adhesive-free flooring option is essentially like a raw material because it has no glue or adhesive residue or other buildups. It can be either reused at another location after a renovation for example or its PVC resin is recycled to become a high quality component of new products.
"Customers prefer to linger in areas where it is pleasant to walk and stand." (Jobst von Heintze)
Rock 'n' Roll: restoring existing floors with lacquer

Source: Dr. Schutz/floor remakers GmbH
Our expert: Frank Knott, Dr. Schutz GmbH
Mr. Knott: How do you restore floors with lacquers?
Frank Knott: Our lacquer works in either a two or three-step process. A priming process prepares the floor for a new application. If you want to keep the design, the floor gets a transparent coating. If an entirely new floor design is desired, the floor is painted with colored PU Color and then protected with a transparent protective wear-layer.
"Property operators save 60 percent of the costs for floor renovation with lacquer compared to laying new floors." (Frank Knott)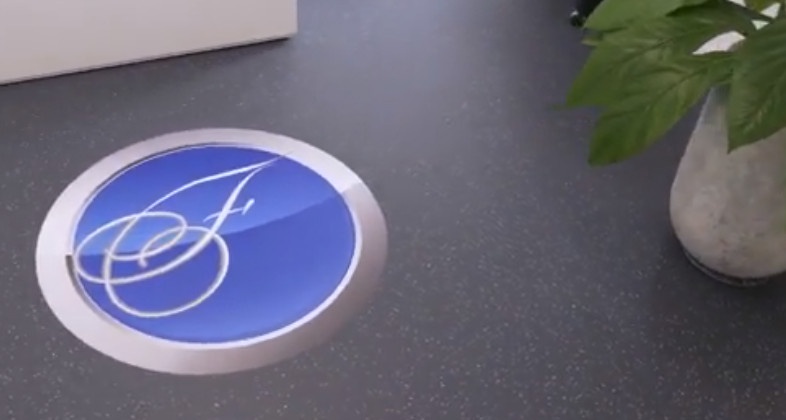 Source: Dr. Schutz GmbH
What types of floors can be restored this way?
The system works on nearly all types of floor coverings: linoleum, PVC, rubber and epoxy flooring - even certain types of parquet and stone flooring can be refinished. This takes about 48 hours.
Why restoring versus a new flooring installation?
Restoration can save property operators 60 percent of what a new flooring installation would cost. Store closures for remodeling are drastically reduced, dirt and noise are minimized and there are no removal costs. It is also environmentally friendly because it saves water, electricity, and chemical products and significantly reduces CO² emissions.
Resilience and optics: What options are there?
We create new flooring that's highly resistant to wear and tear and chemicals and unlimited design possibilities. Not only can you choose any color and shape, but you can also use any motif, company logo, markers, and colorful flake chips.
Perfect to mix materials: carpet flooring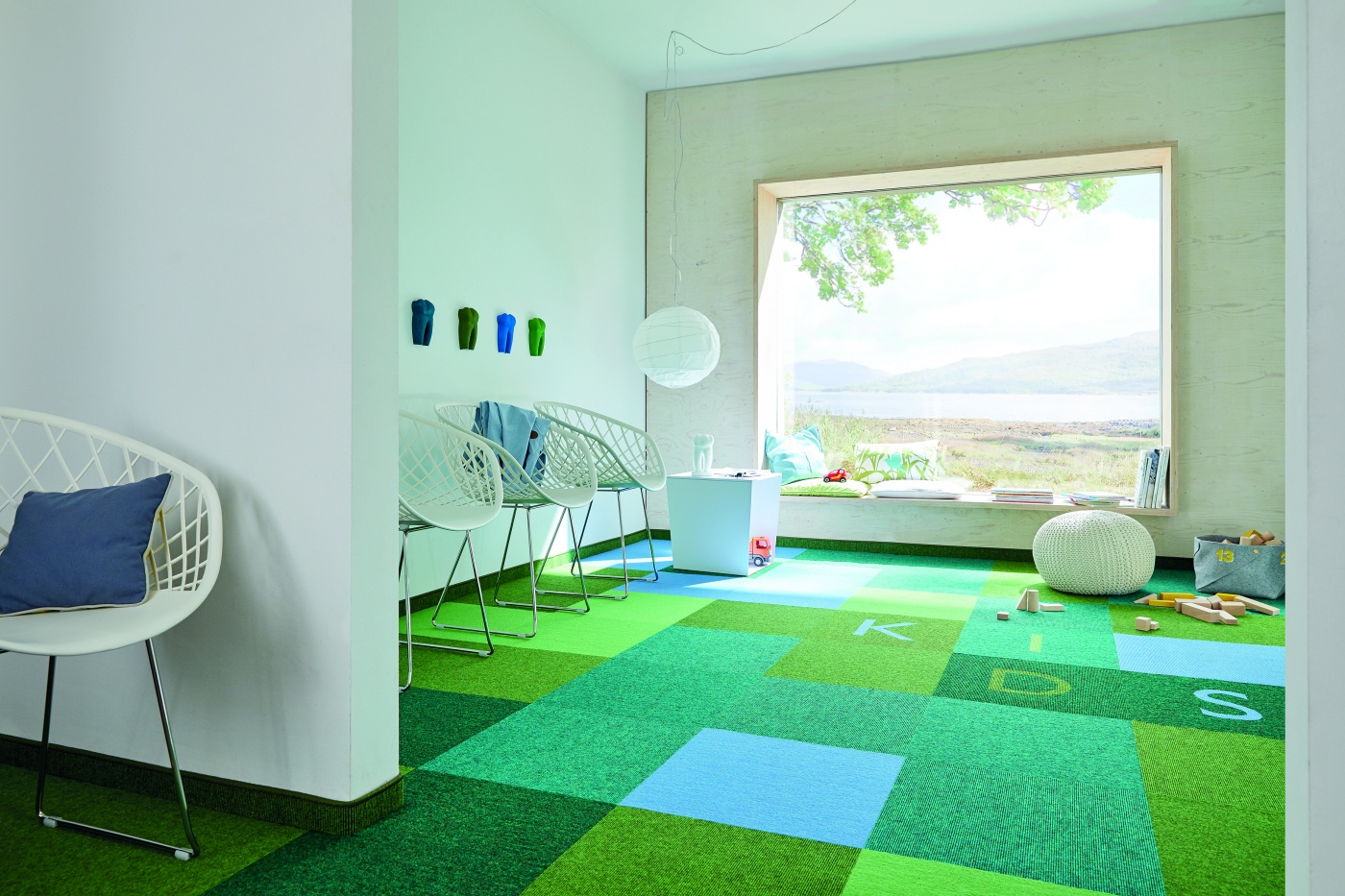 Source: tretford Teppiche
"The carpet is modular, which means you can easily swap out pieces" (Julia Ammann)
Our expert: Julia Ammann, tretford Teppich
Ms. Ammann: What are the benefits of carpet in retail settings?
Julia Ammann: All of our carpets are cut-resistant. This means we can cut all types of shapes without fraying the carpet. That's why we can also accommodate logos and individual areas. We offer more than 60 colors that match the corporate design of any company.
Cleaning carpets is easier than it used to be, but still more expensive than cleaning a hard surface floor. Why choose carpet?
The noise absorption and cozy feel of carpets are far superior compared to hard surface flooring options, plus you have a combination of natural fiber materials and color. Thanks to its natural renewable materials of Cashmere goat hair and uniform ribbed structure, it is also incredibly hard-wearing, durable and easy to maintain. The natural hair also has hygroscopic properties, meaning it absorbs moisture from the ambient air and releases it back to the room when needed. The natural hair structure also holds and traps dust and does not swirl it around the room. Dust can simply be removed by vacuuming.
Carpet is often mixed and matched with other types of flooring materials. How is it best done?
The carpet - particularly the tiles and planks - is modular, which means you can easily swap out pieces if needed and replace them with other colors to create new combinations and looks. You can also easily mix and match it with other flooring types.