tradefair • 01.09.2016
viscom: The world of digital printing is coming to Frankfurt
viscom SIGN 2016 bundles the industry's expertise with new structure: viscom frankfurt 2016 to take place as two trade fairs for the first time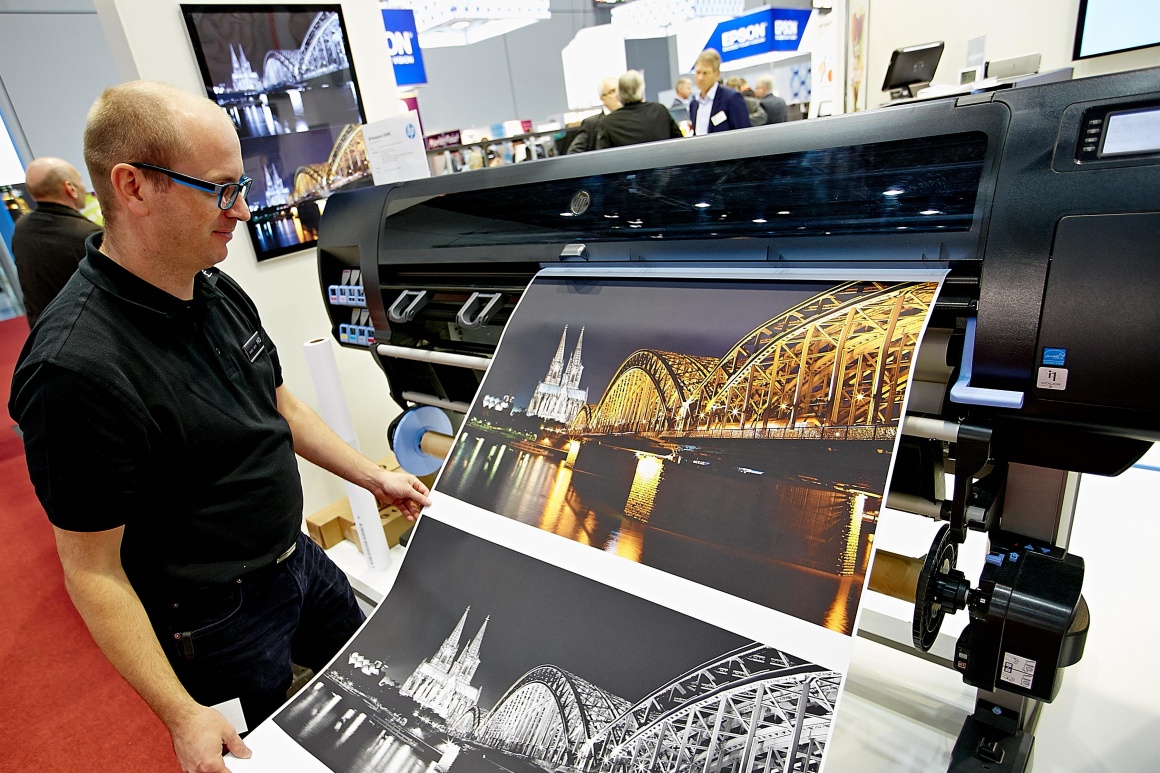 Source: viscom/Behrendt and Rausch
Enhanced profile, clear positioning – including in digital printing. Structured as the two separate trade fairs viscom SIGN and viscom POS taking place concurrently in Frankfurt from 2 to 4 November, viscom is using the occasion of the event's 30th anniversary to focus on its strengths by taking a target-group-specific approach.
Specifically, viscom SIGN, the trade fair for advertising technology and digital print technologies, will put the spotlight on the viscom brand's competence in the printing, signmaking, textiles and materials segments. A strong line-up of high-calibre print exhibitors will be on hand in Hall 8 of the Frankfurt Exhibition Centre, the venue for both trade fairs, to present the industry's latest processes, technologies and materials. The more than 30 print manufacturers and distributors will includeBrunner and the IGEPA Group as well as traditionally represented top industry players such as Agfa Graphics NV, ComPlott Papier Union, Epson Deutschland, FujiFilm Deutschland, HP Deutschland, Karl Gröner, KIP Deutschland, Mimaki Deutschland,MUTOH DEUTSCHLAND, OKI Systems and Roland DG. Together they'll present an extensive array of digital printing and print finishing products and services that are equally appealing to advertising technicians, print services providers, media production specialists, graphic designers, illuminated-advertising technicians, textile finishers, car wrappers, out-of-home advertisers, interior designers, exhibition stand builders and shopfitters.
Analogue meets digital: bridging the gap between print and new media
How can we bridge the gap between the analogue and digital worlds? How can print be enhanced by digital applications? And how can the customer journey, for example, be influenced by print? viscom SIGN, in conjunction with viscom POS, offers the perfect stage to explore possible answers to these questions. The emphasis in the print segment will be on large-format printing, finishing, packaging – especially luxury packaging – and textile and foil printing.
Interior printing, a must-have especially in modern store concepts, will also continue to be an important topic. Numerous application examples will illustrate the virtually unlimited possibilities of digital printing on a vast range of materials, including textiles and foil.
Standing in for their peers, Susanne Rösner (Agfa Graphics NV), Holger Naumburg (HP Deutschland GmbH) and Jörg Backendorf (MUTOH DEUTSCHLAND GMBH) offered the following outlook on the industry's technological innovations and latest trends:
"There are lots of different trends in printing right now. The interior segment and 3D printing definitely need to be mentioned, plus a vast range of niche areas. Also significant is printing on various substrates with special effects and haptic features. Agfa Graphics solutions are perfect aligned with the requirements of the market, which means customers can pick out the solution that best matches their needs. Let us surprise you with the new products and solutions Agfa Graphics will be presenting at viscom."
"From our perspective, the latest trends are an increasing share of digital printing presses, increasing print speeds thanks to single-pass technologies and increasing environmental requirements for printing technologies – keyword 'certifications'. High productivity and new applications bring new customers to providers of printing services. We see new applications in packaging printing and especially in the interior design segment, plus in the large-format segment with POS and other posters.
In line with these market trends, HP will showcase the HP Latex 500 series of printers at viscom SIGN; launched in May, it delivers even higher productivity. In addition, we'll display the affordable entry-level solution for 3.2 m-wide HP Latex technology: the HP Latex 1500 printer. On top of all that, HP will feature the PageWideXL 8000, the productivity benchmark in large-format printing."
"MUTOH will present a wide range of large-format printing systems from the sign & display, indoor & digital transfer, specialty/industrial and direct textile segments at viscom SIGN. A growing trend we're seeing is that print services providers and advertising technicians are interested in doing away with supplementary exhaust/filter systems in production rooms when using UV printers. Increasingly, energy-efficient LED UV lamps are used for curing and drying. These require no warm-up time and enable the use of heat-sensitive materials due to reduced temperature build-up. Because they're cured right after printing, LED UV prints can be processed immediately. The result is an enormous speed advantage, even for customer orders on tight deadlines.
The use of textile materials as substrates will continue to go up, as well. That's why textile printing providers are always on the lookout for unusual materials to help them distinguish themselves from the competition. Overall, the top priorities are faster, more reliable production and flexible deployment of substrates in the printing system."
Daily: Happy Hour
To mark the 30th anniversary, viscom would like to thank all visitors and exhibitors for their loyalty by inviting them to a free reception featuring refreshing sparkling beverages. The Happy Hour will take place right at the trade fair on Wednesday and Thursday from 4:30 pm and on Friday from 3:30 pm.