Report • 09.09.2016
Sound systems perfectly stage products and brands
Whispering Window and Sound Shower draw customers to the store and entice them into buying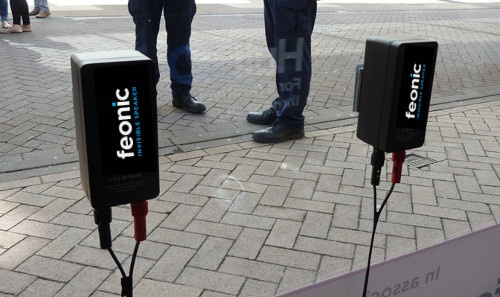 Source: Feonic
Sales aids that stimulate the senses of customers are becoming more and more important. Visual marketing alone is no longer enough. Nothing should be left to chance, even when it comes to music. After all, a professional music concept doesn't just improve the brand experience, it also increases the time customers spend in front of the shop window or in the store.
Store designers often think only visually, which is why retail store sound systems are rather neglected during the planning process despite the fact that the right music complements the brand identity and creates a specific brand atmosphere together with the store design. The prerequisite is that store design and the sound system harmonize and loudspeakers are mounted inconspicuously.
Using music to attract customers to stores
The store window is the key to a customer's decision to enter a store. That's why the Feonic Company has specifically designed a technology that transforms store windows into a single speaker surface to make music audible right in front of the store. Big and bulky loudspeakers are a thing of the past because the trademarked "Whispering Window" technology features compact micro-vibration audio drives that are mounted on the inside surface of the display window.
"The way that Feonic creates sound is very different from the traditional electro-mechanical actuators and speaker based systems that you will have come across in the past. Instead of using a moving coil and magnet we use a really powerful smart material to deliver a micro-vibration of around 20 microns (half a human hair) to deliver a bandwidth of 80Hz - 20KHz when driving a resonant panel – i.e. a window. A traditional actuator or speaker would require a vibration of over 2000microns to achieve the same result at 80Hz", explains Brian Smith, Design Director at Feonic Limited.
According to Smith, retailers are among the most creative users. Whether it's live events, lectures, small concerts or spontaneous pop-up gigs – through window communication stores have been staged to great effect.
"Campaign and seasonal activity is most popular as the addition of sound, transmitted over a short distance across the pavement or sidewalk enables a non-polluting sound field to be created just in front of the window, but importantly all across its length", Smith adds, "Even escalators or regular staircases have been transformed into sound zones."
Boosting attractiveness and interaction with the store window
According to a study by RMS – Instore Research International, the use of Whispering Windows boosts the attractiveness and interaction with the store window by 56 percent. Smith explains: "'Glancers' (i.e. less than 2 seconds of interaction) increased by 58 percent and 'Stoppers and Lookers' (i.e. more than 3 seconds of interaction) increased by 49 percent. Footfall and sales increase consistently by 40 – 50 percent in the first week of a campaign. These statistics have been repeated by our customers regularly in different regions of the world."
Delivering directional audio to in-store areas and products
The music that plays on the sales floor does not only need to match the product but also needs to fit the target audience. These days, a background music concept goes far beyond easy listening music. Shopping is meant to be an experience. That's why sales areas and products, for instance, can be systematically reinforced with a Sound Shower.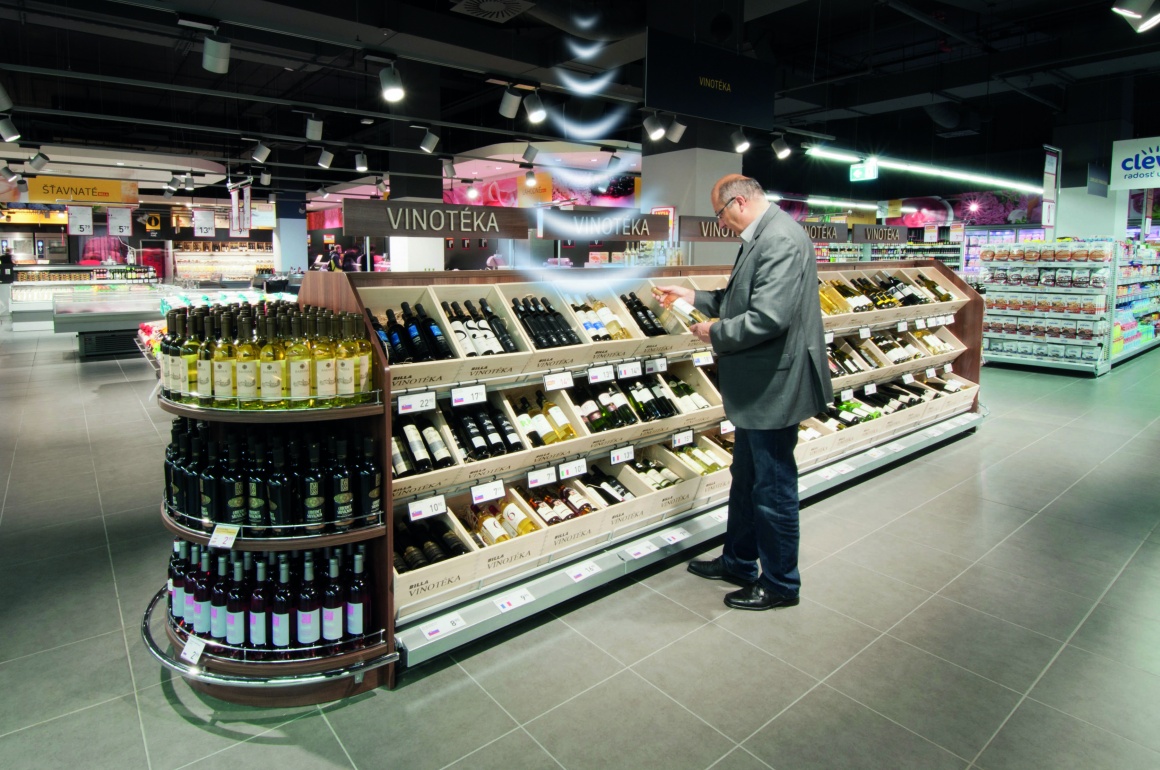 Source: Umdasch Shopfitting Group GmbH
"The Sound Shower is a directional in-ceiling speaker that is audible to customers within a defined radius of up to 200 meters in the store. The sound shower is controlled with the help of a content management system," says Bernd Albl, Managing Director Division viBIZ-Digital at Umdasch Shopfitting.
The Sound Shower is primarily utilized where retailers only want to provide audio in a well-defined desired area. This plays a major role in stores that focus on consulting services, such as travel bureaus for example. The best part about it is that the customer is not subjected to any annoying background music. Instead, defined products or product sectors are staged and accentuated in an individualized fashion.
A feast for the ears
This much is certain: the use of sound effects enhances the experience because music has an associative appeal. It is being interpreted and linked with memories and past experiences. If customers had a positive experience during their shopping trip, they probably visit the store again. What's more, music cuts through the typical supermarket sounds and creates the right ambiance. The sounds encourage consumers to enter the store, buy additional products and return to the store in the best case scenario. That's why the use of space-saving sound systems like the Whispering Window and Sound Shower can really pay off for retailers.