Product • 03.06.2008
Sharp broadens professional High Definition LCD line-up with the 52-inch large screen monitor PN-525E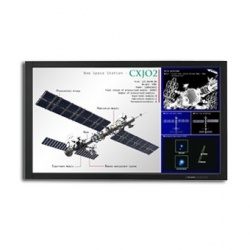 Continuing to expand its recently upgraded line-up of professional LCD monitors, Sharp developed a new enhanced 52-inch model – the PN-525E for both, landscape- and portrait-mode-applications. This LCD-monitor is designed for a variety of professional applications and is joining the professional LCD monitor line-up besides the two PN-G655 devices and the PN-465E with an integrated protective acrylic overlay for high traffic areas. It is also made for creating multi-screen walls using displays of up to 5x5 screens. To ensure reliable operation and backlight life, even in 24 hours a day, 7 days a week operation, Sharp has optimized the internal cooling and backlight system. It is absolutely silent in the run, because the monitor doesn't need a fan.

The 52-inch (132 cm) monitor PN-525E offers a unique fanless design and backlight system, ideal for use in the portrait mode as well as in the landscape mode. As with all Sharp LCD monitors, the full, two-megapixel PN-525E has several proprietary technologies and features that ensure unparalleled image quality for a professional presentation of information and images. The monitor has anti-glare and low-reflection properties enabling Sharp monitors to be placed in brighter areas where other screens might appear washed out. Higher contrast (1800:1) lets viewers discern details they might otherwise miss, particularly when viewing darker content. Its 16:9 format and natural Full-HD resolution of 1920 x 1080 pixels provide brilliant images and a very good overview on static content, without the images burning onto the screen. Pixel response times of only six milliseconds even give consideration to the rapid flow of images. The fanless operation and the 176-degree viewing angle help the monitor displays a crisp picture that can be seen from virtually anywhere in the room. A Black TFT/Bright Pixel Elimination feature ensures that if a failed pixel occurs, it is effectively invisible to the viewer.

"High-end, large screen display customers are finding a growing need for both portraitmode and the traditional landscape applications, for use in diverse market settings such as medical imaging, digital signage, design and flight information display," said Peter Heins, Product Manager of the professional imaging division at Sharp Electronics Germany/Austria. "The introduction of this new monitor rounds out our comprehensive line of professional displays and offers superior image quality and improved compatibility, for reliability in a wider range of commercial applications."

With a streamlined black bezel, rugged rear metal enclosure and a removable front bezel open frame design, the monitor is built for superior performance and can be customized for virtually any digital signage or information display setting.

Video walls in sizes of 2x2, 3x3, 4x4 and also 5x5 screens can be for use at information centres or as advertising displays, to create one full monitor measuring up to 230 inches (585 cm), without needing to control it through a split processor. This feature is already implemented into the units.

In addition to supporting the resolution standards for 1920 x 1080, the PN-525E also supports the resolution standards for VGA, SVGA, XGA, SXGA, WVGA (848 x 489, 852 x 480) and WXGA (1,280 x 768, 1,360 x 768). The various inlets and outlets make the monitor flexible in application.

All Sharp professional displays PN-G655 devices, PN-525E and PN-465E are supported with a three-year warranty for Germany.
Supplier

Industriestraße 180
50999 Köln
Germany