viscom 2016 • 03.11.2016
Networking, learning, inspiration
More than 300 exhibitors to showcase new visual communication products at viscom 2016
Advertising without visual communication – virtually unthinkable. Find out what undreamt-of possibilities hide behind the term at the International Trade Fair for Visual Communication, which is set to take place in Frankfurt from 2 to 4 November. The event will be all about the versatility of printed media, about digital technology, about design and vision, and about haptic items, which are uniquely suited to convey value.Advertising without visual communication – virtually unthinkable.
Find out what undreamt-of possibilities hide behind the term at the International Trade Fair for Visual Communication, which is set to take place in Frankfurt from 2 to 4 November. The event will be all about the versatility of printed media, about digital technology, about design and vision, and about haptic items, which are uniquely suited to convey value.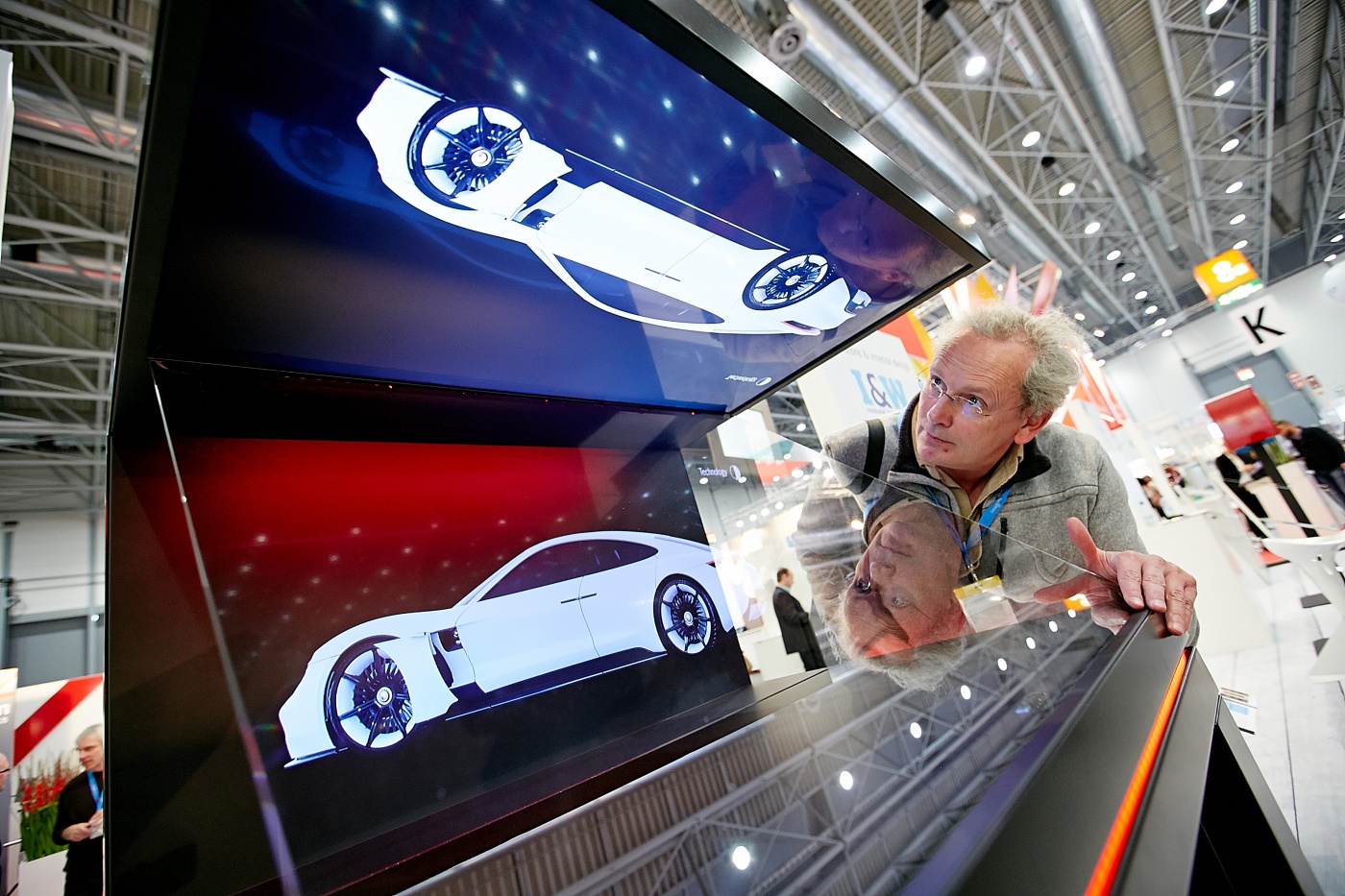 Source: viscom
viscom is really the combination of two trade fairs in one place: viscom SIGN and viscom POS. While viscom SIGN covers all topics in printing and advertising, viscom POS shows everything for a successful point of sale, from packaging to displays to digital marketing. More than 300 exhibitors will be represented at the trade fair, some 45 per cent of them from outside Germany. Numerous key industry players will attend, including Agfa Graphics, Brunner, Comhan Holland, ComPlott Papier Union, Crown Norge, DP Solution, Epson, Fujifilm, HP Deutschland, Igepa, Karl Gröner, Menden Buschstaben, Mimaki, Multi-Plot, Mutoh, OKI Systems, Print Equipment, Promic, Roland DG, SloanLED, Trotec Laser, vhf camfacture, Yellotools and Zünd Systemtechnik.
As a result, the trade fair is uniquely positioned to bring together the industries that make up visual communication and to enable attendees to take that famous look beyond their own horizons. More than 10,000 trade visitors came to Düsseldorf for the last event in 2015, a quarter of them from abroad. "Guided by the slogan 'we connect' we're creating a place where print specialists meet furniture and equipment suppliers, where display manufacturers exchange views with brand manufacturers and distributors, and where advertising technicians talk to marketing experts", says viscom Director Petra Lassahn. "When combined with the extensive supporting programme, this feature makes viscom unique. We've once again come up with lots of new ideas to mark the trade fair's 30th anniversary." One example: the debut at the anniversary event of the "show & do arena", which allows visitors to get actively involved themselves. The celebration continues each night at the Exhibitor Lounge (8/D54). The viscom team is inviting all visitors and exhibitors to a free reception featuring refreshing sparkling beverages. The Happy Hour will take place on Wednesday and Thursday from 4:30 pm and on Friday from 3:30 pm.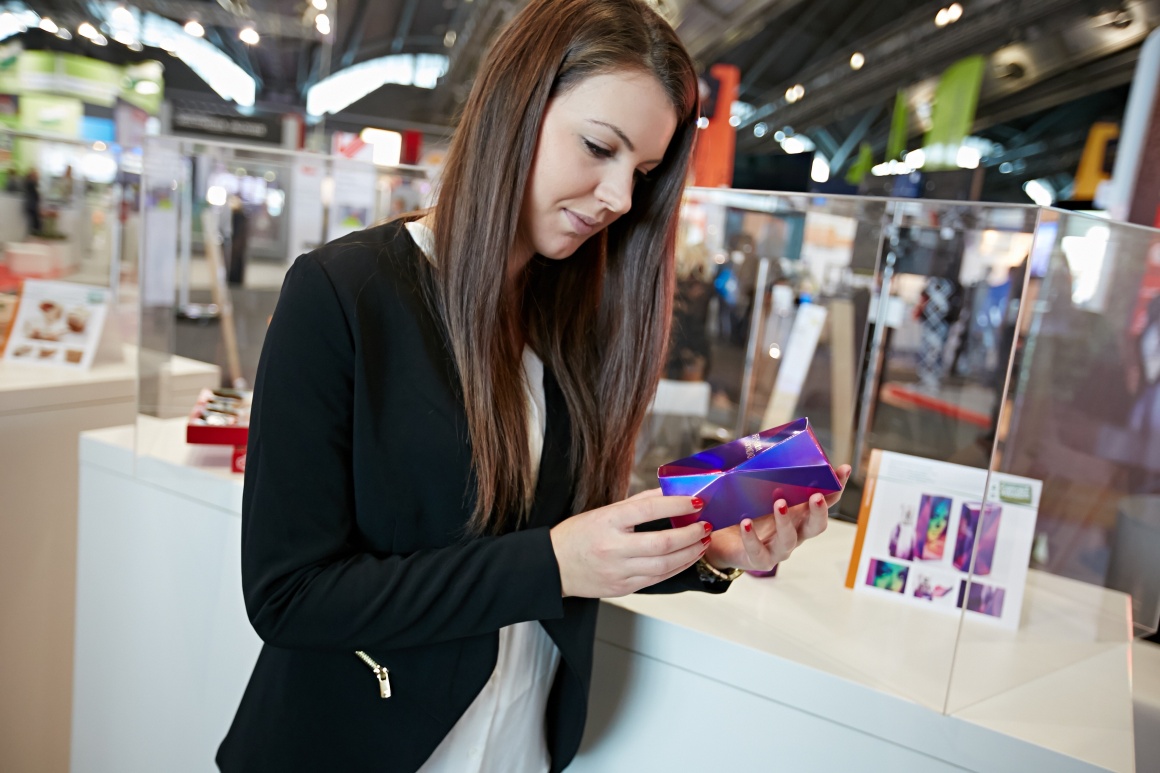 Source: viscom
viscom SIGN
Top exhibitors will introduce new materials, processes and the latest printing and signmaking technologies at viscom SIGN. It's the first point of contact for advertising technicians, print services providers, media production specialists, graphic artists, illuminated-advertising technicians, textile finishers, car wrappers, out-of-home advertisers, interior designers, exhibition stand builders and shopfitters. In addition, this target audience will be pleased to find a dedicated supporting programme and a special highlight: the new "show & do arena".
Hands-on advertising technology at the "show & do arena"
Textile finishing, the latest printing techniques, virtual reality, interior design and advertising technology: the real world will come to life at the "show & do arena". Participants include A-Blok Evenement, Brunner with Avery Dennison, Epson, HP Deutschland, Karl Gröner and Roland DG. Visitors can do one thing above all: get actively involved. They can, for example, create their own wallpaper, use an app to turn into a designer themselves or experience live the latest printing technologies for the ultimate in colour intensity, designs and effects. The "show & do arena" will be located in Hall 8/Stand E70.
Practical real-world examples plus theory
Once again this year, the presentation programme for viscom SIGN's target audiences was expanded. From classics such as the Adobe Workshops to current trend topics such as interior design, a wide range of offerings across all trade fair days will delight advertising technicians, print services providers, graphic artists and creative professionals.
Kicking off things on the first day of the trade fair, the Academy for Textile Finishing will present the viscom workshops on textile printing and finishing. Then the German advertising technology association ZVW will host a panel discussion on the latest advertising technology topics, including continuing education and professional training. On Thursday, the programme will shift to all things experience marketing and multisensory customer approach. Referring to current interior-design and digital-communication applications, go visual will demonstrate how spaces are transformed into experiences. The third day of the trade fair will be dedicated in part to the "Print Product Experience". The aim is to explain how advertising works, how human beings respond to multisensory messages and how companies can benefit from those dynamics. As usual, workshop programme highlights include the Corel and Adobe Workshops with units on Adobe InDesign CC, CorelDRAW Graphics Suite XS, Corel Font Manager and Corel PHOTO-PAINT.
The lecture programme in the speakers corner is of equal interest to viscom SIGN visitors. On Friday, Joachim Rees (Multi-Plot Europe), Thomas Mangelsen-Denter (YUPO Europe) and Andreas Lettner (Mimaki) will put the focus on using digital printing in interior design.
Moreover, viscom exhibitors will offer daily Lunch & Learns presented with the slogan "Learn from each other". The format promotes an active exchange of ideas between exhibitors and visitors by getting them to sit down together at the same table in order to discuss innovations, challenges and new product ideas.
Printing and advertising technology perfection: The best of the best
Finishing is the focus theme of the special area viscom world of inspiration (Hall 8/Stand A22). The three industry awards, whose winners will be presented here, will serve as a powerful reminder of that fact.
Haptic elements endow print products with an unbeatable competitive advantage over digital forms of advertising. For proof, look no further than the nominees and winners of the Paperazzo HAPTIK AWARD 2016. Asked to communicate using haptic means, they came up with impressive solutions. Visual and haptic designs must optimally complement each other throughout. At viscom world of inspiration, viscom visitors can explore unusual premium paper and print products by sight and touch.
Since 2005, the top players of the printing industry are recognised with the Print & Media Award presented by publisher Deutscher Drucker Verlagsgesellschaft. The award is primarily aimed at honouring print products and the competencies, operations and people in the printing and media sector that create them. The current year's winning products will also be exhibited at viscom world of inspiration.
The Pro Carton/ECMA Awards 2016 will return to the trade fair again, as well. Each year, the award presented by the European Carton Makers Association inspires and incentivises the packaging industry, brand manufacturers, designers and retailers. The winning products of 2016 will be exhibited at viscom world of inspiration.
Similarly, wrapped cars of all kinds still get lots of attention. The European Wrap Star, which has been among the highlights at viscom for eight years, reflects this popularity. The MR Clipart crew will once again organise the competition at the trade fair, bringing Europe's best car wrappers to Frankfurt.
viscom POS
viscom POS is the trade fair for communication and digitalisation at the POS: print and finishing applications, marketing for the POS, premium packaging products, and brand and room staging. Key target audiences include brand manufacturers and distributors, retailers, trade marketing managers, retail designers, project planners, visual merchandisers, PR agencies, shopfitters and advertising technicians.
viscom world of Inspiration focused on finishing
viscom world of inspiration is an indispensable resource for visitors interested in topics revolving around the point of sale. It's the innovation hub for the segments POS, interior, print and packaging finishing, and materials. Exhibits include innovative films for interior design, cardboard honeycomb panels for furniture making, high-impact advertising solutions for the POS, visionary virtual reality applications and numerous packaging innovations.
Karl Knauer, for example, will present a groundbreaking new product: the probably first illuminated package featuring printed, flexible organic light-emitting diodes (OLEDs). In future, packaging, POS materials, advertising vehicles and bottle labels can thus be enhanced with glowing animated images, logos and text. The Paperazzo HAPTIK AWARD highlights additional new products from the world of packaging. Avery Dennison offers large-format advertising. The foil manufacturer will showcase solutions to make redesigning entire buildings faster and tidier. The company Dingsbums, by contrast, will feature examples from the world of augmented reality. Leonhard Kurz, DURABLE, YUPO Europe, Letterjazz and many others will also be exhibiting at world of inspiration.
Presented in cooperation with the BDG, the German professional association of communication designers, the "designers' treff" is the exclusive meeting place where professionals from the creative economy exchange ideas with the packaging industry and brand manufacturers. Among other things, the designers will offer design packages and marketing concepts for company founders, small businesses and startups.
Display and packaging from A to Z
Moreover, this year's viscom world of inspiration will showcase a packaging and display concept that covers the entire process chain. In cooperation with viscom and partners sl - design and Schoepe Display, Durst will use the example of the "Stockholm Mule" to illustrate how to optimally position a still-unknown product at the POS. The cocktail package includes all the ingredients needed to make the delicious trendy cocktail: Absolut Vodka, Schweppes Ginger B and Hitchcock lime juice. The packaging is presented in three different display arrangements featuring Frankfurt, Stockholm and Barcelona designs. Durst's advanced digital print technology enables such individualised production in a single printing operation. Trade fair visitors coming to Stand D19 or to the speakers corner at 3:30 pm on 3 November can look forward to extensive information about the project presented by participating companies and to daily cocktail tastings.
Digital sales promotion
The exhibitors in the new special area dubbed "digital retail space" are the perfect point of contact for questions about digital marketing at the point of sale. Featured here for the first time are Sharp, Pionier and one of the world's leading display technology manufacturers with an extensive portfolio of hardware and software solutions. Digital signage solutions will also be offered by dimedis and Comm-Tec. The Cologne-based company A-Blok – also a first-time viscom exhibitor – will show interactive solutions for experiential marketing at the POS. The same is true for Facemedia, whose focus is on targeted advertising messages based on prior facial recognition. LEDcon, deset LED and eLEDtec will put instore LED solutions on display. Also in this area, sponsor Sharp will present the nominees and winners of the Digital Retail Award.
The POS of the Future: The 2016 winners
Edeka, Nike, IKEA, Fraport and Starbucks: major brands are among the nominated projects of the inaugural Digital Retail Award, which will be presented at a dedicated night-time event on the first trade fair day. A total of 17 exemplary digital POS projects were nominated in the three categories "Instore", "To-Store" and "Online, Mobile". They include interactive product world presentations, digital posters and multisensory marketing ideas.
Presented for the seventh time at viscom in cooperation with publisher display Verlag, the 23rd SUPERSTAR is aimed at highlighting the multifaceted world of displays. All nominated displays will be exhibited in a special area at Stand A02/A15. Visitors can expect ever more complex and elaborate displays and POS solutions featuring new materials and techniques. The award ceremony will take place at a dedicated evening event on the second day of the trade fair.
Premium POS programme
With 50 speakers across three trade fair days, the speakers corner is the knowledge hub on all things POS and retail furnishing and fitting. Kicking off things on 2 November will be the focus day "Digital communication in retail", which will examine the future of trade and retail. One of the questions asked is how the online and offline world can be successfully linked, meaning, for example, how to enrich the retail environment by adding digital solutions. Content concepts that successfully balance storytelling, technology and the spatial experience will also be introduced. On Thursday, visitors will be able learn about communication at the POS. Issues on that day will include "The future of selling" and displays for sales success. The "Interior Design" focus day on Friday will be dedicated to options for individualisation and themed spaces made possible, for example, by digital printing techniques such as foil printing, individual textile printing solutions or large-format printing.