Company News • 30.09.2013
In-Store Marketing Pops As 2013 West Coast POP Show Winners Are Announced
Some of the West Coast's leading brand marketers gathered for POPAI's annual West Coast POP Show to find out who would be dubbed "The Best of the West." The West Coast POP Show is the longest running show dedicated to showcasing in-store marketing and merchandising displays produced by West Coast based companies.
The awards program seeks to recognize innovative marketers who are transforming the retail landscape, pushing the boundaries, and paving the way for others in the space.
The show boasted nearly 125 entries on display across 23 categories putting in-store marketing front and center. Entries were judged by an esteemed panel of judges comprised of retailers, brand marketers, and producers who adjudicated displays based upon their design, innovation, interactivity, and proven ability to lift sales.
"As the retail industry continues its remarkable transformation in the digital age, we continue to be awestruck by the talent behind the remarkable combination of quality creative and impressive in-store marketing," said Richard Winter, POPAI President. "As the popularity of the show and the realization of the power of in-store marketing has grown over the years, so has the scope of the show and the quality of entries on display. Judges and attendees alike were impressed by the range and quality of entries, which made adjudicating all that much more difficult."
The West Coast POP Show has become well known for showcasing the West Coast's best point of purchase and in-store marketing campaigns. Special awards were presented for Best of Show, Best Original Art, Best Photography, and Best Structural Design.
The Winners
Best of Show
Don and Sons "Time with Dad" Fish Shack
Produced by Packagingarts for Don & Sons Wine
Best Original Art
Heineken Mardi Gras Banner
Produced by Performance Printing for Heineken
Best Original Photography
The North Face GTM Mens & Womens Poster
Produced by The Graphic Source for The North Face
Best Structural Design
Don and Sons "Time with Dad" Fish Shack
Produced by Packagingarts for Don & Sons Wine
A prestigious panel of judges comprised of brand marketers, retailers, and producers identified winners in a large range of categories. Retail displays were judged on quality, creativity, innovation, and perceived ability to lift sales and make products more memorable to shoppers.
The recipient for the Dick Scott Award for Excellence in Marketing at Retail was also announced during the 2013 West Coast POP Show. The 2013 recipient was Morley Justman of Justman Packaging. The award is named after Dick Scott - a West Coast POP pioneer who was well known for his significant contributions to the in-store marketing industry. The Dick Scott Award is presented to individuals who have distinguished themselves in the in-store marketing industry, and is awarded in appreciation and recognition of their contribution to elevating the visibility and understanding of in-store marketing and the point-of-purchase advertising medium.
Supplier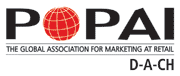 Rennstieg 15
47802 Krefeld
Germany