Company News • 20.01.2016
Empowering retailers to create smarter 1-to-1 customer journeys
New services deliver a framework for digital transformation and capabilities to deploy and manage journeys for retailers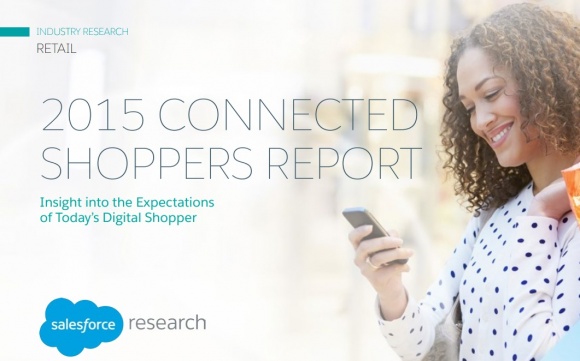 Source: Salesforce
Salesforce announced two new Salesforce Marketing Cloud services for retailers at the National Retail Federation (NRF) Big Show 2016 empowering retailers to create smarter 1-to-1 customer journeys. These new services combine the world's #1 CRM with industry and cloud transformation expertise to help retailers increase revenue through personalizing their customer engagements.
Retailers that deliver a seamless, personalized customer experience across in-store and digital will emerge ahead of the rest1. In fact, the recent Salesforce "Connected Shoppers Report" found that 24 percent of shoppers would like retailers to know who they are when they walk into stores with location-based technologies. Nearly half (49 percent) are willing to exchange data and social media profiles with brands to get better service. This represents an unprecedented opportunity for retailers to build deeper connections with their customers and accelerate growth.
Deliver Smarter 1-to-1 Customer Journeys at Scale with the Salesforce Marketing Cloud
Salesforce Marketing Cloud is a digital marketing hub that makes it possible for marketers to plan, personalize and optimize 1-to-1 customer journeys across multiple channels. It brings together all the things that matter to marketers – a complete view of the customer, content, personalization, all digital marketing channels (email, mobile, web, apps, social, advertising) and the power of the customer journey. By nurturing customers through triggered and automated journeys as well as collecting data to develop more personalized future campaigns, retailers can engage customers in a smarter way and predict their likelihood to take specific actions.
The new services for retailers include:
Salesforce Strategic Framework for Retail Customer Journeys: Salesforce now offers the Salesforce Strategic Framework for Retailer Customer Journeys, a unique collaborative approach to help retailers design their customer journeys and execute digital engagement programs. Through carefully designed interviews and workshops, the Strategic Framework helps retailers define digital goals, review existing programs and identify and prioritize opportunities to accelerate revenue. Salesforce collaborates with retailers using proven tools such as path-to-value analysis, email and mobile marketing content templates, personalization best practices and the deployment of specific toolkits within retail sub-verticals, such as furniture, apparel/accessories and grocery/drug.
Salesforce Strategic Retail Professional Services: Once retailers have gone through the Strategic Framework, they can leverage Salesforce's retail professional services to deploy digital marketing programs and manage retail customer journeys. Drawing upon a wide range of industry expertise and best practices, Salesforce offers the world's #1 CRM combined with industry and cloud transformation expertise to help retailers connect with their customers in new ways.
"With the Salesforce Strategic Framework for Retail Customer Journeys and the power of the Salesforce Customer Success Platform, retailers have a clear path to increasing revenue through personalizing and automating their customer engagements," said Scott McCorkle, CEO, Salesforce Marketing Cloud. "And with our retail professional services, every retailer has access to an army of customer experience experts, data scientists and engineers, helping them to exceed customer expectations."