News • 27.04.2017
CVS Pharmacy introduces new store design to enhance retail customer experience
Reimagined store design, new health services, an expanded offering of health and beauty products and "better-for-you" food options rolling out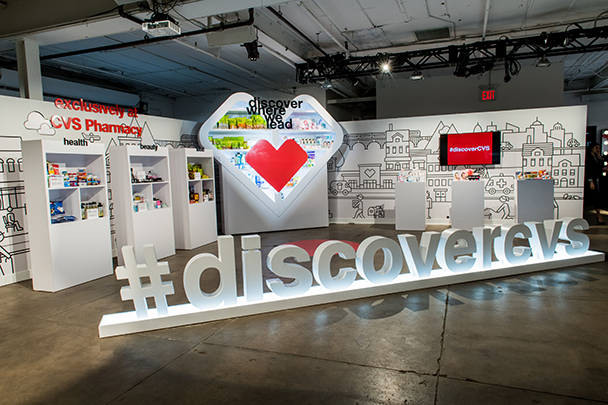 Source: CVS Pharmacy
CVS Pharmacy, the retail division of CVS Health, unveiled a new store design to enhance the retail customer experience with a new assortment of healthier food, health-focused products and expanded beauty selections paired with informational signage throughout the store to help customers discover new offerings. Together with its innovative digital programs, these changes represent the next evolution of the customer experience at CVS Pharmacy.
"Pharmacy is the heart of our business and our focus on providing care to patients and customers defines everything we do in our stores," said Helena Foulkes, President of CVS Pharmacy and Executive Vice President, CVS Health. "Our new retail offerings leverage our deep expertise in health to enhance our customers' shopping experience. The same guiding principles that led to the removal of tobacco from our stores extend to our commitment to deliver the most innovative health and beauty solutions."
The new store formats and deeper focus on expanded health, healthier food and beauty assortments are key elements of the next phase of the front-store growth strategy, which was first introduced in 2015. Today there are over 800 CVS Pharmacy locations nationwide with this elevated design and assortment and over 3,400 with expanded food and beauty offerings. The latest improvements are designed to drive growth in categories that are most closely tied to the Company's health-focused purpose and expertise, while delivering a shopping experience that no other online or brick-and-mortar retailer can replicate.
"We did a lot of research to understand how to best serve our customers as we began to reimagine our store experience and we found that people are thinking about their health differently and taking a more proactive approach to staying well," said Judy Sansone, Senior Vice President, Front Store Business and Chief Merchant. "With that in mind, we crafted a new shopping journey, all in the name of better health."
Evolution of store design
"Our strategy for our new stores is not one-size-fits-all. We will continue to evolve the store experience as we test and learn in order to meet the needs of our customers in the ever-changing retail landscape," added Foulkes. "As we identify key elements that resonate, such as new product assortments, health services and other in-store experiences, we will find ways to bring them to life in CVS Pharmacy locations nationwide."
CVS Pharmacy is rolling out major changes to as many as 70 new and existing stores this year, with plans to expand to several hundred more in 2018. The new, health-focused formats have 100 feet of new merchandise in health, beauty and healthier food and use a streamlined layout to highlight themes that make shopping easier. "Discovery zones" in key health categories take a holistic approach to care and product selections, and customers are guided by informational signage with guidance to make finding the right solution easier.
Sick-care to self-care
Assortments tied to emerging areas like connected health, sleep/mood and immunity are merchandised in "discovery zones" that offer holistic solutions and easy navigation through educational displays.
Beauty with purpose
To help improve customer exploration and inspiration, a new "trend wall" has been added to 2,000 stores featuring new launches and niche brands. A beauty discovery zone highlights on-the-go options at checkout. This month, an exclusive Korean Beauty selection curated by notable K-Beauty expert, Alicia Yoon, will be available in over 2,100 locations.
Healthier foods
Products that fit nutritional and dietary preferences including heart healthy, good source of protein, gluten free, sugar free, organic and non-GMO project verified, are highlighted with shelf tags. This summer, the tags will expand into non-food categories, making it easier for customers to make purposeful choices throughout the store.
Redefining personalized and digital convenience
In addition to the in-store changes, the mobile experience and ExtraCare Rewards program continue to evolve, offering more ways for customers to order products online and pick them up with CVS Curbside, pay seamlessly via CVS Pay in the app, and even manage their ExtraBucks Rewards, personalized deals, and use manufacturer coupons, all from their phone.