Company News • 31.08.2009
BrightSign Demonstrates Live Video Module in IBC Digital Signage Village
Stand DS5, Digital Signage Zone, IBC, RAI Amsterdam, 11-15th September 09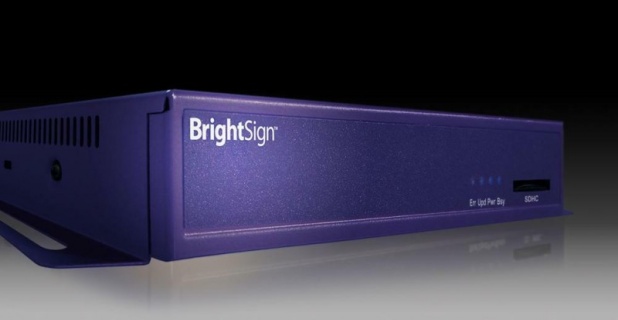 BrightSign is demonstrating a new live video support module for its range of low cost, high definition, solid state, digital signage players, at the Digital Signage Zone at IBC in Amsterdam, 11-15 September 2009. In addition, BrightSign recently signed a partnership with Frame Media to make its Internet broadcast SignChannel content such as news, weather and more available on BrightSign players.

Live Video Brings Broadcast TV to BrightSign Digital Signage

The new Live Video Module enables live video such as broadcast TV to be played back on BrightSign and mixed with recorded BrightSign content including video, still images and animations. The live video playback can also be mixed with other broadcast content sources including Internet broadcast content and SD flash card content. Live video can be displayed in full screen or within a zone display while other content sources play around it. Brightness, contrast, saturation and hue of the input video are all adjustable.

RSS Content Delivery Services Offer Ready-Made Content for BrightSign

BrightSign users can now access SignChannel content from Frame Media service to give a complete, ready to implement digital signage solution. SignChannel is a low cost content service that allows a business to display timely messages, products, and services at any Internet-enabled location around the world. The SignChannel user can take advantage of Frame Media's vast array of timely up-to-the-minute content including weather, news, traffic, finance, and RSS feeds, as well as thousands of other available Internet sources. Users simply select relevant content channels to playback over the networked BrightSign unit and complement it with their own messaging content to reach their audience in a meaningful way.

BrightSign Overview

BrightSign's family of five compact-sized digital sign and kiosk controllers are designed with individual features that target the most popular types of applications. Rather than offering fully loaded models with features that may not be necessary for all applications, each model is packaged with specific software and hardware capabilities so customers pay only for the features they need and save money in the process.

Each model delivers trademark performance, reliability and ease of use - all without the complexity of PC-based solutions. All models benefit from unparalleled 1080p HD video quality and each support Zones as a standard feature to playback multiple content windows on a single screen. BrightSign packs a powerful set of advanced features into its compact size including interactivity with buttons, touch screens and more, synchronisation support to create video wall displays, scheduling features to target content playback effectively, and networking options for remote content updates.

The players are supported by BrightAuthor, a simple straightforward PC-based application for creating content and setting up playlists. Simple tools and wizards take users step-by-step through the process of creating presentations.

Supplier

Wellington House, East Road
CB1 1BH Cambridge
UK