Product • 01.04.2016
A facade experience with a different perspective
Anti-reflective glass brings transparency and performance to shop windows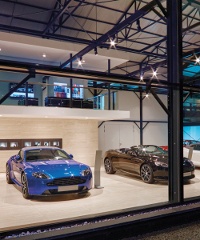 Source: Guardian Europe
Traditionally, glass is used to create a barrier to protect its encased environment. However, selecting the wrong glass can affect the overall visual performance by resulting in unwanted glare and reflection, while at the same time reducing light transmission and overall aesthetics.
Standard glazing units reflect light at a level that may interfere with our ability to see through the glass easily and clearly. For some applications, any interference is too much interference. Examples are shop windows which lose impact due to distracting reflections.
Now there is a solution. Guardian Industries' Glass Group in Europe has introduced Guardian Clarity anti-reflective glass. Created by using advanced coating technology, Guardian Clarity is ideal for glazing applications in which excessive glare and reflection create an obstruction and outstanding transparency is desired.
Guardian Clarity anti-reflective glass helps facades achieve more light and less reflection, delivering eye-popping optical properties for premium facade experiences. The anti-reflective glass helps maximising transparency with 'more light and less reflection', thus helping to create facades that stand out in the urban landscape.