News • 10.05.2022
E-commerce Berlin Expo 2022 Recap
Last week, the E-commerce Expo 2022 took place in Berlin. Find out what happened there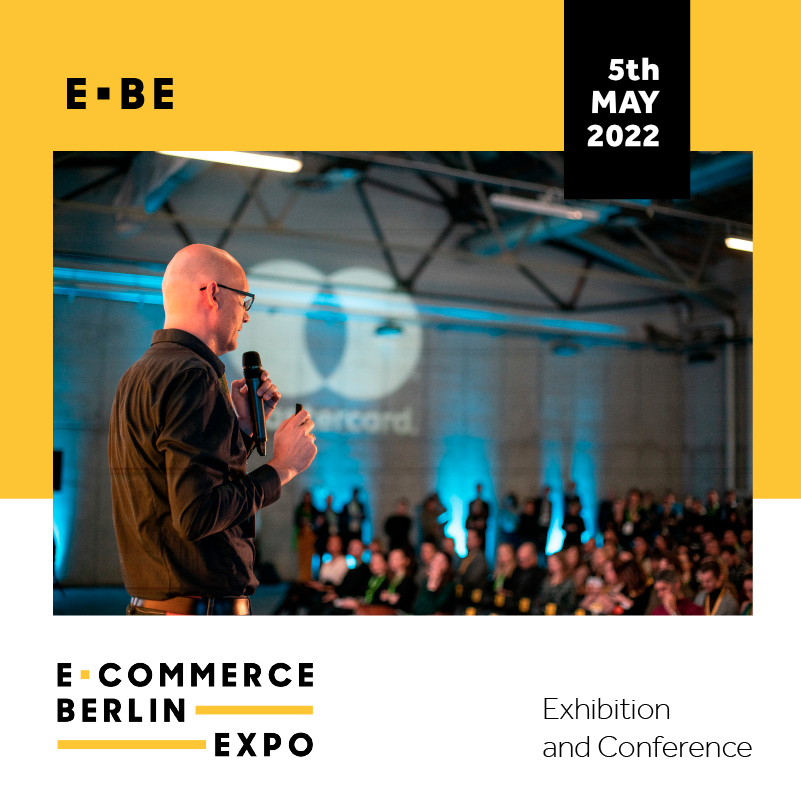 Source: E-commerce Berlin Expo
The E-commerce Berlin Expo 2022 conference is over, and it's safe to say that it was a huge success! If you attended, you probably learned a lot of new things about the e-commerce industry.
But if you didn't go, don't worry - here's the recap of everything that happened at the conference. Keep reading to find out all about the latest trends and learnings from some of the top experts in this field!
What is E-commerce Berlin Expo?
E-commerce Berlin Expo is one of the biggest e-commerce events in Europe. Every year, thousands of retailers and service providers flock to the German capital to network, learn from each other, and do business.
And this year's event was no different, with over 9000 visitors, 200 exhibitors and 55 speakers sharing their knowledge on all things e-commerce.
Here's what you missed (or simply want to remind yourself of) from Ecommerce Berlin Expo 2022!
The most amazing e-commerce speakers under one roof
This year's conference had some of the biggest names in e-commerce – and it's still beyond us that we managed to get them all in one place. Numbers speak for themselves. We had over 30 hours of presentations throughout all of our stages. - Mark Tomaszewski, MD at E-commerce Berlin Expo
On the list were industry veterans and rising stars – but there was one thing that they all had in common: a passion for e-commerce and a wealth of knowledge to share.
Some of the most popular speakers included Rolf Kimmeyer from Amazon, Ben Harmanus from Hubspot, Chiara Fraune from Douglas, Matthias Ganz from MediaMarktSaturn, Andrzej Kawalec from Vodafone, Philipp C. Engelmann from KADEWE GROUP, Peter Hartmann from Henkel, Inés Fernández from Delivery Hero or Christina Wolff from TUI.com.
Some of the most talked-about topics included marketplaces, pandemics impact, payment methods, personalization, conversational commerce, logistics, sustainability, or even more futuristic topics such as metaverse – just to name a few.
There was something for everyone, whether you're just getting started in e-commerce or you've been in the game for years. The organizers are happy that the conference is getting more and more diverse every single year. Not only do they welcome at our stages more women than ever before (women represent almost ⅓ of the agenda), but this year they also had the pleasure to host people from over 40 countries.
All in all, it was an incredible lineup of speakers that left the audience wanting more – and set the bar high for next year's conference. - Mark Tomaszewski, MD at E-commerce Berlin Expo
Ecommerce Berlin Expo is not only about the talks
Of course, the conference wouldn't be complete without an exhibition area, where some of the biggest brands in e-commerce showcase their latest products and services.
E-commerce Berlin Expo is a one-of-a-kind e-commerce fiesta that happens every year in Germany's capital city, on 9355 square meters of STATION-Berlin.
This is where e-commerce businesses and solution providers meet to network, learn from each other and get inspired. The conference offered a mix of workshops, talks, and exhibitor booths spread over a few hours on the 5th of May.
And let's talk about exhibitors for a moment!
There were 207 of them (19% growth y/y) from 26 countries, including heavyweights such as Checkout.com, Storyblok, Cover Genius, huboo, TreviPay, BrightData, Global-e, Lowell, Octopia, BigCommerce, Namogoo or emplifi. They came to present their latest product innovations and services to an audience of e-commerce professionals.
94 international exhibitors participated in the event, with the top 3 countries being Great Britain, the Netherlands, and France (apart from Germany). They even had a Japanese exhibitor who traveled thousands (nine, to be precise!) of kilometers to Berlin. That speaks volumes about the quality and prestige of our event.
It was great to see so many new companies and some familiar faces. Do you know that Smarketer, Aircall, Retail Rocket, Händlerbund, and Spring GDS have been exhibiting with us from the very first edition of our event?
Attendees from 40 countries...
The Organizers were also happy to see that attendees came from all over the world, with almost 30% coming from outside of Germany. In total, they welcomed visitors from 40 countries, which just goes to show how e-commerce is a truly global phenomenon.
This also shows that our event has been acclaimed far beyond the German-speaking world and has established itself as one of the most important e-commerce events in Europe.
The future of e-commerce is coming to Berlin again... in 2023
If there's one thing everyone learned from this year's conference, it's that the future of e-commerce is bright – and there are some big trends on the horizon.
The Organizers were amazed by the turnout and the level of interest in our conference – and they can't wait to do it all again next year. See you at Ecommerce Berlin Expo 2023!