News • 08.12.2021
SmallRig announces new smart LED light
New device designed to provide creators with the ability to create the desired lighting set up for shootings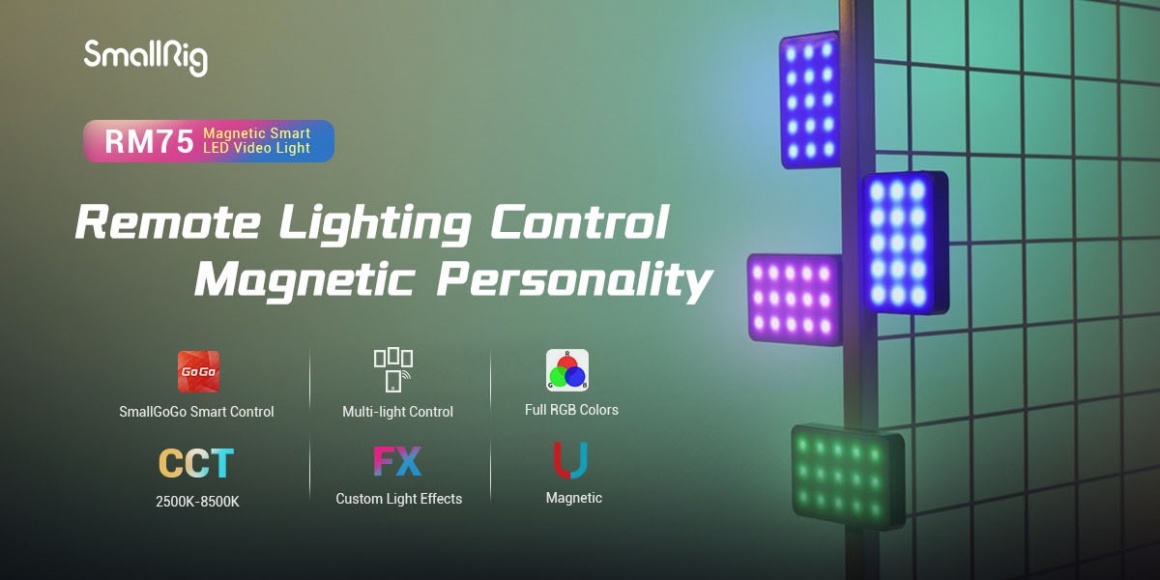 Source: SmallRig
SmallRig has announced the RM75 Magnetic Smart LED Light. It is the first full-colour smart video light launched by SmallRig, with intelligent App control – SmallGoGo. The SmallGoGo App allows a wide range of user-based controls and intelligent lighting adjustment functions thanks to the wireless remote control technology.
With the SmallGoGo App, users can adjust any of the 7 function modes of the RM75 anytime: CCT, HIS, RGBW, FX, Color Card, Color Picker and Light Effect Control, helping creatives get a wide range of diverse lighting effects.
Product highlights:
Fine Color Temperature control on the SmallGoGo App allows users to control the color temperature between 2500K-8500K for full creative control of the shoot.
The FX mode has 15 built-in lighting effects including RGB, paparazzi, party, lighting broken bulb, TV, flame, random mode, fireworks, police car, fire engine, ambulance, electric welding, SOS and pulsing. Setting a scene's mood becomes easy with the RM75.
With CRI and TLCI scores of 96+, the RM75 provides high-quality lighting options with highly accurate colors.
The RM75 has 3 magnetic sides and back, allowing users to attach to a huge range of metal surfaces. The ¼"-20 threaded hole on the bottom provides even greater range of mounting possibilities.
A large-capacity 4,000mAh battery capacity can last from 3 hours at 100% brightness to 16 hours at 1% brightness, ensuring there is no need to worry about recharging while on set.