News • 17.07.2019
New Union Station Food Court lighting atmosphere
Space for more food retailers in Toronto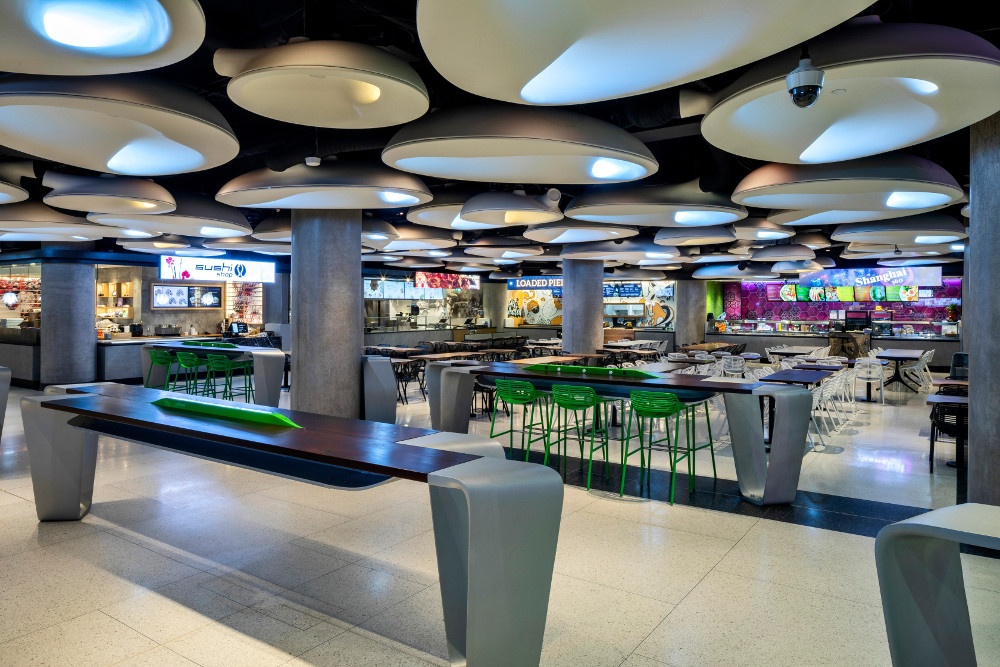 Source: Philip Castleton
The new Union Food Court marks a significant milestone in the revitalization of Toronto's busiest transit hub. The lighting atmosphere created by Lightemotion consists of indirect lighting concealed in architectural elements designed by PARTISANS and adjustable mood lighting, promoting wellbeing and relaxation in a new era for food at Union Station.
The 210 cloud-like structures suspended above the seating area, a key feature of the Union Food Court, were created by Design Architects PARTISANS in collaboration with DIALOG and retail design consultants GH+A. These sculptural units, the PODS (Pressurized Ocular Diffuser System – made from glass fibre reinforced gypsum – include a lighting programme design conceived by Lightemotion. The collaboration resulted in a brilliant reflection of an ambitious mandate – to make the food court a place to be, where everyone will feel good.
The concept of a changing atmosphere
Adorned with warm, energizing, clean light in the mornings to greet the first commuters of the day through to the evening. The vision for the Food Court is to continually transform the space into an inviting haven to all visitors to the Station.
Lightemotion studied how best lighting could be diffused in the pod structures and specified the use of a DMX controlled system using LED fixtures that could change the coloration and tonality of the light. The use of a special lens was used to help diffuse the light, ensuring a welcoming atmosphere that evolves throughout the course of the day. The clever system can make subtle lighting and tone changes that give the space an ambience befitting the time of the day and can be adapted based on events taking place.
Putting the focus on light
"We are very proud to have contributed to creating an atmosphere that so effectively fosters wellbeing", said Lightemotion's president, François Roupinian. Our approach makes light the focal point, subtly punctuating the space and thereby avoiding the uniform, uninspiring effect that is so often apparent in traditional food courts."
The Union Food Court is the first area to open as part of the newly constructed lower retail level and offers 10 new food retailers, a seating capacity for more than 600 people and 25,000 square feet (2,325 square metres) of space.