Company News • 15.04.2016
Shopper expectations will continue to rise
Four trends predicted to shape the future of global food retailing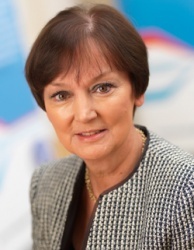 Source: IGD
Genuine revolutions in food retailing are rare, but we're living through one now. That's the view of Joanne Denney-Finch, the chief executive of the food and grocery researchers IGD.
She believes the drivers of change are based on increasing population growth, especially in Asia and Africa, and urbanisation as well as rapid technological changes, and outlined four big trends that will shape the future of global food retailing:
The reinvention of stores
The link between the online and offline world
New ways of marketing
Changing supply chains
Joanne Denney-Finch, IGD Chief Executive, said: "Change is sweeping through every part of international food retailing. The revolution is so big and powerful, that no-one knows exactly what the future will look like. While this is creating the most challenging conditions for food retailers I've ever seen, there are many opportunities too. Retailers around the world are responding creatively and starting to build a new future."
On the reinvention of stores, Joanne Denney-Finch, said: "Technology is making a big difference to help improve the customer experience. Robots are starting to appear in stores around the world. In some Japanese shops, they meet and great shoppers and give them advice on where to find products, while in Spain they are being used to give nutrition advice. They are a novelty at the moment, but robots will be a common sight in the future and we can expect them to patrol stores, looking for gaps on shelves and replenishing them.
"Beyond technology, retailers are finding various ways to make shopping easier, more exciting and informative. Various British retailers have set up convenience sections within their largest stores where everyday items like bread and milk are grouped together to save time for top-up shoppers. Thailand's Central Food Group has an expert Australian butcher to give shoppers advice on international product that they're not familiar with."
On the merger of the online and offline worlds, Joanne Denney-Finch said: "Many retailers are viewing online and offline as two complementary ways to help shoppers buy whatever they want, anytime, anywhere and in the most convenient way to them. It's what's known as 'omnichannel retailing' and gives retailers the opportunity to regain loyalty. Phone apps are one way to link the online and offline worlds. People using the Walmart app, for example, shop there twice as often and buy 40% more than other shoppers. Alliances are another way to utilise omnichannel shopping. The Chinese online platform Yihaodian, now owned by Walmart, has partnered with Family Mart stores to offer product collection."
On new ways of marketing, Joanne Denney-Finch, said: "In my view the most important role of marketing is to help build consumer trust and that requires a commitment to transparency and traceability. Stew Leonards stores have a live 'web cam' where you can watch their suppliers fishing. Some companies are also using computer game techniques to make promotions more exciting. In Singapore, McDonalds provides an alarm clock phone app that wakes people up and delivers a new surprise each morning such as a discount or a game."
On changing supplying chains, Joanne Denney-Finch, said: "For many years, big food retailers were able to buy everything their customers wanted, at short notice and at a good price. However, with demand growing so quickly, as well as climate change and many other factors there's more uncertainty about food supplies. So many retailers are thinking further ahead and building longer-term relationships with suppliers. For instance, Tesco has agreed to buy the whole banana crop every year from some regions of South America."
To conclude, Joanne Denney-Finch, said: "Shopper expectations will continue to rise. In response, retailing will become more flexible, personalised and exciting than ever before. New solutions are emerging every day from every part of the world. So the challenge for retailers is not just to reach the world class standards of today, but to set and deliver new standards for tomorrow. Retail in Asia is exceptionally dynamic, building on all the energy that comes naturally from such fast growing economies. So I confidentially predict that many Asian companies will be amongst the leaders of the retail revolution for the next 20 years and beyond."