Interview • 20.04.2015
"Self-service kiosks are the standard in customer communication at the point-of-sale"
Interview with Alexandre Plavinski, Managing Director of Kiosk Solutions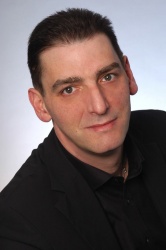 Source: Kiosk Solutions GmbH & Co. KG
The applications of kiosk systems in retail are multifaceted: in various configurations, the terminals function as self-service kiosks for big department stores for example, and as pure payment and information kiosks in the store. Alexandre Plavinski, Managing Director of Kiosk Solutions, knows which terminal characteristics are especially important in retail right now.

Mr. Plavinski, what trends do you currently see in kiosk systems?

The market for kiosk systems has recently been strongly expanding. I believe this trend will continue. Now several retailers finally recognize the added benefit the use of these systems offers them in their stores – especially as it also pertains to connecting the channels or providing new information for customers.

At the same time, the retail industry in general has ever more detailed ideas on what it wants to accomplish with this type of solution. Our customers increasingly request terminals for very specific applications. In addition, it is important for many retailers for the hardware, software and service to come from one source and not having to deal with different providers if there are any issues.

What is the latest status when it comes to the technical development of kiosk systems? What new functions need to be integrated into kiosk terminals today that were previously not as much in demand?

Even though it is not an entirely new development, self-service is still gaining importance with in-store terminals. At this point, self-service kiosks are the standard in customer communication at the point-of-sale, particularly with large retailers. The reason is clear: today customers above all want as much product information as possible.

Simultaneously, saving time also plays an increasing role. That's why these are actually the biggest requirements kiosk systems need to fulfill today. They need to make it possible for customers to structure their entire purchase based on their needs, and be convenient and user-friendly at the same time. We therefore see the self-service area continuing to have big growth potential.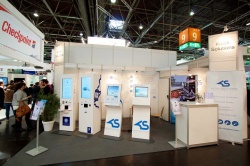 Source: Kiosk Solutions GmbH & Co. KG
Needless to say, we try to meet these new requirements with our current products. We presented our new series of standard kiosks at the EuroCIS for example. The KI terminal series is particularly well suited for interactive applications such as navigation or for requesting additional information on products and availability. Our KX series on the other hand offers the option to integrate payment, scanner and printer modules. With this generation of products, we are also able to customize our terminals to the needs of different retailers and industry sectors.
What is your assessment of the EuroCIS 2015 and how important is this trade fair in general for you?
Our first EuroCIS went very well. The visitors showed great interest in our solutions. Even though we also attend several other trade fairs for integrated systems and visual communication each year, we need to clearly state that we meet our exact target audience at the EuroCIS and experience little waste coverage. Of course, this is also reflected in the quality of contacts we were able to make at the trade fair. It therefore left a very positive impression on us. This is also, why we already signed up again for 2016.
Interview by Daniel Stöter, iXtenso.com