Company News • 04.10.2011
Rock in Rio – Security for the music marathon
- Bosch secures the world's largest music and entertainment festival - Intelligent combination of human team and state-of-the art technolo-gy guarantee upmost safety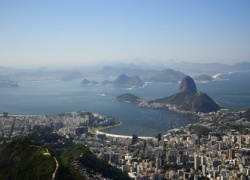 The Global Security Service provider Prosegur chose Bosch Security Systems to supply state-of-the-art surveillance technology for the world's largest music and entertainment festival: Rock in Rio. When big names like Coldplay, Guns N' Roses or the Red Hot Chili Peppers enter the stage in September and October this year, they draw the attention of more than 700,000 fans. Hence it is no question, that safety and security must be a number one priority.
The security plan tailored specifically for this festival includes a total of 30 sur-veillance cameras and a team of approximately 500 specifically trained securi-ty guards. The heart of the system will be the Advanced Security Center of Prosegur (CASE), placed at a strategic location and manned by a coordinator and two operators. From this unit, the entire 'Cidade do Rock' (City of Rock) will be monitored, which spans an area of about 150,000 square meters. The used Bosch Video Management System (BVMS) software manages all digital audio and video systems, as well as all security data, which will be transmitted over an IP network.
Cutting-edge technology
One of the main items of Bosch provided is the MIC Series 400 Thermal PTZ camera, which combines two capture modes – thermal and conventional. The first enables the thermal capture of people based on temperature at a distance of more than 780 meters illuminating the hot or cold points of individuals in a scene. The second enables conventional capture for surveillance at four levels: detection, classification, recognition and identification of individuals.
In addition, the MIC Series 400 PTZ camera with infrared has integrated infra-red for night vision at up to 55 meters, which provides extremely sharp im-ages, regardless of light conditions. This model is ideal for surveillance in vul-nerable areas both day and night, even in total darkness.
The IVA – Intelligent Video Analysis system will be integrated into some cam-eras and will use 'virtual illustrations' to automatically detect suspicious situa-tions and notify security teams, assisting the work of the operators in the mon-itoring center.
Human support
This large scale project shows exemplary how human resources and state-of-the-art technology can collaborate to guarantee upmost safety and security. Bosch and Prosegur have teamed up to assure that the 'Cariocas', Rio's in-habitants, as well as tourists from all over the world can relax and enjoy the fabulous music-marathon.

Supplier

Robert-Bosch-Ring 5 und 7
85630 Grasbrunn
Germany