Product • 16.01.2008
PDA H19A with integrated laser scanner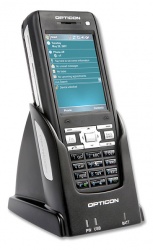 The H19 is the convergence of Opticon's latest barcode scan engine technology and a PDA/Smartphone hybrid, driven by Microsoft Windows® 6.0 Professional.
Daily business duties can be carried out as comfortably by using the H19 as on your office desk, thanks to the integrated 1D or 2D scan engine, a dial keypad and multiple modes of wireless communication (GSM/GPRS/EDGE, WiFi and Bluetooth™). The H19 can also be used outdoors. It withstands water and dust according to IP54 regulations.
The integrated Global Position System (GPS) allows an easy mobile recording of the geographic location to connect the real world to captured data and codes.
To make sure that this PDA is always fit for service, Opticon offers a wide range of useful accessories, i. g. charging / communication cradle, headphones.
Supplier

Lise-Meitner-Straße 1
63128 Dietzenbach
Germany