Report • 13.12.2017
Live video shopping: in-store personal shopping assistance for online customers
Barbara Frères guides customers with video chat technology
The Barbara Frères Boutique in Düsseldorf specializes in designer children's fashion. To position itself in the omnichannel world, the fashion boutique doesn't just offer an online store, a chat function and curated outfit packages available for online ordering. The store has also developed a consulting service using live video chat and in doing so, turned the boutique into a tech startup.
To obtain this service, the customer requests an appointment via an online form. A retail assistant at the store presents the product selection, while the customer watches comfortably from the convenience of his/her home on their device. The consultation takes place in real time thanks to a camera that's attached to the "Live Shopping Assistant LiSA" – the sales assistant wears a headset. The selected items can subsequently be picked up or delivered.
Managing Director Phillipe Frères explains how the store came up with the idea for the live stream consultation. "When we prepared to digitize several years ago, it was important for us to find a model that enables us to communicate what sets us apart in an online format: the quality of our consulting and customer service." After the store was unable to find a suitable live video consulting provider, it developed its own solution. "That's how we ended up being a tech startup in addition to being a children's fashion curator."
Curated shopping – consulting service a USP of specialized retailers
While personalized service is among the must-haves in brick-and-mortar retail, so far live streaming video consulting has only been introduced on a testing basis in most instances. Video consulting is somewhat more prevalent in the service sector, with banks being pioneers of these types of services.
When online retailers offer consultation services, it's called curated shopping. First, the customer indicates his/her preferences, likes or dislikes via an online form. Based on this information, the consultant will then make personalized product recommendations. In doing so, the consumer is not subjected to endless unfiltered e-commerce options. The direct dialogue with the consultant can take place via phone, e-mail, Messenger service or video chat.
Curated shopping – literally meaning "assisted" shopping – thus combines the benefits of brick-and-mortar retail with the advantages of online retail: customers obtain the service of specialized retailers and a preselection from a large number of online options without having to leave the comfort of their own home.
This type of service also has positive effects for retailers. On the one hand, the information provided by customers allows insights into their preferences and buying behavior. On the other hand, the customer relationship can be deepened thanks to the personal contact, especially when you are able to see the other person and communicate in real time. Ultimately, curated shopping also results in fewer returns.
The skill that is required nowadays is to combine all customer wishes (experience, convenience, specialized consulting, quality, and price/performance ratio) in one omnichannel service experience as best as possible and hit the above-mentioned benefits for each sales channel. "Curated shopping bridges the gap between anonymous online shopping and personal consultation services at a brick-and-mortar store. The service component gives consumers a sense of individuality and retailers many cross-selling and upselling opportunities," explains Dr. Eva Stüber, Head of Research & Consulting at ECC Köln in a press release on the consumer behavior of smart natives.
Phillipe Frères is also acutely aware of an increased potential for cross-selling. He says, "The shopping carts during live video shopping sessions are very full. On average, the shopping cart values are even higher than they are at the physical store." He adds that shopping with the Live Shopping Assistant also positively impacts the product return rate.
Barbara Frères Digital GmbH won the "Innovation Prize of the German Trade" at the German Trade Congress for its Live Shopping Assistant LiSA.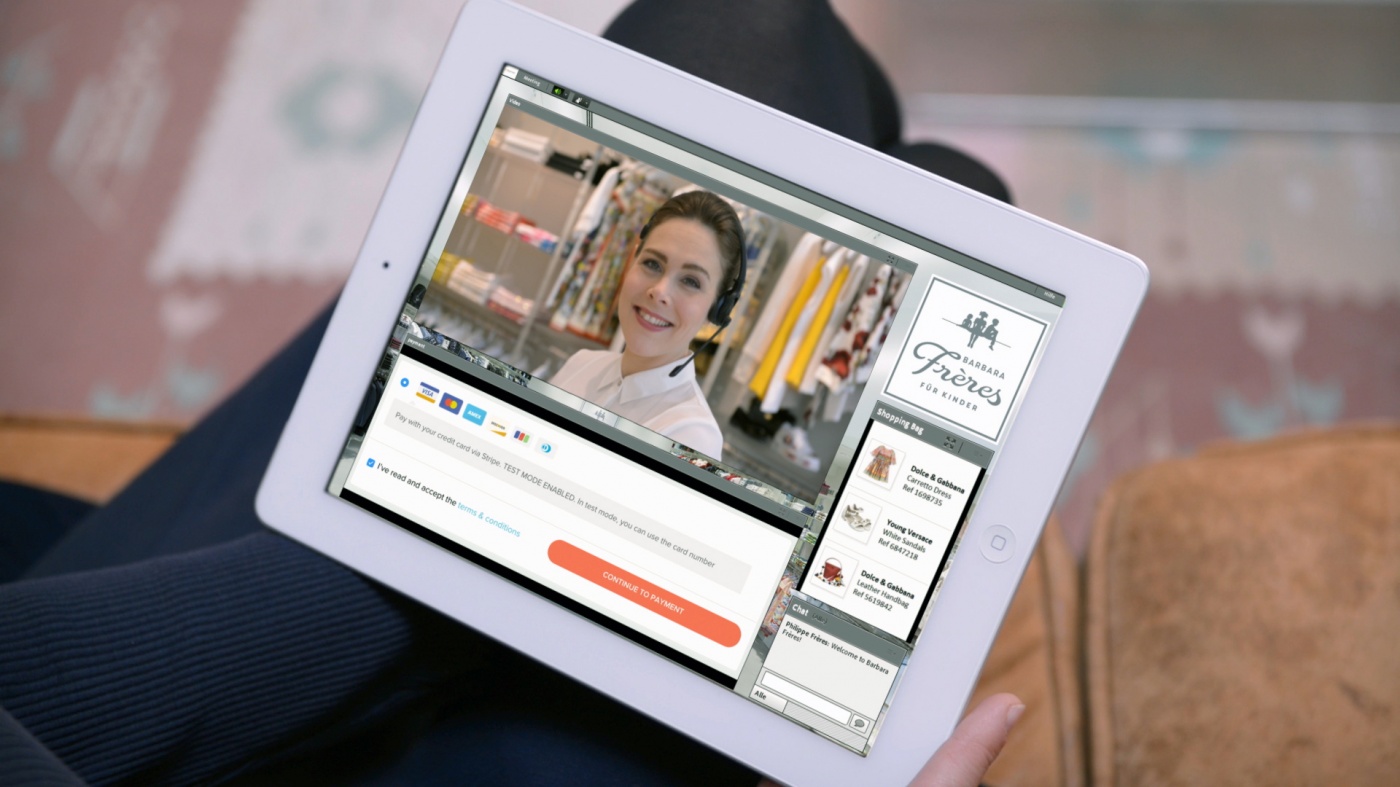 Source: Barbara Frères Digital GmbH
The introduction of new services always means more work
"At this point, our customers have fully embraced the new service option," Phillipe Frères says about the introduction, though he admits that it initially took a lot of persuading. "You can only fully appreciate its added value once you have tried it." At the store, LiSA is attached to a height-adjustable rolling trolley stand, designed to make customers curious about the new feature.
Frères concedes that his associates were initially skeptical. "It was a major challenge to create training courses that made the sales associates comfortable with using LiSA. But as soon as they got in touch with the online customers, the sales talk was the same as always. And once the first sales figures came in, the staff was fully convinced."
Meanwhile, Barbara Frères Digital GmbH also sells its video shopping solution LiSA to other retailers. "The first retailers are ready and use the system, while its development continues." As a ready plug-and-play system, LiSA comes with all hardware and software and can be customized to match the branding and corporate design of the respective client. "Retailers only have to input their bank and contact information to process payments," says Philipe Frères. He wants to help retailers, whose online presence is not strong enough yet, to sell online without the need to make major changes to their existing structures.
No guarantee of success
Although real-time communication and videos are increasingly important in customer service, live video shopping is not necessarily a guaranteed recipe for success. The Barbara Frères Boutique and its product selection might benefit from the fact that its clientele comes from all over the world – from Cologne to Hong Kong.
What's more, a comparatively intricate solution lends itself well to service-intensive products. A store that sells luxury fashion definitely has a greater potential in this area than a discount clothing store for example. In clothing stores that sell mass-produced items, with narrow aisles, loud music, and higher foot traffic during rush hours, a sales associate who blocks the way for other customers with a bulky device and who tries to provide personalized consultation might be somewhat out of place. Having said that, space saving, mobile solutions like tablets or smartphones could be beneficial in those cases. At any rate, video chat services should be tailored to the settings at the store and the customer needs.
Last but not least, retailers should determine whether the integration of this type of solution also improves the sales process itself. Ideally, the systems are directly connected to the inventory management system and the online store to ensure that orders can be instantly completed.