Product • 23.06.2008
Intelli-M eIDC: PoE Integrated Door Controller
Ethernet-Enabled Integrated Door Controller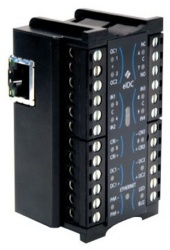 Pelco's Intelli-M eIDC Ethernet-enabled integrated door controller is among the first PoE (Power over Ethernet) access control system controllers launched in the security industry that provides fully distributed intelligence for access control and alarm monitoring. This cutting-edge Ethernet-enabled door controller is packed with powerful features that can fit in a small, compact dual gang box to control all peripheral door hardware.

Features
PoE(Power Over Ethernet) Carries both Data and Power for the Controller and Peripheral Door Hardware
Peer-to-Peer Communication Keeps Data Flowing even if a Server Connection is Interrupted
100% Distributed Intelligence
Small Form Factor Makes Installation in Tight Spaces Easy
4-State Alarm Monitoring for Supervised Normally Open, Supervised Normally Closed, Non-Supervised Normally Open, and Non-Supervised Normally Closed
Anti-Passback
Supports a Local Database of 1,500 Card Holders*
16,000 Local Event Buffering
2 Reader Ports Support Proximity Readers, with or Without Keypads, or Any Logic Device, Such as an Egress Button or REX Device, Providing a Combination of Control for Both Entrance and Exit for a Single Door
Supports DHCP and Static IP Addresses
AES (Advanced Encryption Standard) 128-bit Encryption
Embedded Web Server Provides Complete Control of the Device Without the Need for a Server for Stand-Alone Doors
Integrated, Nonmechanical, Infrared Tamper Sensor for High Reliability and Precision
Built-in Warning Buzzer Provides a Local Alarm Without Requiring an External Alarm Device
*Consult a Pelco Product Support Engineer for installations with more than 1,500 cardholders.
Supplier

Beemdstraat 42
5652 AB Eindhoven
Netherlands