Company News • 03.04.2012
Hoeft & Wessel delivers first e-Ticket reader to Danish State Railway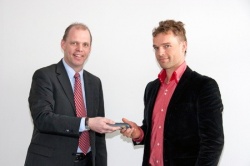 The first newly developed inspection devices for e-Tickets developed by Hoeft & Wessel have just been delivered to the Danish State Railway (DSB). DSB project head Jesper Frederik Gottlieb and Hoeft & Wessel sales head Torsten Seipelt were delighted with delivery being made on schedule. With a weight of only about 200 grams, the small and ergonomically designed device sets new benchmarks. In times of e-Ticketing, as a result the conductor´s current mechanical validator are replaced by electronic ones, which can identify and read RFID tags, writing (OCR) and 2D barcode.
As a first step, 1,400 mobile readers of the new model series with the product name almex.motive are to be supplied by Hoeft & Wessel to DSB and then used by train attendants from early 2013. The delivery of the reader is in connection with the introduction of the "Rejsekort" e-Ticket in Denmark: the card is to be available both as a personalised smartcard and in the form of an anonymised card capable of being charged or topped up.
Using the new almex.motive, these cards are to be checked on board of trains in future. This will save money and improve the level of comfort and convenience to passengers. A special feature of the almex.motive is the ability to create a wireless connection with a conventional handheld acting as a host. As a result, this new development created by Hoeft & Wessel represents a world novelty to be deployed for the first time in the north of Europe.